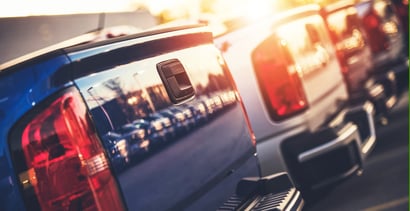 The open road holds infinite potential, both for business and pleasure. But if your credit score limits you to hauling only hopes and dreams, the following compilation of the best loans for bad credit truck financing can help.
The lending networks listed below partner with lenders that specialize in auto financing — trucks included — for consumers who have past credit problems. With their help, you can start your journey across the country while racking up miles and maybe even paychecks.
Pickup Trucks | Semi-Trucks | FAQs
Bad Credit Pickup-Truck Financing
Lending networks, like those below, distribute your single loan request to direct lenders they partner with. This helps increase your odds of approval by potentially presenting you with multiple loan offers to choose from.
Once you decide on a loan that works for you based on the terms presented, the network will forward you to the lender's website where you will complete the loan application and receive your funds or loan certificate within one business day upon approval.
Network of dealer partners has closed $1 billion in bad credit auto loans
Specializes in bad credit, no credit, bankruptcy and repossession
In business since 1999
Easy, 30-second pre-qualification form
Bad credit applicants must have $1500/month income to qualify
| Interest Rate | In Business Since | Application Length | Reputation Score |
| --- | --- | --- | --- |
| 3.99% - 29.99% | 1999 | 3 minutes | 9.5/10 |
Auto Credit Express partners with both lenders and dealers who compete for your business, which gives you an edge in getting the best loan possible. The network requires that applicants be 18 years or older and provide a verifiable income of at least $1,500 per month.
Loan options include light-duty or large pickup trucks, but not larger commercial hauling vehicles.
Free, no-obligation application
Specializes in auto loans for bankruptcy, bad credit, first-time buyer, and subprime
Affordable payments and no application fees
Connects thousands of car buyers with auto financing daily
| Interest Rate | In Business Since | Application Length | Reputation Score |
| --- | --- | --- | --- |
| Varies | 1994 | 3 minutes | 9.0/10 |
Car.Loan.com specializes in finding auto loans for applicants who have bad credit histories, including recent bankruptcies or defaults. Depending on when you apply, you could receive same-day approval from one of the dozens of partner lenders on the network.
Loans for new, used, and refinancing
Queries a national network of lenders
Bad credit OK
Get up to 4 offers in minutes
Receive online loan certificate or check within 24 hours
| Interest Rate | In Business Since | Application Length | Reputation Score |
| --- | --- | --- | --- |
| Varies | 2003 | 2 minutes | 7.5/10 |
The myAutoloan.com network connects lenders with buyers who seek varying types of new and used vehicles. These can include pickup trucks and some small commercial vehicles. Restrictions may apply for conversion vans, salvage title vehicles, or repossessed/auctioned vehicles.
Bad Credit Semi-Truck Financing
If a pickup truck won't get the job done for you, then you may need to step up your financing game and work with lenders who specialize in semi-truck or commercial vehicle financing. While these vehicles typically require a larger down payment — mostly due to their higher sticker price — the lenders below regularly work with consumers who have a troubled credit past, and some don't require a credit check or down payment for approval.
4. LRM Leasing
LRM Leasing is a one-stop-shop for semi-truck financing if you have bad credit. That's because the firm doesn't conduct credit checks or background inquiries when approving customers.
Instead, you'll essentially lease-to-own your truck. LRM retains ownership of the vehicle — and can repossess it if you default on your loan — but turns the title over to you after you make your last payment.
5. First Capital Business Financing
First Capital Business Financing not only finances semi-trucks, but you can also get a loan for sprinter vans, medium-duty commercial trucks, heavy-duty tractors, dump trucks, and several other commercial vehicles.
The firm offers several financing options, with loans available for good and bad credit, startup companies, and established businesses. Even those who have recent bankruptcies and repossessions may qualify for financing from LRM.
6. Anderson Trucking Service
Anderson Trucking Service (ATS) provides a unique way for you to purchase your new flatbed. With the 12-month Flatbed Lease Purchase Program, you won't need to undergo a credit or background check or make a down payment.
Instead, you can work off your payments or pocket the money to make a down payment for one of the company's Freightliner, Peterbilt, or Volvo trucks. ATS onboards new drivers with a $3,500 signing bonus and fast-tracks new drivers to owner-operator status through its manageable program.
Can I Get Approved for a Truck Loan with a 500 Credit Score?
The trucking industry has a shortage of drivers. In fact, a 2019 study showed that companies as a whole need about 60,000 long-haul drivers, a figure that could reach 100,000 in the near future.
To find and hire these in-demand drivers, trucking companies — and commercial vehicle leasing firms — have plans that make it easier than ever to purchase your own truck and become an independent contractor.
This could mean a lease-to-own option that doesn't require a credit check or a down payment for approval. Through these programs, you make a set number of monthly payments to the leasing agency, which retains ownership of the vehicle during this period.
Should you stop making payments, the company can repossess your vehicle or levy liens or other penalties against you. Once you make your final payment, the leasing company signs the vehicle over to you and it's yours — free and clear. If you have a credit score of 500 or lower, this may be your best option for purchasing a large commercial truck.
If you're looking for a smaller pickup truck, you can explore different lending networks to find a loan that works for you, despite having a credit score of 500 or less. Auto loans are generally easier to obtain, even with bad credit, thanks to the secured nature of the vehicle.
While there is no set minimum credit score needed to get a truck loan, there are a few things you can do to improve your odds of being approved, such as making a down payment, enlisting a cosigner, or boosting your credit score before you apply.


Of course, waiting to increase your credit score isn't always a viable option, but rest assured that auto lending networks can help.
These networks each partner with several direct lenders that specialize in providing loans to applicants who have troubled credit histories. Quite often, applicants receive multiple loan offers to choose from, which allows borrowers to find the right loan for their needs, regardless of their credit score.
How Can I Finance a Semi-Truck with Bad Credit?
Bad is relative. What you might consider to be bad may not look too shabby to a lender.
There are many different types of credit scores, but most fall within a range of between 300 and 850. In many cases, lenders consider a score of between 300 and 579 as very poor or bad. Anything above that falls into the fair, good, very good, or exceptional range.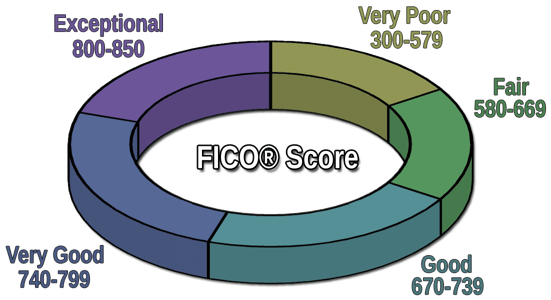 Even if you fall squarely into the bad-credit category, you aren't completely disqualified from financing a semi-truck. Many lease-to-own trucking programs don't even require a credit check — meaning that you're approved regardless of your credit situation.
These programs allow you to take possession of your new truck and begin using it to make a living and, consequently, make your monthly payments on the lease. Just remember that leasing a commercial truck is very much like leasing a personal vehicle.
You technically don't own the truck while you're leasing it. The vehicle remains the property of the financing company until you make your final payment. After that, the title will be transferred to your name and you own the truck outright.
But while still under lease, the financing agency can repossess the vehicle if you stop making payments. If that happens, you not only lose the truck but also your interest in any of the previous payments made to the leasing agency.
That's why it's vital that you make all your lease payments on time and in full. If you can manage that, you could own your own truck and begin life as an independent contractor — while also working to improve your credit history.
How Much is a Down Payment on a Truck?
This depends greatly on the type of financing used to purchase the truck and the overall cost of the truck. Lenders expect borrowers to make a larger down payment on a semi-truck than they would on a light-duty pickup. Both vehicles have drastically different price tags and require separate financial obligations.
For a semi-truck or other large commercial vehicle, most traditional lenders seek a down payment of at least 5% of the total purchase price. Since a new semi-truck's average sticker price falls between $80,000 and $150,000, you may need a down payment of between $4,000 and $7,500.
But there isn't a magic number for exactly how much down payment you'll need. Some lease-to-own programs, such as those offered by Anderson Trucking Service and LRM Leasing, won't require a down payment at all. In many cases, the leasing company won't even run a credit check for approval.
The lending networks listed above have different standards for approval and varying policies on down payments, depending on the individual lender and the truck you're looking to purchase.
Many lenders work with borrowers who make small or no down payments.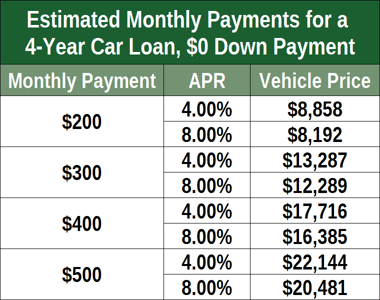 But you'll increase your approval chances if you can put money down because lenders want to see that you have some skin in the game before approving you for a loan, especially if you have a bad credit score. The way many lenders see it, if you don't have any financial interest in the truck, you will have few misgivings about backing out of the deal if you can't make your payment.
Put as much down as you can afford to. Larger down payments mean lower monthly bills and less interest paid over the life of the loan.
If you're having trouble finding a lender who will work with you because of your credit score, you may find more success if you offer up a larger down payment.
How Much Should I Pay for a Truck?
While everyone's money situation is different, a standard 20/4/10 rule applies to financing a vehicle. This rule states you should:
apply 20% of the purchase price as a down payment
finance your vehicle for no more than four years
keep vehicle payments below 10% of your monthly income
However, that's not realistic for everyone. After all, if you need a truck to make a living, you're better off paying more of your monthly income for the vehicle instead of not paying it and losing your income.
Before you officially apply for a truck loan, create a detailed budget that outlines your monthly expenses and how much money you have leftover after your expenses. That number will give you a starting point as to how much you can afford to comfortably spend each month for a car payment.
But don't shoot to spend that entire amount on your vehicle. Many financing options last for several years, and your current financial situation will almost certainly change over time.
Hopefully, your income will improve, but try not to factor that in. View any wage increases as a bonus to your budget.
The best rule of thumb is to spend no more than 25% of your monthly disposable income on a vehicle. Anything over that can create problems because vehicles are depreciating assets.
Bad Credit isn't a Disqualifier for Owning a Truck
You could earn a very good living with the right truck. But many people hesitate to join the trucking industry because they think their bad credit will keep them from owning their own commercial vehicle. The best loans for bad credit truck financing, listed above, dispel that myth.
Some of the options provided above don't require a credit check or even a down payment to get you in the driver's seat of your own big rig — or small pickup. With so much of this beautiful country ready for exploring, you can start hauling more than your own hopes and dreams.
Advertiser Disclosure
BadCredit.org is a free online resource that offers valuable content and comparison services to users. To keep this resource 100% free for users, we receive advertising compensation from the financial products listed on this page. Along with key review factors, this compensation may impact how and where products appear on the page (including, for example, the order in which they appear). BadCredit.org does not include listings for all financial products.
Our Editorial Review Policy
Our site is committed to publishing independent, accurate content guided by strict editorial guidelines. Before articles and reviews are published on our site, they undergo a thorough review process performed by a team of independent editors and subject-matter experts to ensure the content's accuracy, timeliness, and impartiality. Our editorial team is separate and independent of our site's advertisers, and the opinions they express on our site are their own. To read more about our team members and their editorial backgrounds, please visit our site's About page.