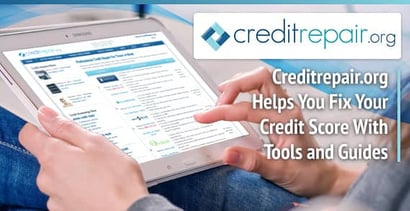 In a Nutshell: CreditRepair.org offers a plethora of resources, such as eBooks, videos, and expert advice, to help consumers understand how credit reporting works and gives them the information they need to improve or repair credit. With the help of Creaditrepair.org, consumers can manage credit report disputes, uncover strategies to pay down or delete debt, and become overall smarter borrowers.
Though Federal Reserve governor Janet Yellen recently noted that American household balance sheets are much improved, the quality of American credit card debt is declining and remains a significant burden for many U.S. households. Bad credit has a significant effect on quality of life, yet many people see attempts to improve their credit as a daunting, complex process that is difficult to understand.
Gregory C. was one of those people. A 38-year-old consultant from Long Island, Gregory always had good credit, until his consulting firm sent him to work in London for two years. The international hitch was great for Gregory's career, but while he was living in London, he forgot to take care of his obligations back home. He neglected to make his U.S. credit card payments on time because the company had given him a U.K. bank account with a credit card that he used for all his payments.
Unfortunately, one card payment was delayed so long that the company remanded the account to a collection agency.
When Gregory got back home, he found his credit in ruins. He wanted to get a mortgage on a home, but most banks wouldn't even consider his application, and those that did offered interest rates that went through the roof.


Luckily, there is help for people like Gregory. CreditRepair.org offers a plethora of resources, such as eBooks, videos, and expert advice, to help consumers understand how credit reporting works and gives them the information they need to improve or repair credit.
Working with the information on CreditRepair.org, Gregory found a reputable professional to help him get started, and he and the professional put the techniques on the site to work.
Free eBook Teaches You Ways to Influence Your Score
If you are suffering from similar woes as Gregory, CreditRepair.org's free eBook is a great place to start. The eBook is packed with information about how you can repair your credit.
The Do-It-Yourself guide first explains how credit scoring works, and how you can obtain information about your score and how to improve it.
The guide explains how to add positive information to your report, with techniques like using credit limit increases, preventing negative inquiries which hurt your score, working with a co-signer, and using a secured credit card.
The eBook shows how negative information can be removed from your credit report by making payments and negotiating directly with creditors. During negotiations, consumers can also ask these creditors to validate the information on the report. They often don't or won't do this, and, thus, it can be removed from the report.
Tools to Help You Actively Control the Repair Process
CreditRepair.org also provides a toolbox full of techniques you can use to repair your credit. On their Active Credit Repair tab, you will find a slew of possibilities. Information on how to evaluate credit repair services, engage in dispute processes, employ "pay for delete" strategies, and demand credit validation are all powerful items consumers can put in their toolboxes thanks to CreditRepair.org.
Check the Legitimacy of Credit Repair Services
CreditRepair.org teaches consumers how they can evaluate some of the professional credit repair services and their offers to make sure they are legitimate.
In most cases, credit repair services can be of great assistance for the consumer, but some do try to take advantage of people who might be in a tough financial spot. CreditRepair.org teaches consumers to watch out for unrealistic claims like "overnight credit repair," or the ability to wipe all the negative information off your credit report. Agencies that make such promises are probably illegitimate and may be operating illegally.
Demands for upfront payment are also illegal. Credit agencies do not have the right to ask for this. Carefully review the contract that a credit agency proposes – there could be fine print with unpleasant conditions. Within the contract, there should be definite details about the total cost of the program including all fees and the schedule on which they are expected to be paid.
Effectively Manage Credit Report Disputes
Another repair strategy discussed on this part of the CreditRepair.org website is the use of credit report disputes. This is one of the easiest credit repair strategies. The law guarantees that your report must be accurate. You have the right to dispute information you believe to be inaccurate, incomplete, or unverifiable. Credit bureaus have to remove this type of information from your credit report after an investigation proves your dispute to be justified. It is important, however, that the information on your credit report is unjustified.
Creditors have a legal obligation to investigate your disputes and update your credit report if necessary. This applies to incomplete information as well as inaccurate reporting. Correcting this can make a great difference to your credit score.
Pay for Delete Strategies Can Work
CreditRepair.org also explores a credit improvement strategy called "pay for delete." This involves asking a creditor or a debt collection agency that a payment on the outstanding balance (it may be a full payment or an agreement on instalments) is accepted to delete previous information on the credit report about non-payment or late payment.
Make sure that all dealings with creditors are guaranteed in writing. See that the creditor signs the agreement and that you have a copy with that signature.  That copy can be sent to the credit bureau to speed up processing the request.
It is also critical to understand that deleting a debt on the credit report may not have a major effect on your score. Choosing the right account to delete is essential.
Credit Validation Is Significant for Repair
Demanding validation for the debts indicated on the credit report can be another, very effective technique for credit repair. Debt validation is a legal process which is part of the Fair Debt Collection Practices Act. It involves the consumer making a request to the creditor asking for proof that the facts on the credit report are correct.
Once a debt validation is requested, the collection agent must send you proof of your original debt. Consumers can also request more detailed information such as a complete history of payment from the original creditor which also shows added on fees and charges assessed by the original account holder. The debtor cannot be charged for this information.
Monitor and Check Your Score to Keep Credit Issues at Bay
According to a report by the Philadelphia Federal Reserve, the number of credit and debit card holders has been growing since 2002 and will keep increasing. This means that the chances for error on your credit score increase too – so you should keep an eye on it!
It may also be the first indicator that something is wrong, and if there is a problem, either with your own credit or identity theft that is affecting your credit, regular monitoring of reports will ensure that you catch on early. Consumers can obtain a free copy of their credit report once each year. It is wise to review the information for accuracy and evidence of scams.
Credit Card and Loan Management Made Easy
CreditRepair.org can help you with credit card approval and to get a card with better terms than the one you have now offers. Your credit score affects which credit card you're ultimately approved for and, often, whether your credit card has good terms or bad terms. Better terms can include a lower interest rate on credit, so it can be most worthwhile to increase your credit score.
CreditRepair.org can also help you become a smarter borrower. Having a variety of loan types will boast your score if you manage them well. Mortgage loans, vehicle loans and personal loans, along with credit card usage can, together, make a vast difference on the road to good credit.
If you don't have a variety of loans like the one described above, it is worth considering taking on one or more, so long as you can afford the payments. If your credit isn't good enough to get these loans, use other techniques already described to improve it to the point that you can get a loan.
Tracking Credit History Avoid Bad Credit
The info under the How to Avoid Bad Credit tab on CreditRepair.org can help you to keep your good credit score safe.
Managing your credit history so that you take actions that support your credit score can make a great difference. For example, leaving credit cards idle for a long time means that the credit scoring calculation comes to ignore that account on your credit report. If this account has a good amount of available credit, your credit utilization could go up and your credit score will drop.
Keep using your cards, so that the good credit score is supported. Have several cards – three to five is the amount recommended – and manage them well, making sure all the payments are made on time. Too many credit cards also counts against you!
According to a study by ACA International, the level of credit card debt per household is still very high. But managing credit as a household, and not separately from your family members, isn't a good strategy. If you get married, and your spouse has a poor credit record, don't apply for joint loans or for credit cards together. Your spouse's poor score will drag your application down. Keep it all separate and help your spouse to improve his or her score.
Circumvent Defaults and Bad Records
Avoiding bad credit means not letting accounts reach collection agencies. Nothing is worse for your record than having a credit card amount or other debt payment reach default, and having the debtor pass the debt to a collection agency.
This can be very difficult to remove from your credit report, but there are ways to negotiate a settlement.
CreditRepair.org Can Help You Become a Smarter Borrower
With its tools, videos, guide, and links, CreditRepair.org can get you on the path to better credit. There is a wealth of sage advice on the site that will take you there.
Gregory C. is a good example of what CreditRepair.org can do. After he consulted a reputable credit repair professional, taking heed of the precautions explained on the site, he worked with a professional to take some of the bad information off his report. First, the professional helped Gregory to pay off the collection agency debt that was really hurting his score. Following the advice on the site, Gregory was able to negotiate settlements on the basis that the agencies would remove the bad credit info.
Then Gregory applied for and got two more credit cards. Managing all four of his cards carefully – using them all, but never building up too big a balance on any of them – Gregory C. brought his score back to the point that he could get a mortgage at a good rate. Consumers can do the same by following the advice on CreditRepair.org.
Advertiser Disclosure
BadCredit.org is a free online resource that offers valuable content and comparison services to users. To keep this resource 100% free for users, we receive advertising compensation from the financial products listed on this page. Along with key review factors, this compensation may impact how and where products appear on the page (including, for example, the order in which they appear). BadCredit.org does not include listings for all financial products.
Our Editorial Review Policy
Our site is committed to publishing independent, accurate content guided by strict editorial guidelines. Before articles and reviews are published on our site, they undergo a thorough review process performed by a team of independent editors and subject-matter experts to ensure the content's accuracy, timeliness, and impartiality. Our editorial team is separate and independent of our site's advertisers, and the opinions they express on our site are their own. To read more about our team members and their editorial backgrounds, please visit our site's About page.