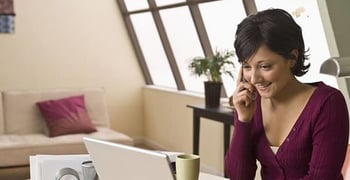 Experts share their tips and advice on BadCredit.org, with the goal of helping subprime consumers. Our articles follow strict
editorial guidelines
.
If you've been plotting out a path to earning a higher income, it probably involves a lot of time and effort – and maybe even money.
Perhaps you've been contemplating going back to school for a degree that will qualify you to earn more, or maybe you're learning a new skill to expand your credentials and earn a better rate.
While these are all commendable goals for the long term, it's always good to have some extra income options for the interim.
Here are five ways you can start earning additional income now.
1. Sublet a room or space.
Renting your space is one of the easiest ways to earn a lot of extra money with a minimal amount of work. If you have an extra bedroom or even an extra parking space in your driveway, people may be willing to pay for it.
If you're not wild about having an additional person living in your home full time, consider using short-term rental sites like Airbnb or Roomorama where you can set availability as you chose.
2. Provide a service on the side.
Babysitting, housekeeping, dog walking and other services are great ways to earn a few extra bucks.
With sitters making between $15 and $20 per hour, you can turn an uneventful Friday evening into a money-making opportunity just by putting the neighbors' kids to sleep and waiting for Mom and Dad to come home.
Check out sites like Sittercity.com and Care.com for opportunities in your area.
3. Make your hobbies work for you.
If you're into knitting or constructing unique crafts, consider listing some of them on Etsy. If you love photography, try selling your favorite images on stock photo sites.
"Thanks to the Internet, you can 

offer your services to people all over."
4. Sell, sell, sell.
Between Craigslist, eBay and Amazon, you can sell just about anything. The next time you clear out your closet, bookcase or home, consider selling before tossing.
Remember, selling isn't limited to your stuff.
5. Become a micro-entrepreneur.
Thanks to the power of the Internet, you can now offer your goods and services to a broad range of people all over the world.
Start your own business or earn a few extra bucks on the side with some of these options.
Lyft: Sign up with Lyft to use your car as a taxi service. You can earn money just by driving people around.
Vayable: Become a tour guide in your own town. People are willing to pay premium for the insider's guide. Be that insider and earn cash while meeting new people.
Elance, Fiverr, Gigbucks, Odesk, Taskarmy and Taskrabbit: List your service or product and your price. Gigs can range from waiting in line at the Apple store for the latest iPhone release, to designing logos for new businesses.
Photo source: eHow