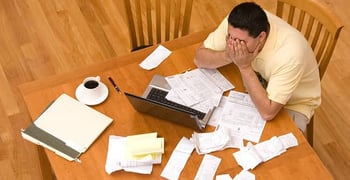 Experts share their tips and advice on BadCredit.org, with the goal of helping subprime consumers. Our articles follow strict
editorial guidelines
.
It's a problem faced by a lot of working Americans lately: You've taken on more debt than your current income can cover.
Maybe you've been forced to take a lower paying job, or maybe you had to take out loans in an effort to make ends meet.
Nevermind the observation that going further into debt is not the solution. Right now you're left with the terrible dilemma of what to do when your income doesn't cover your outstanding debts.
As I read on WRAL.com, dealing with debt is nothing more than a math problem wrapped in emotion. Believe it or not, there are a few options available to someone who finds themselves in your shoes.
1. Address the problem head on
Many people prefer to avoid it and hope it goes away – but it won't.
Instead, sit down and really calculate just what your financial position is. Also, see where you can cut back and avoid spending the money you are earning.
Sometimes you can come up with a few hundred dollars you didn't even realize you were spending.
"The long-term solution is to decrease

your debt and increase your income."
2. Start to prioritize your payments
Make a list of the payments you can't afford to miss, like the mortgage or rent. Also include in those high-priority payments such things as food, utilities and gas for getting to work and back.
After these, start prioritizing the revolving credit payments and other bills. Check out our handy guide for figuring out which debts to pay off first.
3. Contacting your creditors
See which of them are willing to work with you on lowering your payments. Show them you have taken the initiative and calculated how much you can afford to pay. Many of them may be willing to work with you and take less than is owed rather than get nothing.
A representative from a quality debt relief firm may be able to help you work with your creditors directly.
4. What to avoid unless absolutely necessary
A last resort is the services that promise to lower your credit card debts. Most times you can do a better job than them and avoid having to pay their fees. Also, do everything possible to avoid having your debts go to collection. Once this happens, your credit score will drop dramatically and everything suddenly becomes more expensive.
Obviously the long-term solution to resolving this problem is to decrease your debt, increase your income or a combination of the two.
Bringing your spending under control and not taking on any new debt is a good way to start. Resist the temptation to "borrow your way out" of the problem – it never works. Instead, seek new sources of income and ways to cut expenses. By being frugal and doing things differently, you can soon be on the path to financial recovery.
Photo source: msn.com.