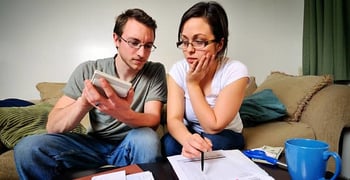 Experts share their tips and advice on BadCredit.org, with the goal of helping subprime consumers. Our articles follow strict
editorial guidelines
.
If you've worked hard to reduce your debt and build a good credit history, it can be frustrating when confronted with your partner's debt.
The truth is that during the recent period of economic difficulty, many Americans have accumulated more debt than they would prefer to have.
If your partner happens to be one of them, there are steps you can take to help them address the problem before it impacts you and your good credit.
1. Communicate openly about the issue.
Realize that this is a difficult topic to confront and they could use your understanding and support. This means taking a stance that is nonjudgmental and is focused on solutions rather than criticism.
For your partner, it means being completely open and honest about their debt – both with you and with him or herself.
2. Identifying the total amount of debt.
This could mean starting a spreadsheet or just sitting at the kitchen table with a pen and piece of paper.
The things you need to identify include individual amounts owed, the interest rate for those amounts and whether any are past due.
"With a little bit of sacrifice, your

partner's debt can be lowered."
3. Prioritize the debt and formulate a plan for paying it off.
This step requires a careful assessment of not only the amounts owed, but also the best ways to pay it off.
For example, by focusing on the smaller debt levels first, they can be eliminated sooner. Then the focus can turn to debt with higher interest rates and the remaining debt.
A quick note: Unless your partner's debt is higher than can be managed using this method, I discourage the use of debt consolidation loans or services.
These can sometimes make the problem worse by negatively impacting your partner's credit score with things like charge-offs and debt restructuring, not to mention the fees.
4. Address the spending habits that got your partner into this situation.
This may involve credit counseling, or it may just be a matter of designing a budget and a spending plan.
It also means the two of you working together to be sure future spending and debt is kept at manageable levels.
With a little bit of sacrifice, your partner's debt can be lowered and the two of you can start down the road to a healthier financial life together.
Photo source: rocketlawyer.com.