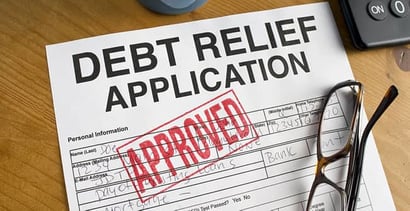 From big names to up-and-comers, BadCredit.org experts share their picks for the top resources in the personal finance industry.
Trying to juggle different types and amounts of debt is no easy feat. People often feel overwhelmed and alone, like they're tackling an impossible task.
Debt relief services help relieve you of that burden. There are many different services out there, but these 10 are the best you can choose from. They will help you renegotiate, settle or change the terms of your debt so you can breathe easy.
Like what you see? Give one of these excellent debt relief companies a try.
Consolidated Credit Counseling Services


When debt is the problem, these folks are the solution. As one of the largest credit counseling agencies in the country, they have helped more than 5 million people save thousands on their debt. Their experience, knowledge and credentials make them an invaluable resource on your path to financial freedom.
Social Clout: 7,760+ Facebook likes; 3,465+ Twitter followers
Twitter Handle: @consolidatedus
URL: consolidatedcredit.org


With Premier Financial, you work closely with a certified debt negotiator who is ready to create a personalized program and savings plan to meet your needs. These tailored programs complement their updated software, which enables them to track your debt. Their combination of convenience and technology make them a leader in the industry.
Social Clout: 55+ Twitter followers; 45+ Facebook likes
Twitter Handle: @PremierDebtHLP
URL: premierdebthelp.com

Since 2000, CuraDebt has made a name for itself as one of the most experienced debt relief services in the industry. Its highly skilled and knowledgeable team of representatives can provide you with the immediate financial support you need. CuraDebt will help you improve your financial situation and your life.
Social Clout: 1,265+ Twitter followers; 515+ Facebook likes
Twitter Handle: @1curadebt
URL: curadebt.com


Considering their goal is to have no repeat customers, you can trust the folks at Debtmerica truly have your best financial interests at heart. They guide you through their relief program to reduce your debt, one step at a time. Why are they so successful? Their unwavering commitment to excellence.
Social Clout: 9,875+ Twitter followers; 330+ Facebook likes
Twitter Handle: @debtmerica
URL: debtmerica.com


Known as "The Freedom Family," this team is all about helping their customers improve their financial well being. They do this by helping customers reduce their debt through financial consultations and education. They work with you on a personal level and strive to advocate for your financial freedom.
Social Clout: 100+ Twitter followers; 20+ Facebook likes
Twitter Handle: @DebtBenefit
URL: debtbenefit.com
Superior Debt Relief Services


Since 1998, Superior has been providing high-quality credit counseling services and consolidation programs to its customers. The team continuously works to be the most accurate and honest debt relief service in the industry committed to ridding you of your debt.
Social Clout: 235+ Facebook likes; 210+ Twitter followers
Twitter Handle: @superiordebt
URL: superiordebtrelief.com


At Freedom Debt Relief, the focus is on the client — no small feat considering there are 70,000 of them! They make it their mission to help you improve your financial well-being, focusing solely on you and your needs. Their human-centered, personalized approach makes them a great alternative to bankruptcy.
Social Clout: 27,435+ Facebook likes; 6,355+ Twitter followers
Twitter Handle: @FreedomFamily
URL: freedomdebtrelief.com


This company understands a debt settlement program is never easy. That's why their negotiators, enrollment staff and customer service teams commit themselves to making your experience a positive one. Customer satisfaction is their number one priority and they work to not only meet but exceed expectations.
Social Clout: 810+ Twitter followers; 125+ Facebook likes
Twitter Handle: @PacificDebtInc
URL: pacificdebtmanagement.com


Their focus on education and customer service has made National Debt Relief one of the largest and most reputable companies in the industry. They provide a better way to resolve your debt problems and work with you every step of the way to help you regain (and keep) your financial stability.
Social Clout: 4,030+ Twitter followers; 3,985+ Facebook likes
Twitter Handle: @NationalRelief_
URL: nationaldebtrelief.com


Since 2003, Trident Debt Solutions has provided provided more than $4.5 billion in debt relief. There's a tailored approach taken for each client, ensuring you don't pay any fees until you've succeeded. While they specialize in credit card debt, this team does it all and will get you the results you need.
Social Clout: 295+ Twitter followers; 35+ Facebook likes
Twitter Handle: @tridentdebt
URL: tridentdebtsolutions.com
Is your financial situation too severe for debt relief? Consider filing for bankruptcy.
Photo sources: facebook.com, twitter.com, huffingtonpost.com