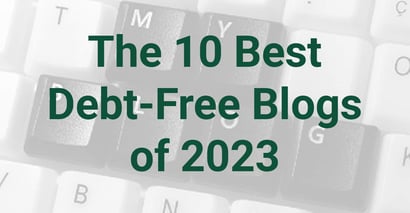 BadCredit.org publishes personal finance studies on the latest trends in the subprime marketplace. Our articles follow strict
editorial guidelines
.
Paying debt and living a debt-free life is similar to working out or going on a diet: you know it's good for you, but staying committed over the long haul is a challenge. However, like physical healthiness, financial health delivers lasting benefits across the spectrum of your life.
Check out our list of the 10 best blogs for living and sticking to a debt-free financial lifestyle. After careful consideration, based strictly on merit, we identified a wide variety of sites that speak to many segments of our diverse readership.
If you want to free yourself from debt and maximize what you accomplish with your money, the blogs on this comprehensive list can help get you there.
Best for Tech Lifestylers: Wealth of Geeks


Suppose you're the kind of person who likes anime, comics, and video games. In that case, you're probably also into tech and receptive to a financial literacy and self-improvement message produced with you in mind.
That's the thesis at Wealth of Geeks, where actionable advice on making, saving, growing, and protecting your money merges with geekdom in all its glory. The result is a version of smarter living that accommodates travel, food, and lifestyle well within the self-improvement matrix (to put it in geek terms).
More About Wealth of Geeks
The site started "as an accident" in 2018 and has promoted an original financial take and fun vibe ever since
Trending topics keep geeks (and geek wannabees) up to date on pop culture
Best for Budgeting: Club Thrifty


Greg and Holly Johnson, founders of Club Thrifty, lived the life of a busy family with constant struggles and stress about money. They decided to pay down their debt and achieve financial independence before retirement while saving for their children's future.
Zero-sum budgeting helped Greg and Holly cut waste, spend less, and use the money they earned wisely. In no time, they found themselves on the right financial path and able to help others achieve the same.
More About Club Thrifty
Greg and Holly also offer a short-form podcast, Club Thrifty On Air, which discusses topics including budgeting, travel planning, credit card rewards, earning extra money, and getting out of debt
The frequently updated Club Thrifty blog contains articles on money-building tips, travel, credit cards, and saving
Best for Education: Celebrating Financial Freedom


Celebrating Financial Freedom is the product of Dr. Jason Cabler, a practicing dentist turned family financial planner. Jason and his wife, Angie, learned financial planning the hard way. They struggled to understand each other's views about money and create a common goal.
Their success led to Jason's passion for teaching others what he and his wife learned. Celebrating Financial Freedom contains courses and tools to help families and individuals achieve a version of financial success that works for them.
More About Celebrating Financial Freedom
The Celebrating Financial Freedom blog links to Jason's views about saving and spending through purposeful behavior
Jason offers The Divine Art of Money, a 21-day course on managing money like a pro
Best for Saving Strategies: Queen of Free


Author and blogger Cherie Lowe is the Queen of Free. With her husband, Brian (the King of Free), Cherie tells her family's story of paying off $127,482.30 in debt from 2008 to 2012 and living a debt-free lifestyle ever since.
Cherie's secret is her obsession with strategies for everyday saving. Drawing on Cherie and Brian's family faith, Queen of Free is Cherie's way of inspiring others to pursue a debt-free life without compromising on creature comforts. She also shares how finances and marriage can intersect in harmony and beauty.
More About Queen of Free
Cherie's book, "Slaying the Debt Dragon," chronicles how her family conquered the money monster and found an inspired happily ever after
Queen of Free contains links to printable coupons, including coupons for organic food stores
Best for Sense of Community: The Neighborhood Finance Guy


Blogger and podcaster Lawrence Delva-Gonzalez, The Neighborhood Finance Guy, was raised in Port-au-Prince, Haiti, in a family with Brazilian roots. In part, his blog's purpose is to propose solutions to the problem of socioeconomic disparities affecting Black and Brown communities.
Community is the watchword on the site. The Neighborhood Finance Guy continually discusses the family and community impact of financial responsibility and the benefits of giving back to the community. In Lawrence's conception, wealth building, especially when it involves historically underserved people, is decidedly not a one-way street.
More About The Neighborhood Finance Guy
The blog presents quotes from black financial experts and wealth builders to help readers build generational wealth and radically change their lives for the better
Lawrence counsels adopting a wealth mindset to change, build, love, and grow
Best for Parents: Lauren Cobello


Lauren Cobello, a single mother of four, is the lady behind I Am That Lady, which explores the intersection between money and heart. Lauren's story is about getting real and reaching beyond the superficial to achieve a simpler and more sustainable family life.
Lauren was inspired to overcome $40,000 in debt by bringing values and vision into her budgeting. Her blog includes tips for budgeting, reducing debt, earning extra money, and frugal meal planning.
More About Lauren Cobello
Lauren is the author of the New York Times-reviewed best-selling book "The Recovering Spender"
She has taught local couponing seminars and appeared on prominent TV programs, including The TODAY SHOW and The Rachael Ray Show
Best for Women: Inspired Budget


Blogger and podcaster Allison Baggerly and her husband started their journey to financial freedom after receiving a surprise in the form of a positive pregnancy test. They paid off a six-figure debt, and Allison learned her success key: that when it comes to budgeting, the simpler, the better.
Allison's message connected with women on social media before she founded Inspired Budget to help women live their best life and reach their money goals.
More About Inspired Budget
Allison is the author of "Money Made Easy," which presents her inspiring take on how to budget, pay off debt, and save
The Inspired Budget blog contains many step-by-step plans for achieving financial goals
Best for Debt Counseling: Get Out of Debt Guy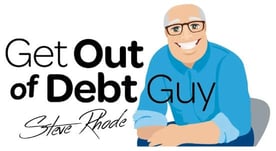 Author, podcaster, and blogger Steve Rhode, the Get Out of Debt Guy, traded a career as an executive for a nonprofit debt-counseling firm for a calling as a consumer get-out-of-debt advocate. Steve's blog is a powerhouse of accurate yet accessible information on the debt relief industry, including credit counseling, debt settlement, bankruptcy, and debt consolidation.
But the Get Out of Debt Guy blog isn't all industry focused. Steve's point is to get people thinking about the future and taking practical steps to get there.
More About the Get Out of Debt Guy
Steve once owned a real estate company that went bankrupt, but within four years, he founded a nonprofit debt-counseling firm
Readers can ask Steve for free advice and report debt-relief scams on the Get Out of Debt Guy website
Best for LGBTQ+ Individuals: Debt Free Guys™


David and John are husbands, podcasters, and bloggers who speak directly to the community of gay men and LGBTQ+ individuals in America who know who they are and what they want. Debt Free Guys™ is about their version of fabulousness and living an amazing life without sacrificing financial freedom.
The Debt Free Guys blog tackles everything from managing college expenses to listing the most affordable queer-friendly cities for travel adventures, so there's something for everyone.
More About Debt Free Guys
David and John's podcast, The Queer Money® Podcast, offers LGBTQ+ money content every week
Their Debt Lesso Method is David and John's exclusive system for paying off credit card debt the fastest way possible
Best for Simple Living: Frugalwoods


Liz, better known as Mrs. Frugalwood, started Frugalwoods in 2014. Then, she and her husband moved to the country and had children. Frugalwoods examines financial independence and simple living in the context of those life-changing events and the family's life as homesteaders in rural Vermont.
The Frugalwoods blog starts with a philosophy of simplicity and delves deeply into the practicalities (and complexities) of living a simple life.
More About Frugalwoods
Reader case studies on the Frugalwoods blog help connect the community around common concerns and goals
Monthly expense reports put readers at the Frugalwoods dinner table as they work out their finances
---
One thing these top debt-free blogs have in common is a commitment to take readers on a journey that starts where they are, not where they should be. With that in mind, choose the path that works for you on your journey toward a financial future free from debt.