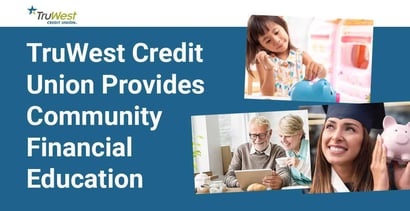 Experts share their tips and advice on BadCredit.org, with the goal of helping subprime consumers. Our articles follow strict
editorial guidelines
.
In a Nutshell: Serving members in Arizona and Texas, TruWest Credit Union offers a full suite of financial products and comprehensive financial education services. TruWest provides an experiential financial simulation that allows participants to test personal financial strategies in a low-stakes environment. The team hosts in-person and online workshops aimed at improving financial acumen and health. TruWest's charitable giving programs and its employee volunteerism exemplifies the credit union's dedication to the community.
A chain is only as strong as its weakest link. This proverb expresses the idea that a community can only be as successful as its least successful member. If even one community member fails, the whole community is adversely impacted.
TruWest Credit Union takes this idiom seriously, investing time and resources into providing programs that strengthen the communities it serves.

TruWest Credit Union, or TruWest, started in 1952 as a credit union for Motorola. Membership then was only open to Motorola employees, their families, and employees of Motorola subsidiaries and their families. In 2003, the credit union opened its membership to the broader population in Arizona and Texas.
TruWest's decision to expand its membership has fueled the organization's growth in the 21st century. TruWest has over 93,000 members and $1.5 billion in assets. The credit union's headquarters are in Tempe, Arizona, and it has 11 branch locations — eight in Arizona and three in Texas.
Even as it grows, TruWest has maintained its commitment to its membership by following its mission of making a TruDifference. Rachel Caballero is TruWest's Community Development Manager.
"TruDifference is a term we coined that alludes to our culture of caring," Caballero explained. "It really brings full force our philosophy of helping people in our communities, which is ingrained in every fiber of what we do."
Caballero said the TruDifference approach is best exemplified in three promises it has made to its community, its members, and its employees. TruWest promises to give back to the community, and the team pledges to benefit its members by providing them with excellent products, rates, and services. The credit union also promises to ensure that employees are happy and thriving.
"That's really what the TruDifference is," Caballero said. "A lot of what we do is community-based, and we place a very high value on community efforts and volunteerism."
Workshops and Simulations Reinforce Learning
TruWest partners with a local higher education institution, Mesa Community College (MCC), to provide financial education to a broader swath of the credit union's audience.
"We started this partnership with Mesa Community College as a holistic approach to get more financial education out there into the community," Caballero said. "We thought a small community college would be a really great place to do that. Through our partnership, we're able to conduct financial education workshops that I actually have the pleasure of teaching."
The workshops are open to first-generation college students, their family members, and MCC staff. Caballero designed the workshops run sequentially, with each workshop building on the foundations established by the prior workshop.

The first workshop teaches sound savings and budgeting strategies. This workshop introduces the importance of building a nest egg for life's emergencies and how budgeting can help individuals find the money to start their savings.
The second workshop focuses on credit. In addition to discussing credit-building techniques, Caballero said this workshop teaches students about credit scores, how to read a credit report, and how to start managing their credit profile wisely.
Caballero covers the topic of investing in the penultimate workshop. She said investing isn't discussed until the third workshop because she wants attendees first to grasp the importance of establishing an emergency fund and building credit before they begin to invest. The workshop explains the benefits of investing for retirement and educates attendees on the different types of retirement-oriented investment vehicles.
Additionally, students engage in an experiential financial simulation called Bite of Reality® in the final workshop. TruWest also uses the simulation at community events and within its branches.
"The simulation is a way for people to put into practice everything they've learned throughout the workshops," Caballero said. "People are provided with a persona, including a salary and credit score, and then they progress through the simulation and can practice making real-world financial decisions. It helps them to learn to make sound financial choices and try different approaches in a safe environment."
Strategically Expanding Educational Outreach
A common thread running through TruWest's education efforts is its steadfast focus on improving the average individual's relationship with and understanding of money. 
It sponsors seven schools throughout Arizona and Texas, providing teachers with unlimited access to financial education resources to help teach their students and bolster financial curriculum.
Not all of TruWest's educational programs are developed for high school or college students. The team also works with various nonprofit organizations to tailor financial education according to the nonprofit's needs. TruWest is flexible to provide education that fits the community, regardless of where the instruction occurs. 
"The topics we teach really depend on where the community is, or what they may need, at that specific time," Caballero said. "All of our financial education is tailored to match what is requested by the organization or community seeking education. For example, when we go to local high schools, they'll poll their students ahead of time to understand what topics are important to them. And we'll put together a program for them based on that feedback."
Caballero said TruWest frequently works with underserved markets to teach basic banking skills and terminology, including compound interest and mortgage preparedness. She said credit topics are essential to TruWest's community, which includes individuals who've moved to the U.S. from countries with different viewpoints and practices regarding managing debt.
"One of the things we like to lead with is the importance of starting an emergency fund while you're young, even while you still live at home," Caballero said. "When you don't have rent payments and all kinds of financial obligations, it's a good time to start that fund so you can handle things that come up in the future without having to take on debt."
Community Service Bonds TruWest and Its Members
Caballero said TruWest offers workshops that educate senior citizens on important financial topics, including Social Security and Medicare. The workshops are often conducted in-person, but TruWest also offers online workshops.
Individuals seeking TruWest's financial education needn't wait for a workshop. TruWest offers a robust financial resources webpage regularly updated with articles and guides to improving financial literacy.
TruWest values community service. The credit union recently challenged its employees to complete 700 hours of community service in 70 days collectively.

"Once our employees got a taste of what it felt like to get out there and help the community, they have continued their volunteering efforts," Caballero said. "We have nonprofits in our communities that are seeing our employees stop by several times a week to help spread financial knowledge — even if they're not teaching a financial education class — through their conversations and interactions with the public."
TruWest financially backs various charities. According to Caballero, most of its charitable sponsorships originate from employee requests. She said employees can request that TruWest financially support philanthropic causes and organizations they're passionate about.
Allowing employees to drive which charitable causes the credit union financially supports serves to form stronger bonds between TruWest and its communities, including employees and members.
"Our approach to charitable giving, and our invitation to employees to nominate charities for TruWest to support, ensures we're putting our money where our passions are," Caballero said. "It also increases morale and trust with our employees. We want them to have a voice and ownership in all our projects. We're always looking for opportunities to help our communities wherever we can."