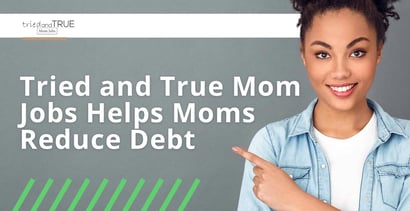 In a Nutshell: Tried and True Mom Jobs is the go-to resource for mothers looking to earn money from home through full-time employment or side gigs. Work-from-home options have never been more critical, and they are increasingly available online. Ventures include proofreading, bookkeeping, online reselling, and can help people support their families and pay down debt. Another high-value option is blogging about interests and passions in a specific niche. Tried and True Mom Jobs shows readers that the keys to success are preparation and building a viable income stream before relying on it full time.
Just a few years ago, Whitney Bonds worked a typical 9 a.m. to 5 p.m. job as marketing manager for a manufacturer. But when she became pregnant with her second child, she knew it was time for a change.
Her first child was a toddler at the time, and her work caused her to miss some significant milestones in his life. She didn't want that to happen again with her daughter, so she started searching for ways to work from home. Instead of targeted resources and opportunities, she mostly found scams and hot air.
"I wanted to see what moms were actually doing at home, how much they were making, and how I could get started. I could not find that anywhere," Bonds said. "I had this 'aha!' moment. I couldn't find this resource, and I know other moms wanted the same thing. So let me create a website that shows ways moms make money from home, how to get started, with all the tools and resources they need to get started."

Her idea became Tried and True Mom Jobs, a blog that provides the detailed information Bonds sought when she was looking to work at home. The site offers information about legitimate opportunities and resources and covers ways readers can earn money from home.
Its content can help people maintain — and possibly increase — their income while avoiding and eliminating debt. And moms can do it all while spending a little more precious time with their families.
A resource like Tried and True Mom Jobs has never been more in demand. As the COVID-19 pandemic has kept many people out of their workplaces — and children out of schools — mothers face new challenges in balancing jobs and parenthood and need resources to help them.
Working From Home Helps Moms Lead Balanced Lives
Many people shifted to remote work during the COVID-19 pandemic, but that wasn't an option for everyone. Plenty of workers faced layoffs and furloughs, and many men and women have been living on credit and accruing harmful consumer debt for an extended period. They may need alternative income streams. That is especially true for women supporting themselves and their children as their household's sole breadwinner.
Some have traditional jobs, while others work overtime at a single position or juggle multiple jobs to support their families.
Those jobs can be lucrative, but they can also be exhausting. More importantly, they keep women out of the household and away from their families. Since mid-2020, many traditional jobs have not been readily accessible. However, digital infrastructure and public health concerns have led to more work from home opportunities, whether they're telecommuting or freelancing.
Moms first need to identify a proficiency or skill set that they can leverage from home to start exploring opportunities. If they don't already have a skill, they can work to acquire it through online research and educational courses.
"A lot of different courses have free workshops. I always recommend you do the free workshop first, and most of the time, there's going to be a paid course they're funneling you to," Bonds said. "I know a lot of people are stuck about where they want to go or do next or what they think is the right thing for them. Check out some free workshops and understand how other people have become successful and see if that's something you want to do."
Of course, having knowledge and skills is only one piece of the puzzle, especially when starting out. Networking on social media channels and becoming more visible on freelancing platforms, including Upwork and Fiverr, are good places to start.
For those with personal websites, keyword optimization can help with visibility in search engine results, helping attract business.
Lucrative Careers to Pursue from the Couch
Bonds said that proofreading is one of the best gigs people can do from home. It requires careful attention to detail and a comprehensive understanding of language, but knowledge and meticulousness present opportunities for big payouts.
"Now, there's a lot of content out there, from bloggers to different businesses and other organizations," Bonds said. "They need people to proof that content before they're publishing it for all these billions of eyes to see."
One proofreader Bonds interviewed said this is the best time to be in the profession because so much digital content is available. As a result, she is making $3,500 per month proofing.
"I was very surprised at how well she's doing," Bonds said. "But it makes sense because of everything that's going on."
Another option is acting as a virtual assistant for entrepreneurs and small business owners looking for help with day-to-day tasks.
"Emails, administration, research, graphic design, social media — tons of stuff like that," Bonds said.
Another popular income stream is buying and reselling goods in online marketplaces like eBay, Amazon, and Facebook Marketplace. One mom Bonds interviewed is making six figures just from reselling, and Bonds's sister is not only earning a living by reselling, but she is also paying off outstanding debt.
Another option Bonds recommends is bookkeeping. Like proofreaders, skilled bookkeepers can earn lucrative paychecks at the moment with relatively little time invested.
"I didn't realize how great of a job this was because the amount of work you need to do for one client only takes about four hours a month. Most people charge on average about $300 per month for their clients," Bonds said. "It's a great job to get into because when you become proficient at it, it does not take you a lot of time."
Blogging Allows Moms to Transform Interests into Income
Blogging is another popular online income stream, and it was a starting point for Bonds. She found her niche, built a successful site, and now helps others do the same.
"There's just so much possibility. I know I'm not going to write every single article out there," Bonds said. "There's room for all of us to win, especially in this type of business."
Finding a blogging niche is just like any other side gig. Bonds recommends people identify something they enjoy, are knowledgeable about, and are proficient at. Then, they can produce quality content, build a community around it, and monetize the work. It won't happen overnight — it usually takes significant time and effort — but it will eventually ramp up, enabling greater financial independence and less worrisome debt.
Watch on
Bonds also offers another piece of advice for bloggers: Be friendly with competitors. Although they have a similar focus, they aren't filling the same niche, and your work can often complement one another's.
For example, many people are writing about ways to start side hustles and earn extra income. However, they're not targeting mothers like Bonds is. There's room for them to succeed, and room to help each other out, and no reason for animosity.
"Just the other day, one of my competitors asked me to be on his podcast to share some insights on outsourcing," Bonds said. "I never knew that something like this existed where you can be friends and help out your competition. It's mind-blowing, and it's nice to know we can all help each other out and still do well."
Helping Readers Achieve Financial Independence
Bonds has built a small internet empire for herself, but it didn't happen overnight, nor was it a fairy tale windfall. She worked hard to prepare, and she didn't just quit her job and hope for the best.
Bonds started working on Tried and True Mom Jobs before she left her full-time position, and that approach allowed her to build steam and gain followers before switching over to making a living off her blog. When she started earning money, that gave her the impetus to take the plunge and go independent.
"That was the confidence I needed to say, 'This is working, so I can now quit my job and focus on this full time,'" Bonds said. "Definitely do it on the side first until you become confident enough, and then especially make sure you're financially secure so that you can quit your job and focus solely on your newfound side hustle."
Financial preparation is a crucial component of turning gig work into a viable, primary income stream. The first step is to set up a budget to see where money is going and identify costs, including cable and streaming, that can be reduced or even cut entirely. That can provide a bit more financial breathing room as someone builds a brand and business.
"I made sure I was negotiating my rates," Bonds said. "Just to make sure they were as low as possible because I wanted to get out of debt, and I was able to do it by doing exactly that."
Advertiser Disclosure
BadCredit.org is a free online resource that offers valuable content and comparison services to users. To keep this resource 100% free for users, we receive advertising compensation from the financial products listed on this page. Along with key review factors, this compensation may impact how and where products appear on the page (including, for example, the order in which they appear). BadCredit.org does not include listings for all financial products.
Our Editorial Review Policy
Our site is committed to publishing independent, accurate content guided by strict editorial guidelines. Before articles and reviews are published on our site, they undergo a thorough review process performed by a team of independent editors and subject-matter experts to ensure the content's accuracy, timeliness, and impartiality. Our editorial team is separate and independent of our site's advertisers, and the opinions they express on our site are their own. To read more about our team members and their editorial backgrounds, please visit our site's About page.