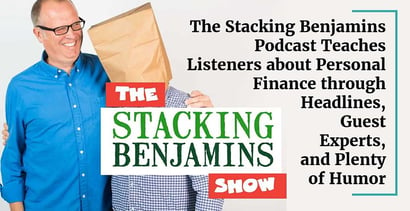 In a Nutshell: Students often learn best when the subject matter is fun, and the Stacking Benjamins Podcast takes precisely that approach to personal finance. The show's hosts use humor to make financial topics more engaging to listeners while they explore financial headlines and interview notable experts who approach finance from atypical angles. Stacking Benjamins also offers educational content and aims to provide money management novices with a starting point. This novel strategy presents an enjoyable way for people to orient themselves on the often dry topic of personal finance.
In 1974, the Minnesota Educational Computing Consortium published an educational computer game called "The Oregon Trail." The game allowed players to assume the role of a pioneer leading a wagon caravan from Independence, Missouri, to the Willamette Valley in Oregon. Despite the limitations of technology at the time, this computer game taught children about pioneer life by making the topic fun and interesting.
Nowadays, the various memes and merchandise proclaiming things like, "You have died of dysentery" or "Your oxen drowned while fording a river" attest to the game's lasting impact. Just as importantly, the persistent nostalgia an entire generation feels for the game illustrates the value of leveraging people's inherent playfulness for educational ends.
That's the same philosophy behind Stacking Benjamins, a podcast co-hosted by Joe Saul-Sehy and OG, which stands for the "Other Guy." Stacking Benjamins has been hailed by Kiplinger, Entrepreneur, U.S. News & World Report, and Forbes for its lively approach to personal finance.
The podcast educates listeners without trying to deliver a master class on obscure, obtuse topics. Instead, it teaches them about finance through current events and humor. The lighthearted attitude makes this intimidating, and often taboo, topic much more accessible and inviting by taking the dry edge off finances.
"A lot of financial podcasts want to be the last word in personal finance. Our goal is to be the first word," Saul-Sehy said. "We want to have fun, not just teach. You just have to enter the culture and see that everybody's making the same mistakes. And let's have a good time."
A Playful Approach to Understanding Money
Today, sports and video games are both big businesses in the global market. In 2017, ICO Partners reported that the crowdfunding platform Kickstarter's most prolific and successful funding category was traditional or tabletop games; midway through that year, 24% of all funds raised were for projects developing traditional games.
Saul-Sehy cites a board game called Power Grid as an example of how human predisposition to play can be educational. In the board game, each player runs a power company. The game doesn't directly teach much about energy and infrastructure, but Saul-Sehy said that it piqued his interest in the topics and revealed that he knows more than he thought about the subject.
"This idea is that the introduction to something doesn't have to be this deep, meaningful conversation," Saul-Sehy said. "I think a lot of money geeks want to go immediately to the deep, meaningful thing, and I think that's what scares off 99% of people."
Stacking Benjamins uses humor to short-circuit the impulse to delve too deeply into finance. The podcast is broadcast live from Saul-Sehy's mother's basement, where he and OG are joined by guests and experts who comment on the loose floorboards and wobbly stools. The setting parodies the conditions of indie content creators, which Stacking Benjamins embraces for comedic effect.
The show's regular contributors play characters and use laughter to spur thought. Saul-Sehy's co-host, OG, is the podcast's certified financial planner. In publicity images, OG wears a bag over his head because, while he's a real CFP, he chooses to hide his true identity behind the character.
"He plays his part of a CFP that talks very bluntly because he's not going by his regular name. He's accountable, and you can find him very easily," Saul-Sehy said. "CFPs have compliance and some things they have to do, so he follows all that stuff. But he still wants to talk very bluntly, so because of that he's in character as OG."
Saul-Sehy and OG are joined by Doug, a neighbor of Saul-Sehy's mother. Doug plays the classic buffoon archetype in the vein of Kramer on "Seinfeld" or Charlie Kelly from "It's Always Sunny in Philadelphia."
"You may think that what you're thinking is stupid," Saul-Sehy said. "But no matter how dumb you think your question is, he's thinking something dumber."
Doug engages in bumbling financial schemes, such as pulling weeds from Saul-Sehy's mother's yard with plans to sell them in Colorado. Similarly, Doug tries to break into the gig economy with a new take on a bed and breakfast: he converts a closet into a "room" and plans to serve broth to guests. And since he incorporates broth into his hotel, he calls it a "brothel."
Saul-Sehy and OG use this sort of humor to draw in listeners and help them engage with the topics they discuss. It is all part of their plan to educate their audience about personal finance.
Bringing Listeners Financial News and Industry Experts
Stacking Benjamins is also grounded by a parade of prestigious guests. These have included Jean Chatzky, financial editor of the TODAY Show; David Bach, the nine-time New York Times best-selling financial author; Suze Orman, notable financial advisor and television hostess; Jill Schlesinger, business analyst for CBS and mastermind behind the "Jill on Money" video show; and Ric Edelman, financial author, radio host, and chairman and Co-Founder of Edelman Financial Services.
"We try to surprise you with people coming at money discussions from as many different angles as possible," Saul-Sehy said.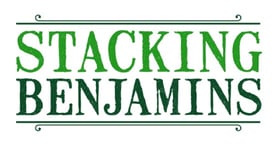 Saul-Sehy, OG, and their guests discuss topics focused on money management and financial concepts, but they try to keep the content fresh and surprising. To that end, the show also features some rather atypical guests. These include Gaby Dunn, host of the Bad with Money podcast; Ed Bolian, the current record holder for the fastest drive from New York to Los Angeles; and Ken Perenyi, a former art forger and author of the book "Caveat Emptor: The Secret Life of an American Art Forger."
Stacking Benjamins typically features six or seven guests per week with new episodes every Monday, Wednesday, and Friday. Each show begins with a discussion of current financial headlines and their relevance to listeners. The hosts then spend 20 to 40 minutes with each guest and respond to questions from listeners.
Friday episodes feature a round table discussion with popular financial bloggers including regular contributors Paula Pant, of the "Afford Anything" blog, and Len Penzo, an award-winning financial blogger. The group discusses financial headlines and other pieces of news making the rounds on the internet.
"We focus on what's currently going on in the mainstream press and provide people with commentary on that," Saul-Sehy said.
Courses and Community Help Fans Expand their Knowledge
In addition to its regular programming, Stacking Benjamins also features educational courses. Currently, it offers Quick Hit: Open Enrollment, which teaches professionals how to make the most of their work benefits; and The Millionaire's Money Management System, which conveys Saul-Sehy's strategies for accumulating wealth, which he learned from his time as a financial planner. These courses are intended for people who want to dig deeper.
The podcast, on the other hand, is not meant to provide in-depth education. Rather, it serves as a jumping off point for people who seek an introduction to finance. Listeners can learn about other resources relevant to their particular concerns and follow up on their own.
Saul-Sehy said one of the greatest strengths of Stacking Benjamins is its community of listeners, who are also active on its Facebook group — Stacking Benjamins Basement. The group consists of avid listeners, and, while it is closed to the public, new members are welcome to apply.
"They chat about what they'd like to see on the show. And it's also bad dad jokes and asking questions to fluster people," Saul-Sehy said. "It's this weird mix of humor. I had a mentor tell me once, 'Over time in your career, you will attract people who are like you, and you'll repel people who aren't.' The Basement is a reflection of us."
The Stacking Benjamins Basement following is another testament to humor's power to build communities of like-minded individuals and to ease tension over a topic as tense as money.
Stacking Benjamins Takes the Show on the Road
Any comedic actor or improviser will tell you that the key to humor is to have fun with it, but at the same time to take that fun seriously. Playfulness is meaningful only when participants buy into the fake reality and take it seriously — but taking it too seriously can cause it to stop being fun.
"The fear I always face is people thinking that, because we're lighthearted, we're not serious. We are very serious," Saul-Sehy said. "I am concerned about financial literacy in the United States. And I do think that our approach to it is an approach that is much needed."
To keep the comedic tone at the forefront, Saul-Sehy and company recently went on a tour of comedy clubs in the Midwest. In mid-2019, they'll continue the tour with shows along the East and West coasts. These stops will provide an opportunity for listeners to meet the podcast's personalities and for new audiences to see firsthand what the show is all about.
"We're also going to do a meetup in Detroit on the first two days of the NCAA basketball tournament. We're going to get some tables at a bar and watch games with some friends — whether or not they're interested in basketball, we're just going to sit and have a good time," Saul-Sehy said. "Those are my favorite two days — that Thursday and Friday. We get to work and drink beer at the same time. How cool is that?"
Not to mention it's a good opportunity for him to get out of his mother's basement.
Advertiser Disclosure
BadCredit.org is a free online resource that offers valuable content and comparison services to users. To keep this resource 100% free for users, we receive advertising compensation from the financial products listed on this page. Along with key review factors, this compensation may impact how and where products appear on the page (including, for example, the order in which they appear). BadCredit.org does not include listings for all financial products.
Our Editorial Review Policy
Our site is committed to publishing independent, accurate content guided by strict editorial guidelines. Before articles and reviews are published on our site, they undergo a thorough review process performed by a team of independent editors and subject-matter experts to ensure the content's accuracy, timeliness, and impartiality. Our editorial team is separate and independent of our site's advertisers, and the opinions they express on our site are their own. To read more about our team members and their editorial backgrounds, please visit our site's About page.