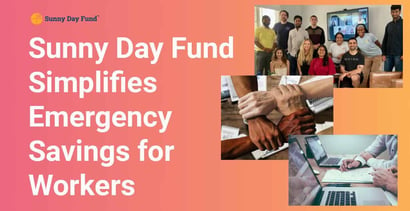 Experts share their tips and advice on BadCredit.org, with the goal of helping subprime consumers. Our articles follow strict
editorial guidelines
.
In a Nutshell: Sunny Day Fund offers employees emergency saving accounts that can be used to address life's unforeseen financial events. Employees are increasingly looking to their employers to help them manage and grow their emergency savings. Sunny Day Fund also provides financial education and guidance to improve financial literacy. Employers experience benefits from the program as well by reaping the rewards of a healthier, happier, and more productive workforce.
Being prepared for life's unexpected twists and turns can boost your everyday confidence and peace of mind. But if we don't see a twist in the road ahead, how can we possibly prepare for it? 
While the exact nature of an unexpected event cannot be predicted, one thing is certain: Having the financial resources to adequately address life's surprise expenses is one of the most important financial steps you can take. Opening and funding an emergency savings account helps accomplish this.
Sid Pailla, Founder of Sunny Day Fund, recognized the importance of having an emergency savings fund firsthand. Unfortunately, he made this realization while ensnared in a situation that called for savings that he and his family didn't have.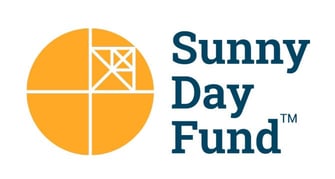 Sid and his family emigrated from India to the United States at the turn of the millennium. Like many other investors, they saw their hard-earned savings dramatically dwindle through the stock market downturns of that time. Their savings, which were primarily parked in retirement accounts, further evaporated through early withdrawal penalties and various transaction charges.
"Thankfully, we made it out of that," Pailla says. "But the experience really ingrained in us the importance of making sure our personal finances were something that would never hurt us again. That's really when the inspiration for Sunny Day Fund was formed."
The Sunny Day Fund takes its name from a play on words of the more commonly used emergency-savings phrase "rainy day fund". Pailla said the reality is that savings can, and should, also be set aside for life's more pleasant occurrences. When framed positively, Pailla notes the savings journey can be much more empowering.
"Yes, individuals can and should be saving for emergencies," Pailla explains, "but funds also should be saved for large expenses such as the birth of a child, a downpayment for your new home, security deposits, or even your next vacation or a special gift for a loved one. Sunny Day Fund is a great place to save and grow your money for those life events as well."
Employees Value Employer-Assisted Savings Options
Employers have long been assisting their employees to save for retirement through investment vehicles such as a 401(k). By offering this benefit, employers provide convenience and consistency to their participating workforce. Contributions to company-sponsored employee retirement plans occur automatically and on a regular schedule. Funds are deducted directly from an employee's regular paycheck without any action by the employee. This allows for a seamless operation to boost an employee's retirement savings. Sunny Day Fund works in a similar manner.
Employees choosing to participate in a workplace emergency savings program such as Sunny Day Fund first select their contribution amount during the enrollment process, which takes only a couple of minutes. Those funds are then automatically deducted from an employee's regular pay and deposited into an FDIC-insured savings account. As an added bonus, employers can choose to incentivize employees to sign up and save by offering to contribute funds of their own when the employee meets certain benchmarks. These employer contributions typically are offered as initial sign-up bonuses and quarterly rewards based on account balances. This serves to reward the employee's long-term participation in the program.


"People trust their employer," Pailla says. "In fact, we've found that 9 out of 10 employees are looking for their employer to offer this benefit and assist them in developing and funding their emergency savings account. And, surprisingly, it's not just lower-income workers who are seeking this. We're seeing interest and demand from workers across all income levels."
For those who are concerned about the money's availability should they move on from their current employer, Sunny Day Fund has a reassuring response. Employees leaving their organization, for whatever reason, continue to have access to their account without any paperwork or hassle. They can even keep contributing to their account if their next employer participates in the Sunny Day Fund program.
The account's flexibility extends to its additional features: There are no minimum deposit amounts to open or maintain the account; there are no credit checks; and withdrawals are available either on the same day or the next day, depending on the type of transaction. All of which mean a less restrictive, more financially inclusive experience.
"We've designed this to be super easy, accessible, and rewarding," Pailla says.
Education is Paramount to Financial Health
Building an emergency savings fund is a necessary step for everyone to take, but it is only half of the equation toward achieving financial health. Educating yourself on understanding money and making smart money decisions is the other half. Sunny Day Fund is a proponent of financial education and strives to provide participating employees with plenty of opportunities to bolster their financial knowledge.
Sunny Day Fund's approach to providing financial guidance and knowledge is twofold. First, program participants have regular access to articles often authored by trusted, means-tested education resources, including the Consumer Financial Protection Bureau's Consumer Tools or FDIC's Money Smart programs. These articles are not limited to providing additional education on the importance of emergency savings. Rather, they cover a broad spectrum of topics, such as debt management and approaches individuals can take to negotiate expenses. Covering various topics helps to build a more financially literate mindset, especially when paired with financial coaching.
"Education is very important to me," explains Pailla, a former educator. "Yes, we offer a financial product, but the tools that we equip employees with are also so valuable. Having purpose-built tools that you can use when you encounter different financial situations is really vital."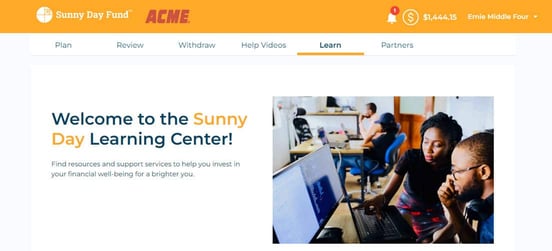 The second phase of financial education that Sunny Day Fund provides leverages behavioral economics, which applies psychological insights to better explain an individual's economic decisions. 
Specifically, Sunny Day Fund nudges participants on the behaviors associated with withdrawing money from their accounts. By advising participants to save purposefully for separate events, it creates a mental impediment to using funds for a purpose other than what they were initially intended for. 
On a more practical level, Sunny Day Fund will also warn participants when a withdrawal could eliminate their eligibility to receive a potential bonus payment from their employer.  That being said, these messages are only intended to guide and help employees stay aware of the impact of their financial decisions. Sunny Day Fund in no way restricts or otherwise hinders account withdrawals.
"These accounts are owned and operated by the individual participant," Pailla says. "What's an emergency to me may not be an emergency to you. If people need to make a withdrawal, for any reason, that's their choice."
Employers See the Dividends of a Financially Healthy Workforce
Employees are not the only ones who benefit from an employer-sponsored emergency savings account. Employers are also beneficiaries of the program. Financial health can improve overall health, and healthy employees are more productive and ultimately more valuable to an employer. Helping employees attain financial well-being goes a long way toward improving employee relations and demonstrating goodwill.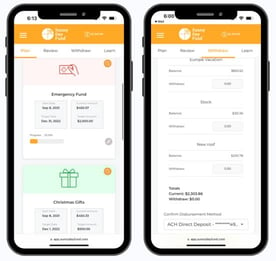 "Employers want employees who are bringing their best self to work," Pailla asserts. "And the metrics we see associated with an employer offering an emergency savings program to employees attest to its efficacy. Where our program is offered, we typically see retention rates increase up to 25%, and, relative to benchmarks, we've heard from employers that 401(k) loans and withdrawals decreased anywhere from 50% to 75% from the prior year. Also, we've seen 100% customer satisfaction amongst those we've spoken with. Participants are excited to recommend Sunny Day Fund."
Many employers that offer emergency savings program benefits will disclose it during an employee's onboarding activities. Pailla encourages employees who are interested in programs such as Sunny Day Fund to discuss it with a human resources representative at their place of employment. This can serve to either get the conversation started within the workplace, or, the employee may learn that such a program is already offered or in development.
People should feel encouraged to discuss their finances and financial situation more openly with their friends, family, and colleagues. Furthermore, opening and funding an emergency savings account is an invaluable component of healthy overall money management. Just ask anyone who's been caught in a financial emergency without the funds to address it.
"Whatever your situation, remember that you're not alone," Pailla advises. "Money concerns impact everyone, and your financial situation is not a reflection of your character. It's never too late to start moving in the right direction."