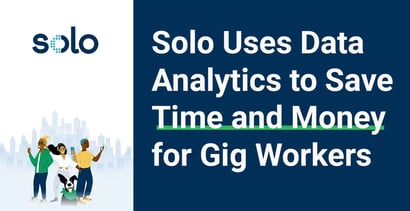 Experts share their tips and advice on BadCredit.org, with the goal of helping subprime consumers. Our articles follow strict
editorial guidelines
.
In a Nutshell: Gig workers enjoy a schedule that provides them with flexibility and convenience. But that schedule can be challenging to manage daily. Gig workers decide when and where to work each day, but surge pricing and seasonality can make maximizing their time cumbersome. Solo helps gig workers choose where and when to work by projecting income levels workers can earn for different jobs. Solo's Guarantee Pay program ensures that gig workers earn their projected income each day, bringing peace of mind and clarity to its customers.
The rat race is a phrase used to describe the daily drudgery experienced by individuals working competitive corporate jobs. People working monotonous and uninspiring corporate jobs may have to dress in drab business casual attire and sit in a cubicle under fluorescent lighting. Most references to the rat race I encounter today are tips for how to escape it.  
Gig workers are individuals who have successfully escaped the rat race or were deft enough to sidestep it altogether in their careers. The segment of the workforce that comprises gig workers enjoys a more flexible lifestyle that prioritizes individuality, freedom, and the ability to make money on their terms.
Those venturing from the corporate world into the gig economy for the first time may experience some obstacles when transitioning to part-time, flexible work. If ex-corporate employees miss anything about their prior work arrangements, it may be the complete lack of infrastructure and support positions available to assist them in their gig role. After all, they're a one-person team now. 
Solo is a company that recognizes the need for smart support for gig workers. Bryce Bennett, Solo's Co-Founder and CEO, previously worked in a corporate role for Uber in the company's pre-UberX days. While working on the driver side of the business, Bennett said he met and worked with the company's first couple thousand drivers to operate under the UberX brand.

"I was involved in vehicle inspections, background checks, and doing presentations on how to use the Uber app," Bennett said. "My time at Uber served as the initial spark for the idea of learning how to serve the gig economy and flexible work, allowing individuals to have that flexibility in their lives that they need while making money on demand."
A Smart Scheduling Tool Keeps Workers on Track
Following his stint at Uber, Bennett worked with truck drivers and independent owner-operators. He said this was when he more fully realized society's need for a company such as Solo.
"I recognized that there's a huge opportunity to help independent workers," he said. "In the U.S., there are 70 million independent contractors that have no human resources systems, no accounting department, and no help with filing taxes and figuring out insurance issues. Providing tools to enable people to accomplish these tasks efficiently could unlock doors for a massive group of gig workers."
Solo, which launched in January of 2022, is now available in 52 cities nationwide. Bennett estimates availability will expand to the 75 biggest cities in the country by the end of 2023. An interactive tool on the Solo website helps workers explore which job platforms are supported in each city and how much the jobs pay. Bennett said one of the underlying problems gig workers face is that they wake up in the morning and must decide where and when they will work that day. 

"It seems simple, but it's actually a very complex decision that these workers must make every single day," Bennett explained. "Certain jobs can provide better pay rates at certain times of the year or even certain times of the day. We help gig workers tackle this issue and get them to the right job at the right time to make the most money possible."
Bennett says Solo uses communal data from a region's workforce to individualize insights that allow workers to maximize their daily schedule in accordance with which jobs are available to them on a particular day. Solo has more than $2 billion of earnings information in its database, which it uses to bring insights to gig workers.
Unique Insights for Workers in Specific Cities
Solo analyzes the data it compiles to extract job-profitability trends. Once it has enough information for a region, it can project for the upcoming seven days how much a job will earn per hour in a particular city. Because wages differ from one city to another, Solo's projections are specific to individual metro areas.
Bennett said Solo delivers trustworthy predictions that project base pay, tips, and bonus and incentive compensation. Workers who consistently use Solo's insights can earn up to 40% more per hour, Bennett said.
Solo's Pay Guarantee program calculates the estimated minimum amount a gig worker will earn on a particular day. It provides a way for the worker to guarantee they make at least that amount.

"Gig workers love the flexibility of their jobs, but there are some days where they may not make enough money to cover their bills," Bennett said. "Our Pay Guarantee program removes the downside risk of flexible work and helps individuals to avoid the anxiety of not being able to hit their earnings goals." 
Pay Guarantee allows workers to purchase credits at the rate of $.25 per hour. Bennett said if a worker earns less than Solo predicted they would earn for a specific day, the worker can exchange their credits for the predicted hourly rate of the job they were performing. If the worker ultimately earns more than Solo predicted they would for that day, the worker is entitled to keep the money above the predicted amount.
"We're really confident in the accuracy of our work," Bennett said. "Pay Guarantee acts as a kind of warranty for the predictions we provide. Workers who use this program appreciate its projections, but they also know if our prediction falls short for some reason, we'll step in and make up the difference for them."
Solo Clears the Path for Gig-Work Efficiencies
Solo is committed to helping gig workers manage their business operations. Its Business in a Box feature exemplifies this commitment. Bennett said Solo tracks income from connected platforms, including DoorDash, Lyft, and Uber, to help gig workers stay on top of their earnings from different jobs. It also allows users to manually input income from other services performed on unconnected platforms.
Solo's app can keep a record of business-related expenses incurred, including phone, equipment, and vehicle expenses. Bennett said the app, if left on in the background, will even track the miles a gig worker travels. The app then matches that data with the dates and times the gig worker works to provide an accurate mileage-expense calculation.
Solo uses captured data to provide gig workers with tax projections throughout the year. The app takes into account the tax rules applicable to gig workers, including self-employment tax, which can help workers avoid any surprises or confusion at tax time.
"It really makes being in business for yourself much easier," Bennett said. "Workers don't have to track their odometers or hang to several receipts — we'll keep a trustworthy record of those for you. And we'll store those expenses in one place for easy reference. This helps people to stress less about managing their business records throughout the year and not fear the threat of an audit."
Solo's future plans include adding payment solutions and helping gig workers get access to cash quickly and build their credit. Bennett said contractors can experience difficulty in obtaining credit, from business-use credit cards to auto loans.
"Most established financial systems in the U.S. are built for full-time employees," Bennett explained. "The whole space is really ripe for rethinking, and Solo is proud to be at the forefront of this innovation. There's so much more to come. We're a small and nimble team that's always open to feedback that can help us improve our products and services."