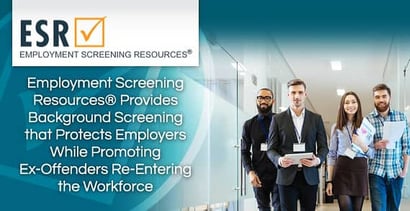 In a Nutshell: The United States incarcerates a higher percentage of its population than any other world power, and many ex-offenders find it difficult to re-enter the workforce. Legislation has been passed in recent years to prevent discrimination against former inmates, but employers often find it difficult and confusing to comply. Employment Screening Resources® (ESR) helps companies and the formerly incarcerated navigate this complex system, while providing screening services that keep the workplace safe. ESR also advocates for the rights of ex-offenders and supports a push to "ban the box" on job applications — removing the question that asks whether an applicant has been convicted of a crime. The goal is to allow anyone who wants to work the opportunity to do so, while maintaining the safety and integrity of the workplace.
As of May 2018, the population of the United States is a little more than 326 million. That's around 4.4% of all the individuals living on the planet. However, the US is home to nearly 25% of the total prison population around the world. Think about that.
The United States locks up more people by far than any other major country, at a per capita rate of around 700 inmates for every 100,000 citizens. To put that number into perspective, it's more than five times the average around the world, and nearly 10 times that of Germany, which has a similar demographic and percentage of immigrants in its population. Currently, more than 2.2 million people are behind bars in the US.
Upon release from incarceration, ex-offenders have supposedly paid their debt and are ready to once again become productive members of society. Except they often can't. For many of those with a criminal record, the difficulty in re-entering society isn't adjusting to life on the outside — it's finding a job that will allow them to earn an honest living.
Absent an opportunity for legitimate work, former inmates often turn to the only alternative they know, and many of them end up right back behind bars. This vicious cycle of recidivism further stigmatizes former convicts and helps to label them habitual offenders. But what if there were a way to break this pattern and end the cycle of revolving-door incarceration?
That's just what organizations like Employment Screening Resources® (ESR) have been working to do. ESR is a background screening firm that helps employers navigate the complex regulations around compliance and privacy laws, while providing resources and advocacy in helping ex-offenders find work. We recently spoke with Dawn Standerwick, Vice President of Strategic Growth at ESR.
"There have been a lot of laws passed that are intended to help ex-offenders re-enter the workforce," Standerwick said. "But employers are struggling with compliance because different jurisdictions have different requirements. We help them with compliant processes providing accurate background information about these individuals within the scope of the various laws."
What this means for job applicants with a criminal history is that ESR helps make sure employers comply with the legal protections afforded ex-offenders, while providing comprehensive screening services that help keep workplaces safe.
Background Checks and Compliance — Employers Often Face Conflicting Standards
As a company providing background screening checks, ESR ensures employers are compliant with state, local, and federal laws. While this may sound straightforward enough, many of the laws can be in direct conflict with one another. For example, a law passed by a local jurisdiction might run afoul of protections set up by the Equal Employment Opportunity Commission (EEOC) to prevent job discrimination.
"We tell our clients the background checks that they run should be related to the risks associated with the job that the person is applying for," Standerwick said. "So let's say you have an applicant whose job won't involve driving responsibilities, it wouldn't be appropriate to run a driving record on them."
At the core of the various legislative protections on background checks and compliance is assuring the safety of the workplace and balancing that with the rights of ex-offenders to work.
In 2012, the EEOC issued revised guidelines to Title VII of the Civil Rights Act, involving the use of criminal records in the hiring process. In particular, this new guidance states that information obtained through background checks is protected under the Fair Credit Reporting Act (FCRA) and should be treated as a consumer protection.
This is important because it encourages employers to conduct an individualized assessment instead of a blanket policy or practice. It states that the employer should take into account the nature of the crime, the time that has elapsed, and the nature of the job being applied for. However, state or local laws may conflict with these protections, which is why ESR's compliance services are so important.
"There is a patchwork of laws that employers have to follow depending on where they are in the country," Standerwick said. "We want to make sure that the spirit of what those laws were intended to do is followed and that the people who are just trying to get a job are protected."
Technology and Real-Time Screening
It's a given that companies have an obligation to maintain a safe and productive work environment for their employees. ESR is committed to balancing that obligation with the rights of individuals to obtain a job based on their merit and not their past mistakes. Part of that commitment is ESR's award-winning Assured Compliance® initiative, which uses technology to ensure companies comply with all applicable statutes and laws.
Assured Compliance helps minimize the risk to an employer of potential legal action related to background check screening. It also provides automated notices, disclosures, and consents required under the law. This automation and real-time compliance checking is a big advantage to companies, both in time-savings and in avoiding legal fees.


"Assured Compliance ensures employers are following the laws and is intended to help individuals who have a criminal record get back into the workforce," Standerwick said. "No one wants to create an entire segment of the population that can't work."
The effectiveness of Assured Compliance can be seen in an industry award given by HRO Today, a human resources trade organization. ESR was recently presented with the 2018 TekTonic Award for Disruptive Background Screening Technology, highlighting the role of Assured Compliance technology in protecting organizations and helping to mitigate risk.
Why "Ban the Box" Has So Much Support
ESR supports the Ban the Box initiative as part of its dual mission to protect employers from compliance risk while defending ex-offenders' legal right to work. Ban the box is a push to remove the question from job applications asking applicants whether they have been arrested or convicted of a crime. Here is what the EEOC has to say about Ban the Box:
"As a best practice, and consistent with applicable laws, the Commission recommends that employers not ask about convictions on job applications and that, if and when they make such inquiries, the inquiries be limited to convictions for which exclusion would be job-related for the position in question and consistent with business necessity."
Currently, dozens of cities and municipalities restrict employers from asking job applicants about their criminal history. Ban the Box is actually a set of initiatives that seeks to ensure employment opportunities for ex-offenders by restricting inquiries into a job applicant's criminal background in the application process. These initiatives are also sometimes referred to as Fair Chance Laws.
The idea around initiatives that protect the rights of former offenders is that they have paid their debt to society and should be afforded the opportunity to return to being productive citizens, instead of having to rely on government assistance programs.
The societal stigma surrounding people who have a criminal background must be reduced if they are ever to be full and contributing members of society. And, of course, this also goes a long way toward ensuring they don't return to criminal activity by providing a rewarding alternative.
Toward the end of our conversation with Standerwick, she mentioned the increasing number of employers, large and small, that support second-chance initiatives.
"Among organizations that do give a chance to people with criminal records, it's widely reported that these are some of the best and most reliable employees because they know they've been given a second chance in life," she said.
Advertiser Disclosure
BadCredit.org is a free online resource that offers valuable content and comparison services to users. To keep this resource 100% free for users, we receive advertising compensation from the financial products listed on this page. Along with key review factors, this compensation may impact how and where products appear on the page (including, for example, the order in which they appear). BadCredit.org does not include listings for all financial products.
Our Editorial Review Policy
Our site is committed to publishing independent, accurate content guided by strict editorial guidelines. Before articles and reviews are published on our site, they undergo a thorough review process performed by a team of independent editors and subject-matter experts to ensure the content's accuracy, timeliness, and impartiality. Our editorial team is separate and independent of our site's advertisers, and the opinions they express on our site are their own. To read more about our team members and their editorial backgrounds, please visit our site's About page.