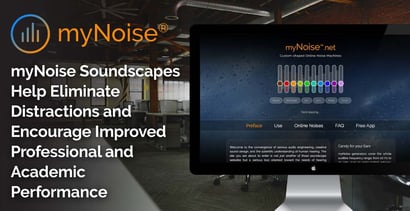 In a Nutshell: The constant din of daily life is unavoidable, but it can often distract people at work or school — and even keep them from getting a good night's sleep. Luckily, audio like myNoise soundscapes exists to allow users to filter out everyday noises and maintain a deep focus on the task at hand. Dr. Stéphane Pigeon developed myNoise soundscapes to filter out undesirable noises. The soundscapes are designed to block distracting sounds and help the brain focus, and users can find a variety of options that allow them to work — and rest — better.
If you feel like you're easily distracted at work, you're not alone. Lifehack reports that 70% of office workers deal with distractions on the job — with 16% of respondents reporting feeling distracted almost all the time. Two of the leading causes of that loss of focus stem from ambient noise: chatty co-workers and office-related sounds.
And those distractions may not let up when workers get home where they may also encounter noises that keep them awake at night. Whether it's a restless cat or a significant other who is snoring, that lack of quality sleep can also impact work performance. It may result in a deteriorated focus, reduced efficiency, and lower-quality output.
Students experience similar situations, and a report from the Online Schools Center showed that distraction and fatigue could lead to lower knowledge retention.
"If you want to be productive and concentrate on a task, sound can be the biggest distraction," said Dr. Stéphane Pigeon, Founder of myNoise, a tool that helps users cut through those distractions with pleasing soundscapes.
Dr. Pigeon recognized that sound is everywhere, and we can't escape it. So he designed a way to turn the tables and cancel out unwanted noise by using less distracting sounds that allow the brain to tune them out.
The myNoise audio platform features a variety of different sonic atmospheres to suit different tastes. Users can also select and adjust the aural elements for a customized experience. Users can stream the music online through Spotify and even access albums on Apple Music, Google Play, and Amazon.
The platform allows users — whether they're at work, school, or home — to enjoy a more serene atmosphere that minimizes distractions and allows them to focus on what's important.
How a Musically Inclined Engineer Created a Platform to Improve Concentration
Dr. Pigeon began playing the piano as a child, but as a teenager, he fell in love with synthesizers when he discovered he could use them not only to compose songs but also sounds. The mathematical basis of music, combined with the application of technology in synthesizers, led him to pursue an education in engineering.
"I have always had a passion for sound, but I have an engineering mind, and I studied engineering in signal processing," Pigeon said. "I have a Ph.D. in that topic, so I have a very deep understanding of sounds."
Pigeon set out to develop sounds that could mask tinnitus, which causes ringing or buzzing in one or both ears, or allow sufferers to focus and sleep better. He was surprised, though, when he started receiving testimonials from people who did not suffer from tinnitus but instead used his mellow soundscapes to enhance their concentration.
"There is so much pseudoscience around sounds," Pigeon said. "I didn't pay much attention to that, but so many testimonials came in saying that people could focus better with a constant background, so I wanted to test it myself."
Pigeon decided to conduct a five-minute test run to see if masking background noise would help him focus on a report he was writing. In those first five minutes, he reassured himself that the experiment wouldn't work. But then he realized he was deeply engrossed in and focused on his report — and had been for the last half hour.
"I was in another world," Pigeon said. "Then, I realized this is something that really works."
The Evolutionary Advantages of Hearing Have Become a Modern Hindrance
Long before the clicking of keyboards in the modern work space, early humans lived amid the sounds of nature. In dense forests or the dark of night, our ancestors couldn't see predators approaching them. But even while asleep, early humans could hear trouble coming.
"Hearing is the sense that is most linked to our survival," Pigeon said. "It is hardwired into your brain. It's something that can interrupt you instantly, and you cannot just shut it off. It's there with you, and you have to live with it."
And people do live with it. At the office, they endure noisy coworkers and other prominent, irregular sounds like the chugging of the printer or the gurgle of the coffee machine. But they can often tune out constant, steady noises like the hum of the air conditioner or the fans cooling our computers.
"When it comes to productivity and focus, your brain is very good at filtering out every constant stimuli," Pigeon said. "After a while — and it's a short while, maybe less than five minutes — your brain will simply ignore that sound, and you will have the illusion that you are working in a silent environment."
myNoise is founded on the brain's ability to tune out steady stimuli. But rather than simply providing a pleasant background noise, users can adjust the audio tracks to mask irritating ambient sounds, enabling them to devote their full attention to work, studies, or other tasks.
Customizable Soundscapes Allow Targeted Filtering of Distracting Sounds
On myNoise.net, and the myNoise app available on iOS and Android, the sounds are completely customizable. Users can select from a variety of different sonic environments, including ocean waves, rain on the window, forest noises, and many others. Within each soundscape, sliders allow the listener to mix the individual elements to meet their taste and needs.
In the Japanese Garden, for example, you can increase or decrease the prominence of flowing water, wind, rustling bamboo leaves, chirping birds, buzzing cicadas, and mellow wind chimes.
The components of each soundscape occupy a different auditory frequency. Beyond satisfying personal taste, adjusting those components allows the listener to compensate for ambient noises on the same frequencies, effectively masking them and blocking them out.
"It's important that the noise masks all the frequencies," Pigeon said.
Watch on
To achieve a similar effect, some people like to use white noise, which encompasses all audible frequencies. myNoise, however, allows users to select one frequency and increase its volume individually, rather than increasing the volume. That makes for a more elegant, effective, and aesthetically pleasing solution.
Most sound sources featured on myNoise are recorded by Pigeon, who carefully edits and masters each to ensure consistency and efficacy. His attention to detail makes myNoise soundscapes superior to generic options available on other sites.
"You have to go through the rain sound and listen to each drop and remove the drops that are too different," Pigeon said. "You need to resynthesize the rain sound so that your rain sound covers all the frequencies of the spectrum."
Pigeon also selected and recorded sounds that are even and constant, which allow the brain to filter them out of cognition even as they block other, unwanted noises.
"The secret is to find a compromise between something that is not boring but something that is not exciting. That's the philosophy," Pigeon said. "Every sound that I record, or combination, is always with that in mind."
myNoise: Expanding its Library to Accommodate More Personal Tastes
While many people work better in quieter environments, that's not the case for everyone. As the Online Schools Center notes, many extroverts work better in busy, dynamic spaces. In the end, it's a matter of personal disposition and taste — and myNoise is happy to accommodate these preferences, too.
For example, one soundscape simulates a coffee shop, which is well-suited to those individuals energized by working in public spaces. And users can adjust the individual noise levels within that environment to make it easier to focus on work and studies. More mellow soundscapes facilitate restfulness and sleep.
"If you like the sound of a forest to concentrate or fall asleep, some will love the sound of distant frogs in the pond in that forest — and some people will hate that," Pigeon said. "Sound is very personal. To be in that focused zone, and for a sound to be ignored, it should be tailored to your own taste, your own experience."
That's why myNoise offers a wide variety of customizable channels to guarantee that each user can find a soundscape that suits their taste and mood.
Advertiser Disclosure
BadCredit.org is a free online resource that offers valuable content and comparison services to users. To keep this resource 100% free for users, we receive advertising compensation from the financial products listed on this page. Along with key review factors, this compensation may impact how and where products appear on the page (including, for example, the order in which they appear). BadCredit.org does not include listings for all financial products.
Our Editorial Review Policy
Our site is committed to publishing independent, accurate content guided by strict editorial guidelines. Before articles and reviews are published on our site, they undergo a thorough review process performed by a team of independent editors and subject-matter experts to ensure the content's accuracy, timeliness, and impartiality. Our editorial team is separate and independent of our site's advertisers, and the opinions they express on our site are their own. To read more about our team members and their editorial backgrounds, please visit our site's About page.