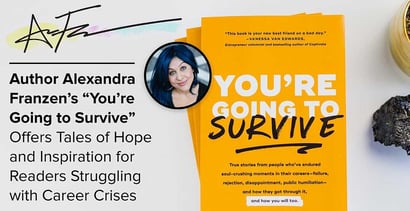 In a Nutshell: Setbacks are inevitable, especially when it comes to careers and personal finances. Author Alexandra Franzen is no stranger to adversity, and in her book "You're Going to Survive" she shares stories of career turmoil and how to emerge from those situations triumphant. She recommends setting small goals and opening up to sympathetic friends or loved ones. Franzen's book conveys tales aimed at helping readers facing similar challenges find inspiration, empower themselves, and work toward a better future.
At one time or another, almost everyone will deal with a career crisis. Many will grapple with unemployment and the problems that come with it. Alexandra Franzen, author of "You're Going to Survive," tells the story of one man who was interviewing for his dream job. He'd made it to the final round of the selection process, his prospects looked good, and his hopes were high. But, at the last minute, he was told that someone else had been chosen to fill the position. He was devastated.
In the midst of such career disappointments — or financial setbacks — it's easy to feel embarrassment at being out of work or shame at being in debt. Everyone who struggles with employment, bills, and other aspects of personal finance is undoubtedly familiar with these negative feelings.
"The emotional side of things is so important. If someone feels overwhelmed or like they're drowning in hopelessness, it's so hard to take that next step and make things better," Franzen said. "Most of the stories in 'You're Going to Survive' are about a rock-bottom career moment — a client hated your work, or you got fired from your dream job."
Franzen is familiar with these trials and tribulations because she's experienced them. But instead of letting herself stay down, she found a path through despair — and the inspiration to write "You're Going to Survive."
The book offers hope to those struggling with career adversity and motivation to find a way to move past those difficulties into a better future.
How a One-Star Restaurant Review Became Fertile Ground for Inspiration
Franzen, a career writer, stepped out of her comfort zone when she joined a team that was opening a restaurant. For her, it was a large amount of work along with substantial financial and emotional risk. She and her partners got the restaurant off the ground and running smoothly, but that was only the beginning of her journey.
"We opened the doors, and things seemed to be going pretty well. At first, we had a little trickle of customers. We were starting to make a little name for ourselves," Franzen said. "Then, a couple of months after we opened, we got our very first negative Yelp review. When I say negative, I mean really bad. They called our food gross. They just hated us. I'd never really dealt with anything like that before."
As a writer, Franzen had dealt with rejection from publishers, but she'd never encountered such outright hostility in a public forum. The experience brought with it the fear and self-doubt we all feel when facing career difficulties.
"It rattled my confidence, and I found myself freaking out about it and panicking and feeling like, 'Customers are going to see this review, and no one will come to our restaurant, and we're doomed. We're going to close within a week,'" Franzen said. "It felt, at that moment, like everything was over. I felt embarrassed, ashamed, and humiliated. No one likes to have their hard work distilled into a one-star rating."
"Every single person I reached out to said something along the lines of, 'You're going to survive. You're going to be okay. This isn't the end of the story. Those people also had stories of their own. Everyone has their own version of the one-star Yelp experience, whether it was getting fired from a job they loved, having a negative balance in their bank account, or getting rejected by a client." — Alexandra Franzen, Author of "You're Going to Survive"
Franzen's instinct was to isolate herself, but she instead turned to her friends and family. She explained what she was going through and asked them for words of support, encouragement, and comfort.
"Every single person I reached out to said something along the lines of, 'You're going to survive. You're going to be okay. This isn't the end of the story,'" Franzen said. "Those people also had stories of their own. Everyone has their own version of the one-star Yelp experience, whether it was getting fired from a job they loved, having a negative balance in their bank account, or getting rejected by a client."
This experience comforted Franzen and gave her the strength to persevere. It also provided something just as important: The inspiration to lend the same support to others.
Franzen began collecting those narratives, interviewing people, and compiling their experiences into "You're Going to Survive." The book explains the difficult situations people encounter, how they overcome adversity, and how the experiences made them stronger and more capable. Franzen hopes that those tales can provide for others the same support and inspiration she experienced during her own trying times.
"I wrote the book in the hopes that someone else who's going through a rough time will read it and remember: 'I'm not alone. I'm not the first person to go through something tough like this, and I won't be the last. All of these other people survived — and I will, too,'" Franzen said.
Positive Thinking Can Turn Setbacks into Steps Forward
Many of the stories in "You're Going to Survive" involve unemployment and the struggle to find work. The story of the man rejected from his dream job in the final round of interviews is one that she encountered while working on the book. However, the job seeker in question ended up receiving an even better job offer just a few weeks after his big rejection.
"Even though it seems so dark right now, and it's hard to feel hope that things are going to get better, you have to keep putting one foot in front of the other and taking that next little step," Franzen said. "Things will improve if you keep doing that."
One of the most important practices is avoiding a self-defeating attitude. Just because things haven't worked out in the past doesn't mean that pattern will continue. Franzen said people need to trust themselves and their work ethic to pull them through difficult situations.
When feeling intimidated or bogged down, the most critical steps are the little ones. Franzen recommends setting small milestones and using them to build momentum. Achieving even minor goals provides the sense of satisfaction that comes with checking items off a to-do list. Eventually, those small victories will snowball into larger, sweeping accomplishments.
"If I'm feeling overwhelmed, I remind myself that I'm moving in the direction of what I want. I'm taking one more little step. I'm a little closer today. And there's something about the simplicity of that idea that helps me keep moving forward," Franzen said. "If someone is staring down $50,000 in credit card debt, it can feel overwhelming. But what's the next little tiny step you can take to start to move in the direction of financial freedom and security? Just repeating to yourself 'I'm going in the right direction' can give you the little burst of strength you need."
Franzen Offers Recommendations for Readers Seeking Wisdom and Guidance
The genesis of Franzen's project grew out of a challenging moment in her career. In the midst of the upheaval, she said she found inspiration and encouragement in her social support network. However, she said, that isn't always the case.
"Social media can be such a powerful and beautiful tool, but there's often pain behind the scenes. There's disappointment and discouragement and failure and all kinds of things people don't post," Franzen said. "We can get a little bit of a skewed image of people's lives, and then we start to compare ourselves to those images. If you're going to be on social media, you should remind yourself: It's awesome my friend is posting a photo of her beach vacation in Bali, but that's just one snapshot of her life. We're all struggling with something, even if we don't post it publicly."
For readers who are feeling down and struggling to get back up, Franzen shared a pair of books she finds valuable. The first is "When Things Fall Apart" by Pema Chodron, a Buddhist nun and best-selling writer on shame, grief, and dealing with difficulty. Chodron's book provides perspectives on how to face adversity and move beyond it. Her second recommendation is Mark Nepo's "Book of Awakening," which consists of 365 short essays addressing life's difficulties and how to live meaningfully. Franzen recommends reading one essay each day.
For those in need of more urgent assistance, Franzen encourages them to take advantage of Crisis Text Line. This non-profit, free service is available 24 hours a day, seven days a week. It connects people in need with trained crisis counselors who can help them deal with emotional crises, de-escalate bad emotions, and regain some clarity of thought.
Finally, Franzen recommends the simple act of sitting down and speaking with another person, whether it's a friend, a family member, or just someone with a sympathetic ear.
"Ask one human being for support, and open up to one human being. I think that's so important in helping us to come out of that shame cave and start to connect," she said. "As soon as you do that, they may even open up and share a story of their own. When one person is willing to be vulnerable, it gives the other person permission to be vulnerable, too. That's a beautiful thing."
Sharing More Stories of Life's Trials and Triumphs
Because everyone is likely to deal with a career crisis or other significant setback in their lives, "You're Going to Survive" is a book that can help many professionals. And Franzen has received plenty of feedback from readers who found value in the stories recounted in it.
"The reaction has been beautiful. I would say what I've especially enjoyed was making an audiobook version," Franzen said. "I got a lot of lovely emails from people saying, 'I listened to you reading these stories, and it helped me feel some comfort and hope.'"
The audiobook is free, nearly an hour long, and features selected stories from "You're Going to Survive."
Many of those listeners have chosen to share their own stories with Franzen. Their willingness to open up about their painful experiences is further proof that everyone has a story about difficult times and, most importantly, those difficulties can be conquered through optimism and perseverance.
Franzen, not one to rest on her laurels, has been hard at work on another project. Her newest book, "So This Is the End," is a novel, a departure from the style and subject matter of "You're Going to Survive." But, like its nonfiction predecessor, the book explores the depths and heights of the human spirit, albeit from a distinctly different angle.
"The central question of the novel is, if you had just 24 hours to live, what would you do with your time? It's an interesting question for someone who's feeling stressed about money," Franzen said. "Maybe it will inspire some thoughts about what your priorities are in life and what you value — or, if nothing else, just take your mind off your stresses for a moment."
Advertiser Disclosure
BadCredit.org is a free online resource that offers valuable content and comparison services to users. To keep this resource 100% free for users, we receive advertising compensation from the financial products listed on this page. Along with key review factors, this compensation may impact how and where products appear on the page (including, for example, the order in which they appear). BadCredit.org does not include listings for all financial products.
Our Editorial Review Policy
Our site is committed to publishing independent, accurate content guided by strict editorial guidelines. Before articles and reviews are published on our site, they undergo a thorough review process performed by a team of independent editors and subject-matter experts to ensure the content's accuracy, timeliness, and impartiality. Our editorial team is separate and independent of our site's advertisers, and the opinions they express on our site are their own. To read more about our team members and their editorial backgrounds, please visit our site's About page.