Experts share their tips and advice on BadCredit.org, with the goal of helping subprime consumers. Our articles follow strict
editorial guidelines
.
In a nutshell: Honest Jobs is the nation's largest fair-chance employer platform dedicated to helping individuals with criminal records find better job opportunities without fear of discrimination or rejection. Melissa Dickerson, Chief of Staff at Honest Jobs, tells us how the company started with CEO Harley Blakeman, who knew this experience all too well. She also shares how Honest Jobs has evolved into a platform where people all around the country get a second chance to thrive in society.
Every year, more than 650,000 people are released from prison. That's equal to the number of people living in Boston — the United States' 25th-most populated city. But reentering society after serving a prison term is never easy.
Not only do individuals have to learn to readapt to life, but they also need to secure employment. Unfortunately, finding a job with a criminal background often feels nearly impossible, which also may be why formerly incarcerated people are 10 times more likely than the general population to experience homelessness.
Often, the difference between employment and unemployment isn't for lack of trying. Instead, it all comes down to whether employers are "felon-friendly." Many businesses don't want to take the chance of hiring someone with a criminal background. And those that do are hard to find amid packed-to-the-brim job sites like Indeed, Monster, and LinkedIn.


The problem is that those sites aren't explicitly designed to cater to the "box" into which people with records fit. That's why Honest Jobs was founded.
"Studies have shown that when people are released from prison, 60% are still unemployed a year later," said Melissa Dickerson, Chief of Staff at Honest Jobs. "And we're very proud that our platform serves to shorten that period."
Founded by those who have walked the same paths, Honest Jobs helps create second chances by connecting job seekers with criminal backgrounds to fair-chance employers.
Bridging Opportunities for Those with Criminal Records
Honest Jobs started with CEO and founder Harley Blakeman in 2018. After being released from a 14-month sentence, Harley had one goal: to start fresh. He'd become sober, moved in with family, got a job washing dishes, and graduated business school at the top of his class.
"He was the poster child for what you're supposed to do when you reenter society," said Melissa. "But he started searching for full-time work and couldn't get hired due to his background." 
Harley faced rejection from more than 100 employers before establishing Honest Jobs, the nation's largest fair-chance employment marketplace. Melissa had been there too: Once she was released, she attempted to find work and a place to live but faced an absence of support and opportunity.
When Honest Jobs was established, its initial aim was to onboard 1,000 fair-chance employers. Today, Honest Jobs works with more than 1,400 companies that offer 300,000 jobs on the site on any given day. The site has 80,000 active job seekers and more than 5,000 new signups every month. The company works with well-known employers, including Koch Industries, Amazon, Pepsi, and CVS Pharmacy. 
Honest Jobs also uses Conflix™, a unique technology that automatically color-codes jobs with a score so job seekers can see their compatibility with an employer based on their criminal record. This helps reduce time and wasted effort for job seekers and employers.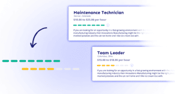 Melissa explained that although it's ideal to match candidates up with jobs they're most compatible with, it comes down to what employers try to avoid — legally speaking, that is. 
For example, a company hiring a delivery driver would likely avoid hiring a person with a DUI conviction because that could lead to a lawsuit for negligent hiring. Negligent hiring is a legal concept in which an employer can be held liable for harm caused by an employee if that employer fails to exercise "reasonable care" in the hiring process. 
"It's what employers are often looking for, but we found that many job seekers aren't necessarily aware of it," Melissa said. "The color-coding system helps job seekers see what they're most compatible with and what may conflict." 
The Honest Jobs platform also shows how many people with a record have been hired by a specific employer. 
"Every job you see on our site will have a little badge that says something like, '150 verified hires,'" Melissa explained. "That means within our job seeker network, 150 of them told us that that specific employer hired them after they were convicted of a felony."
This is important because, even if a company is considered a fair-chance employer, it might not hire more than one or two at a time or be actively looking to employ those who have records. Knowing how likely they are to be hired offers job seekers greater transparency, allowing them to make informed decisions about where to apply.
The Role of Fair-Chance Employers in Redefining Criminal Stigma
Although there isn't explicit data on why some companies don't hire justice-involved individuals, it is likely because they have a misconception of what a criminal record may actually mean. For example, a felony can range from something as minor as shoplifting to as severe as manslaughter. 
The problem is that many employers often contribute to this level of discrimination by removing candidates from the potential applicant pool when they're honest about having a criminal past. 
"Employers with a box on their application that says, 'Have you been convicted of a felony?' means they're automatically weeding people out from that point," said Melissa. 
Fair-chance job listings account for approximately 15 out of every 1,000 job ads in the US. And yet, having a criminal history isn't unusual in America. As many people have criminal records as do bachelor's degrees. 
But there is a beacon of hope: Some industries are more willing to hire those with records, including manufacturing, construction, and transportation.
"By nature, these industries are more friendly for fair-chance hiring because there's no real public interaction, but they still offer decent wages and are very stable," explained Melissa. "But it's important to note that customer-facing, hands-on jobs like housekeepers or home care aids are less likely to be open that way." 
Even so, Melissa said that doesn't mean job seekers on Honest Jobs haven't had luck in other industries or sectors. She explained that the most success she sees comes from companies whose mission is to hire people with criminal records and encourage that type of integration into the workplace.
"We have a whole page of testimonials where people talk about their story and criminal history, what happened, how difficult their job search was, and how it finally changed for them when they came to our site," said Melissa. "The best part of my day is listening to those stories and understanding how we've helped change people's lives."
The stigma of hiring people with criminal records is apparent, but the truth is that there aren't any facts that support it. Several studies have shown that formerly justice-involved employees decrease turnover within a company, increase productivity, and perform as well or better than those without a record. This data alone proves the misconceptions that so many employers tend to have. 
"The best part of my day is listening to those stories and understanding how we've helped change people's lives." — Melissa Dickerman, Chief of Staff at Honest Jobs
Providing Support and Resources Goes Well Beyond Employment
If you haven't been to prison or don't know someone who has, it's hard to imagine what kind of help someone just out of jail needs. Having a place to live and regular employment are obvious needs. Bt they also need a way to get to work — and paying for an Uber back and forth is often out of the question. 
Some people may also need legal assistance, especially if they're dealing with housing discrimination or they're trying to get benefits like food stamps, cash assistance, or low-cost or free medical services.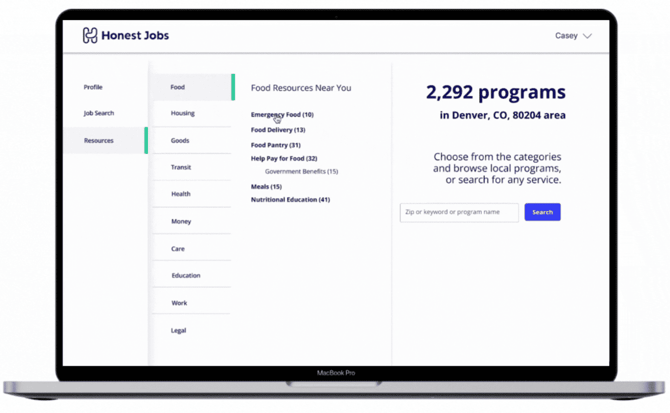 This is why Honest Jobs goes beyond the point of connecting job seekers to employers. It also provides assistance for those recently released who need support and resources to navigate what's next. 
Melissa explained, "We collaborate with a free national resource center that aids individuals in finding assistance beyond employment, such as childcare, internet services, or transportation. There are tens of thousands of programs, so all they have to do is enter a ZIP code, and it shows all the available programs that serve their area." 
At the local level, this is an incredible resource — and what's even better is some higher-level changes are in the works or are already available in some areas: 
"It's a little slow-moving, but still really exciting to see all the changes being made," said Melissa.
If you or someone you know faces employment challenges due to a criminal record, try searching with Honest Jobs. Browse through fair-chance employers who won't discriminate because of your record and get access to resources in your area — all completely free.