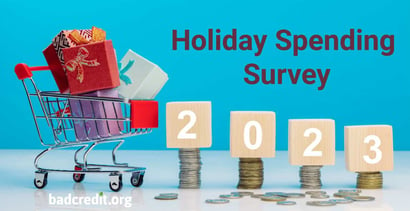 Experts share their tips and advice on BadCredit.org, with the goal of helping subprime consumers. Our articles follow strict
editorial guidelines
.
One-third of consumers surveyed also admitted they don't spend the same amount on their partner as their partner spends on them.
This time of year always ushers in a sense of holiday cheer. But for some, that cheer accompanies anxiety over increased seasonal expenditures, particularly holiday gifts. We commissioned a survey of more than 1,000 respondents to evaluate where consumers tend to spend the most money during the holidays, and on whom.
How Holiday Gift Budgets Are Distributed
When consumers in our survey were asked how they allocate their holiday spending among family and friends, many survey respondents said they will spend the most money during the holiday on their spouse/partner (27%), closely followed by: 
Children (26%)
Siblings (15%)
Parents/guardians (11%)
Friends (11%)
Themselves (9%)
12% of People Still Buy Gifts For Their Exes
About half (52%) of respondents said they will spend a different amount on gifts for their parents than they plan to spend on their in-laws, 77% of whom say that is intentional. The survey also found that 42% of respondents do not plan to buy gifts outside of friends and family, but most people said they plan to buy gifts for a variety of acquaintances, including:
In-laws (26%)
Neighbors (25%)
Colleagues (23%)
Bosses (15%)
Teachers (12%)
Ex-partners (12%) 
73% of Children Will Receive What's on Their Christmas Wish List
Nearly three-quarters of Americans with children in their household (73%) said they will buy what's on their children's holiday wish lists, with men (81%) more inclined than women (61%) to purchase what their kids ask for.

Twenty-one percent of respondents said they sometimes purchase what's on their child's holiday wish list, while 5.5% said they do not.
There's No Shame in Spending Less
You may think people feel bad if they don't buy something significant for their loved ones. But the holiday spending survey discovered that almost half of Americans (47%) surveyed admitted they do not feel guilty if someone gives them a more expensive gift than the one they gifted them.

Additionally, 32% of respondents admitted that they don't spend the same amount on their partner as their partner spends on them.
Tips for Keeping Holiday Costs Low
Whether holiday gift-givers are spending more or less than in years past, it's important that they shop responsibly to avoid creating debt they're unable to repay in a timely manner. To ensure January comes with a financial bright side, holiday shoppers will want to create holiday budgets, make their gift lists and stick to them, and set some debt-free goals for the New Year.
Create a budget: Determine the amount you're comfortable spending on holiday gifts this year and allocate an amount to each person on your list.
Make a list – but don't check it twice: Write down each person, including neighbors, coworkers, and anyone else you want to buy a gift for, and come up with a gift idea for each. You can perform online research to find the best price, perhaps waiting for Black Friday and Cyber Monday deals to get the lowest price. Better yet, you could make them a meaningful gift, such as a framed photo, bake them your famous dessert, or offer to help them with something around the house to minimize costs.
Set debt-free goals: Once you have a list, it's important to stick to it to avoid overspending. Paying via debit or cash won't create debt, but you can use zero-interest Buy Now Pay Later apps to help avoid hefty financing charges if you need to stretch out payments. If you use credit, be sure to pay the balance before the interest-free grace period expires.
Survey Methodology
A national online survey of 1,036 U.S. consumers, ages 18 and older, was conducted by Propeller Insights on behalf of BadCredit.org in October of 2023. Survey responses were nationally representative of the U.S. population for age, gender, region, and ethnicity. The maximum margin of sampling error was +/- 3 percentage points with a 95% level of confidence.