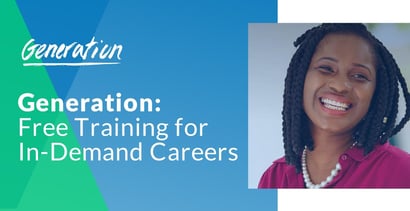 In a Nutshell: Generation offers free job training bootcamps for people seeking to switch careers and achieve higher earnings. In addition to formal education, Generation also provides substantial institutional support through cohort groups, mentors, and life coaches, ensuring students receive maximum benefits. Many of those learners are transitioning out of rapidly disappearing sectors and are strongly committed to succeeding in their new careers. Generation's success rate is so high that it is expanding operations, particularly in areas heavily affected by the COVID-19 pandemic, to ensure faster economic recovery and brighter, more stable futures for workers.
In early 2020, Sean Segal was leaving a college campus and heading toward the Atlanta airport. Along the way, he started chatting with his Uber driver about work.
His driver was also a public bus driver, so Segal asked him why he was also working for Uber. The driver told him that the hours he got working public transit were limited; it was a union job, and he couldn't move up the ranks until someone with seniority moved out.
That scenario severely limited his career progress and his earnings. So Segal gave him his business card and told him about Generation, a global employment program that seeks to close the skills gap for people by offering free career training bootcamps. The program connects the unemployed with the skills and support they need to achieve personal and professional success.
"Before I even got on my plane, he'd already emailed me and submitted his application," said Segal, who is CEO of Generation. "He transitioned into a career in tech. Public transit jobs have been limited because of government budget crunches and everything else. So he had a stable job, but he wasn't able to get benefits for his family, and there was no career trajectory for him."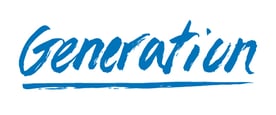 Generation's career training bootcamp provides that trajectory for the myriad workers who find themselves in the same position. Its four- to 12-week programs teach the technical and professional skills necessary to move into higher-paying positions. It places graduates in tech, manufacturing and construction, and other industries in need of quality entry-level talent.
The program began in 2014 with the backing of McKinsey & Company, a global management consulting firm. The organization's initial goal was to understand the obstacles workers encounter during their transition from education to employment.
"A lot of programs tried to address the issue through similar best practices, but no one did it in a cost-effective and sustainable way," Segal said. "So for the first time in the firm's history, they decided to try social enterprising. They launched Generation with a significant commitment of time and money and talent in the United States, Kenya, Spain, India, and Mexico."
Generation is now separate from McKinsey & Company, but the mission remains the same, and it has expanded operations into 14 countries. Its training courses operate in partnership with local colleges, and they are free to learners. That makes Generation an excellent option for those seeking a career change but who may carry consumer or student loan debt. Free courses mean those learners won't need to take on more debt to improve their earning potential.
"We don't charge our students anything, which we're pretty adamant about," Segal said. "We fund our programs on a mix of philanthropy, public dollars, and employer fees. We know that, as a nonprofit, we're creating a lot of value for employers by filling those problems they're having with entry-level talent."
Institutional Support Ensures Successful Outcomes
Generation students not only participate in the bootcamp, but they also get extended support tied to housing, transportation, and childcare.
"Then, we place them in jobs," Segal said. "Here in the U.S., we place 80% of our graduates in jobs within 90 days, and 76% of them are still working a year out, and they see income five to six times higher than they saw before the program."
Generation provides non-educational support for program participants in other ways, including offering crucial peer support and encouragement through an in-it-together mentality.
Watch on
"We realized many learners coming into our program had experienced failure, whether it was a recent layoff or they'd never been successful in education or employment," Segal said. "We think it's important for people to come into cohorts and see others that look like them, who have the same experiences, and receive that camaraderie that goes along with those experiences. So the cohort model is key."
Generation also provides institutional support by way of mentors and life coaches. Mentors help learners through the bootcamp process, and they check in with graduates to ensure they're prepared to succeed in their new careers and workplaces.
"They ask, 'Do you have a plan on how to get to work?'" Segal said. "Or, in these times, 'Do you have access to the technology you need to do the job we get you?'"
In addition to mentor guidance, students also have access to life coaches. Talking with them can help students understand obstacles to their success and work through difficulties to graduate and move on to successful, financially beneficial careers.
Commitment and Drive are Key Factors in Achievement
Segal said Generation candidates include people who tried college and found it wasn't a good fit for them. Unfortunately, many were left trying to pay off student loan debt while stuck in low-earning careers. Others completed college but still can't find adequate employment opportunities.
"Between 10% and 15% of our applicants have degrees in liberal arts and are looking to transition into tech because they're not finding careers," Segal said. "Close to 50% of our students come in with some college experience, meaning they started, but didn't get a certificate or a degree."
Another of the program's demographics is workers transitioning out of sectors that are rapidly disappearing from the economy, including call centers. But regardless of where they come from, the most successful students are committed to furthering their careers and financial situations.
"We think most people can do anything when they're ready," Segal said. "It's never too late to invest in yourself. And this program, while it's a big commitment, is also free, and it has the potential to change lives. So if you're thinking about it, apply tomorrow and start the journey."
Generation training program participants must have a 9th-grade reading level and that characteristic drive, which Segal and the Generation team call "fire in the belly." Generation's programs are intensive four- to 12-week, 40-hour-a-week training courses. Belief in oneself and a commitment to success are critical indicators of strong candidates.
"The ability to commit is most predictive of them being successful," Segal said. "We have tons of folks, especially right now, who are transitioning from careers in retail and hospitality coming in with no tech experience but excelling in our tech programs and joining this new field."
Post-Graduation Support Fosters Employment Stability
Today, Generation is focused heavily on tech training and placement, particularly in the U.S. Despite the COVID-19 pandemic and recession, the tech industry is still going strong thanks to its workforce flexibility.
"We found tech is one sector that's still willing to hire remote workers, and there's still just a ton of demand," Segal said. "There are about 700,000 unfilled tech jobs in the United States, and that's predicted to continue to grow quickly."
As a result, the sector is increasingly becoming more open to all talent, including the kind Generation produces.
"They know that if they want to diversify their workforce, relying on college degrees is much less important than looking at the skills learners bring to your company and hiring based on that," Segal said. "This is the first time we're seeing companies step up and do that."
When a Generation graduate enters a new career in tech, or any other industry, the organization keeps close tabs on their progress and performance. Their evaluations are based on activity mapping, which documents the tasks entry-level workers perform. Generation distills a list of 20 to 30 activities they engage in daily, and from those, it extracts five to 10 "breakdown moments" that determine a new hire's success or failure.
Generation follows its graduates for a full year after placement in a job, continuing to survey them and their employers regarding the worker's performance. The organization helps graduates remain on their career path to improve their earnings and reduce and avoid debt.
"When we see someone is having attendance issues or they're falling behind, we can have our alumni team go in and intervene and make sure they're staying successful in that job," Segal said. "That's why I think our retention rate is so high."
Generation: Providing New Opportunities for Workers Impacted by COVID-19
College graduates in full-time jobs are finally beginning to see recovery after months of economic turmoil. Meanwhile, minorities, gig workers, and those with high school diplomas or less education aren't seeing much of a benefit. But Generation is meeting those labor needs with new programs. One of its big focuses is in Florida, where it has launched a bootcamp in Miami with another launch in Tampa soon.
"Florida's one of the only states where we're launching multiple programs because there's so much need there," Segal said, referring to the massive hit the state's hospitality industry has taken in 2020.
Generation is also launching programs in Las Vegas, New Orleans, and other cities where people are accruing credit card debt to meet day-to-day expenses. Generation's plan to assist with economic recovery focuses on making the most significant impact in people's lives.
"A solution that moves a small group of people just isn't enough anymore," Segal said. "We need to get systems changed, and that's what I think Generation is about: achieving that change at scale. I am excited, not for the moment the country is in, but for the potential change that can come out of this moment and how we can level the playing field for those we work with."
Advertiser Disclosure
BadCredit.org is a free online resource that offers valuable content and comparison services to users. To keep this resource 100% free for users, we receive advertising compensation from the financial products listed on this page. Along with key review factors, this compensation may impact how and where products appear on the page (including, for example, the order in which they appear). BadCredit.org does not include listings for all financial products.
Our Editorial Review Policy
Our site is committed to publishing independent, accurate content guided by strict editorial guidelines. Before articles and reviews are published on our site, they undergo a thorough review process performed by a team of independent editors and subject-matter experts to ensure the content's accuracy, timeliness, and impartiality. Our editorial team is separate and independent of our site's advertisers, and the opinions they express on our site are their own. To read more about our team members and their editorial backgrounds, please visit our site's About page.