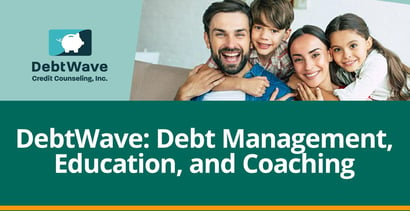 In a Nutshell: DebtWave offers debt management, counseling, and coaching solutions to help consumers take back their financial freedom. The company's dedicated debt management experts dive deep into individual situations to discover the issues behind outstanding debt. Then, they work with clients to create budgets and road maps for paying off debt while establishing positive habits and behaviors that will keep them on the right track. DebtWave can help clients reduce, eliminate, and avoid debt, and move on to live happier, healthier lives.
According to the Fed, revolving consumer credit card debt in the United States declined during the initial months of the COVID-19 pandemic. Then, in May 2020, credit card debt fell below $1 trillion for the first time since May 2011. But why such a counterintuitive response?
First, consumers were often warned of impending closures, furloughs, and layoffs, enabling them to budget accordingly. As events unfolded, people also had less money to spend, and spending opportunities dwindled. In many places, consumers couldn't eat out, go shopping for fun, or engage in other social activities that cost money. And credit providers tightened restrictions on spending limits and new credit lines, limiting the ability to accrue additional debt.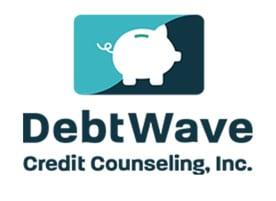 But despite this positive shift, $1 trillion is still a massive amount of outstanding debt. And many Americans are starting to feel financial pressure mount again.
For those experiencing debt-related difficulties, DebtWave offers multiple solutions. The nonprofit is located in San Diego, but its services are available to consumers across the United States via phone or online — except those in Idaho, Kansas, Maryland, and New York. DebtWave provides credit counseling and coaching, debt management, and financial education resources designed to fit diverse ranges of financial strain.
"You can't fit a square peg in a round hole. It has to be for a person that will fit how it works," said Chase Peckham, DebtWave Director of Community Outreach. "If you're in collections, debt management is not going to be for you. The counseling side of it is also important because, whether you fit into a debt management program or not, we're going to work with you."
Counselors Help Callers Identify Sources of Challenges
The first step in the debt recovery process is acknowledging that you're in a tight spot and need help to improve your situation.
"If you can get in before you realize there's an emergency, then you're going to be better off," Peckham said. "A lot of our outreach is just trying to get people to understand that it's okay not to understand stuff. The majority of us figure this out by fire. We do things. We make decisions. We fail, and we learn."
When consumers contact DebtWave, its representatives seek to understand their motives for reaching out and their desired outcomes. These conversations can range from 30 minutes to an hour or more.
"Our counselors ask a lot of questions," Peckham said. "They try to make callers feel comfortable. They say, 'Why is it you made this phone call?' What is it that you want to learn?'"
In all cases, debt is a serious issue, but it is also a symptom of a deeper problem for many. DebtWave first aims to understand that core problem and begin articulating a solution. That involves some tough questions about financial practices, debt payments, and personal stress levels.
"Half the time the hardest part is to look in the mirror and say, 'We might have a problem here,' and that goes well beyond finances," Peckham said. "Even though we're not psychologists, we have to understand that. And our representatives do that through their certifications and ongoing education, listening, and encouraging. Our goal is to make people feel more comfortable with the options ahead of them."
Clients speak to a dedicated representative assigned to their case each time they call. That consistency makes it easier for the counselor to develop a good rapport and personal relationship. It also eases the burden on the client, who won't have to repeat the same story and situation on each call.
Representatives can reach out as little or as much as the client wants. Their primary purpose is to learn about the client's goals and guide them through the debt resolution process.
"When you work with a counselor, you can work with that person throughout. That is where we set ourselves apart," Peckham said. "Even after you graduate from the organization, or if you never even join a debt management program, you can still work with our counselors."
Debt Management Program Prepares Clients for Lifelong Financial Independence
Once clients sign on with DebtWave, counselors begin teaching them how to establish positive behaviors and habits rather than just coaching them through their current situation. Paying off debt is only part of the goal; it's equally as vital to ensure people stay debt-free after they finish the program.
Peckham uses the analogy of physical fitness: "If you're a little overweight, and you go to the gym and work out really hard, you may see a lot of success. Yet, if you slow down and don't change your eating habits, things are going to go back to where they were."
He and DebtWave counselors also use a road trip as a metaphor for achieving financial independence. The client creates a map and itinerary under the counselor's guidance and establishes plans for reaching their goals.
The first goal is establishing a budget, which is the foundation for the rest of the work clients do with their counselor. In some cases, clients can resolve their situation simply by handling their finances more responsibly. But in more severe cases, DebtWave introduces the debt management process.
Under the debt management program, clients make monthly payments directly to DebtWave. The company holds the payment in escrow and pays it out to creditors or collections. DebtWave sends payment to the creditors directly each month; lower monthly payments and lower interest rates are the typical payment terms it negotiates with creditors.
Watch on
"It depends on the situation," Peckham said. "But typically, they're going to get a lower interest rate. That works well for people who are at anything over 15% and struggling to pay down that debt."
Part of the debt management process involves closing out most of the client's accounts — but not all of them.
"We recommend leaving one open for emergencies, typically the oldest one," Peckham said. "It's going to depend. If that one's maxed out, you're not going to leave that one open. But if it's got space and more history to it, we don't want to close that one, necessarily."
DebtWave's process relies on the snowball strategy. Clients continue making the same payments regardless of how much of their debt has already been paid off. Once the first account is paid off that payment rolls over to the next lowest balance. DebtWave clients are typically debt-free in three to five years.
During the program, clients can use DebtWave's online portal to monitor their progress. It provides access to detailed information on their account status and offers additional educational resources. Clients can always connect with their counselor, who can answer questions and address any other concerns that may arise.
Community Education Can Stop Bad Debt Before It Starts
Although debt management is an effective tool for individuals, education is an effective way to prevent the need for counseling and management programs. That's why DebtWave conducts 250 to 300 group presentations each year in partnership with other nonprofits and the San Diego County government.
It reaches out to San Diego-area military members in all branches of the armed forces. DebtWave engages with servicemembers and works with community partners and nonprofits to reach a broader audience.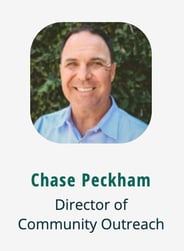 DebtWave also brings financial literacy resources into formal educational institutions. One of its most significant achievements in this area was helping create a financial literacy curriculum at San Diego Mesa College.
"They're big on financial literacy, and that is starting to grow throughout the others in the community college district," Peckham said.
DebtWave also operates the Wave of the Future Program through the San Diego Financial Literacy Center, its outreach arm. The program teaches financial skills in local public schools and community colleges.
"We can get to our youth and our high school college students, even if it's just an inkling of how the system works. And we can start to build those positive habits and help them understand credit and how to use it to your advantage," Peckham said. "We never tell kids they shouldn't get a credit card or that they're bad. They're not. They can build your credit and help you accomplish many things. We live in the 21st century, and you're going to need it."
DebtWave: Proactive Solutions for Personal Finance
Many consumers who find themselves caught between reduced income, credit restrictions, and pre-existing debt, can benefit from DebtWave services. However, consumers can also take affairs into their own hands and negotiate directly with their creditors.
The first step is getting in touch with your banking and credit institutions and explaining your financial situation. Despite your stress level, it's important to be polite and courteous and remember a human being is on the other end of the line. Treating them with respect will improve your chances of getting positive results.
Consumers and institutions can benefit from that communication. And the institution would rather recoup some of its losses rather than force someone into bankruptcy and get nothing. Many are acutely aware of the financial strain U.S. consumers currently face.
"They learned so much from 2008 thru 2012 when we were going through that crash," Peckham said. "They want to work with people. They're willing to listen, so give them the phone call. Even if it's not through us, call them. They're going to understand. They're going to give you a break."
Finances are part of our daily lives, and dealing with the industry is part of managing personal finances. Although it may be intimidating, it's not something people should shy away from; it's always better to confront the problem head-on rather than pretend it doesn't exist. And that is true when dealing with existing issues or educating and training yourself to avoid issues in the future.
"If we can do that, we're going to be a much better society," Peckham said. "If people understand how to handle their finances and make better decisions, we're going to have a lot fewer financial-related problems out there."
Advertiser Disclosure
BadCredit.org is a free online resource that offers valuable content and comparison services to users. To keep this resource 100% free for users, we receive advertising compensation from the financial products listed on this page. Along with key review factors, this compensation may impact how and where products appear on the page (including, for example, the order in which they appear). BadCredit.org does not include listings for all financial products.
Our Editorial Review Policy
Our site is committed to publishing independent, accurate content guided by strict editorial guidelines. Before articles and reviews are published on our site, they undergo a thorough review process performed by a team of independent editors and subject-matter experts to ensure the content's accuracy, timeliness, and impartiality. Our editorial team is separate and independent of our site's advertisers, and the opinions they express on our site are their own. To read more about our team members and their editorial backgrounds, please visit our site's About page.