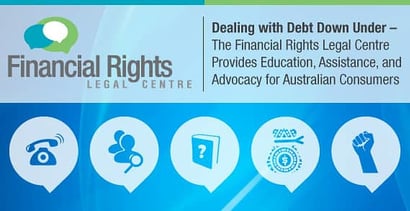 In a Nutshell: When Australians experience problems with debt, banking, and insurance, the Financial Rights Legal Centre is on hand to help. The centre offers a range of educational materials, as well as hotlines that provide callers with personalized information and counseling. Beyond helping resolve individual issues, FRLC also works to eliminate problems at their source through research and policy advocacy. Through this dual approach, the centre is acting as a watchdog in helping to safeguard the financial rights and well-being of Australian consumers.
In May of 2017, Carly Sawatzki, Lecturer at Monash University, posed the question: why is financial literacy declining among Australian teens? Ironically, she tied the slump to the nation's cross-curricular emphasis on financial education.
Sawatzki suggested that the one-size-fits-all approach fails to meet students' individual, real-world needs. As examples, she recounts that some students are trading cryptocurrency, while the main concern for other students is the stability of family farms. Many students do not successfully engage with an overarching financial education because it does not adequately address their immediate financial circumstances.
"Financial literacy is an issue. It'll always be an issue," said Julia Davis, Policy and Communications Officer at the Financial Rights Legal Centre (FRLC). "You could fill up public schools with financial literacy education, but it's only going to get you so far."


She went on to suggest that students — and the population at large — won't retain financial information that isn't relevant to them.
Then, she begged the question: "And why would they, until they need to?"
FRLC steps in when that need arises. The not-for-profit legal centre's website and helplines provide information and support for Australians experiencing financial problems and uncertainty. The centre, which celebrated its 30th anniversary in 2017, originally focused on consumer credit issues, but it has since expanded into insurance, superannuation, and other financial services.
"We offer free legal advice and financial counseling to consumers when they have credit, debt, banking, insurance, and superannuation disputes," Davis said.
FRLC also engages in research and policy advocacy at the national level. "Our aim is to reach out to vulnerable people who can't afford a private solicitor," Davis said. "We're here for people who have nowhere else to turn."
Information to Help Aussies Protect Their Financial Rights
For consumers who need personalized assistance, FRLC provides a search tool to help them find local financial counselors. But the centre also hosts a range of educational resources for the self-service-minded user.
FRLC's fact sheets contain information on a range of common topics. In the realm of finance, these documents provide information about economic hardship, obtaining a loan, problems with loans, debt counseling and collection, banking, local courts, and bankruptcy. For insurance concerns, the centre offers advice about car, home, contents, pet, and funeral insurance, as well as problems with claims and disputes.
The centre also makes available sample letters for use in credit, banking, and insurance issues. These take the form of templates, which users complete with their own case-specific details.
Once completed, the letters can be pasted into a word processor, printed, and sent. FRLC's website includes instructions and guidelines for using the templates, such as using the financial ombudsman website to obtain relevant information, tips for writing successful letters, and instructions on which letter is appropriate for a given situation.
For issues involving motor vehicles, FRLC hosts an online, interactive problem solver. The web-based app asks questions as it walks the user through resolving his or her specific issue. It provides information and advice along the way, and concludes with instructions for moving forward with the problem.
Additionally, the centre furnishes resources targeted at helping consumers understand their rights and the responsibilities of their financial service providers.


FRLC's financial rights checklists cover important information regarding using a broker, arranging debt agreements, going through insurance interviews, responding to a Statement of Claim, paying insurance excess, and obtaining car, home, and personal loans. The centre's financial hazards hotlist warns of financially unhealthy financial products and services, provides explanations, and offers advice on other, better-priced options.
All of these resources are aimed at helping consumers help themselves.
"We can give people enough information about the disputes, whether they have a case, and get them on the right path," Davis said.
Personalized Support through Helplines and Email
For people requiring more information or assistance than what's available through the online portal, FRLC also operates debt and insurance hotlines. Through these, the centre can provide more targeted advice to Australians in need.
The National Debt Helpline (1800 007 007) connects callers in New South Wales to FRLC; the same number will connect callers in other states with similar services.
"If you have an emergency, like if you've received a bankruptcy notice, we can give you legal advice right away," Davis said. "If what you have is just an ongoing problem with debt, we can put you in touch with a financial counselor to give you some free information about budgeting and asking for hardship arrangements with your bank."
For insurance issues, FRLC operates a separate helpline, Insurance Law Service (1300 663 464).
"Obviously, insurance is a really complicated financial product," Davis said. "And when you end up in a dispute with your insurance company, they've got a lot more firepower than most consumers. And most consumers are a bit left out in the cold when it comes to legal questions."
FRLC aims to help fill in these gaps and put consumers on an even footing with insurance companies.
The centre also operates an Aboriginal advice line (1800 808 488). This covers the same services as the National Debt Helpline and the Insurance Law Service, but is reserved for people of native Australian heritage.
"We're trying to make sure Aboriginal people have priority access to the service," Davis said.
These helplines offer financial and legal support regarding credit, debt, and insurance. Callers will receive information and advice on their particular issue, referrals to financial counseling services, and help selecting a dispute resolution scheme. In some limited situations, FRLC may be able to provide callers with written advice, casework assistance, and legal representation.
FRLC also offers an email advice service. This is targeted at less urgent consumer issues that do not require immediate advice or response. Such concerns are best handled through the centre's helplines.
Before contacting FRLC, callers should visit the centre's website. There, they can review relevant fact sheets and read instructions on what to do and how to prepare before contacting the centre. Users can also access website resources to understand what the centre's solicitors can and cannot do on their behalf, and verify that their problem qualifies for the type of assistance the centre provides.
Taking Proactive Measures through Research and Advocacy
While it's a major aspect of its operations, FRLC's work isn't limited to direct assistance for consumers.
"We do a lot of systemic policy work as well," Davis said.
Currently, the centre's major policy priorities include addressing predatory businesses that exploit people with financial difficulties. This includes insurance fraud, insurance premium transparency and contestability, payday lending, and hardship arrangements for electricity and other utilities.
"When we get the call-based data from the hotlines about the types of problems consumers are having, we keep an eye out for systemic repeat problems," Davis said. "When we see something that's a loophole in the law or systemic misconduct, then we can do things like lobby government for law reform, put in evidence to the regulators — things like that. And we actually have achieved incredible change over the last 30 years."
One arena where FRLC has proven its mettle is insurance investigations. In 2016, the centre published its report, "Guilty Until Proven Innocent", which exposed the regulatory vacuum in which insurance companies were hiring private investigators to look into claims.
"You're actually much more protected if you're being investigated for a crime because police have strict rules about how they can interview you and what kind of evidence they can use," Davis said. "There are almost no rules in the insurance space."
Following its publication, FRLC's report achieved remarkable results.
"A lot of the insurance companies — on their own — have put in guidelines about what they should be doing," Davis said. "The national financial services regulator is looking at it very closely. It's putting a lot of pressure on insurance companies not to use these kinds of private investigators."
Amid these renovations, the centre has continued to play an active role in investigation reform.
"We've been contacted by most of the main insurance companies because they want to clean up their acts themselves," Davis said.
More recently, the centre has been keeping a careful eye on compliance with Australia's responsible lending law, which makes it illegal to lend money to anyone who can't afford to repay it. Before loaning funds, banks are required to verify income and need.
This national lending regulation is a boon for FRLC, which can now provide information and guidance to consumers on a national level. Federal regulation also streamlines the centre's task of spotting violations.
"We certainly keep a close eye on whether they're following through with the legal requirements," Davis said.
Keeping Consumers Afloat on a Rising Tide of Debt
With housing prices rising in major Australian cities, interest rates at historic lows, and consumers borrowing increasingly more money, FRLC's work is far from done.
"We are very worried that there are a lot of people out there who are very over-indebted," Davis said. "When it comes to their mortgage, and if interest rates do start to go up, we're going to see a lot of serious mortgage hardships."
The problem extends beyond credit and loans and into the payday lending space.
"We're starting to get more calls about people who've got after-pay debts and are struggling to come up with a payment arrangement," Davis said. "We do think there are some systemic failures to follow the responsible lending laws, or we wouldn't be seeing this kind of indebtedness."
Luckily, Australians can turn to the FRLC when they hit financial roadblocks. From educational resources and personalized counsel to advocacy targeting financial problems at their source, FRLC is dedicated to helping consumers better understand their rights and safeguard their financial well-being.
Advertiser Disclosure
BadCredit.org is a free online resource that offers valuable content and comparison services to users. To keep this resource 100% free for users, we receive advertising compensation from the financial products listed on this page. Along with key review factors, this compensation may impact how and where products appear on the page (including, for example, the order in which they appear). BadCredit.org does not include listings for all financial products.
Our Editorial Review Policy
Our site is committed to publishing independent, accurate content guided by strict editorial guidelines. Before articles and reviews are published on our site, they undergo a thorough review process performed by a team of independent editors and subject-matter experts to ensure the content's accuracy, timeliness, and impartiality. Our editorial team is separate and independent of our site's advertisers, and the opinions they express on our site are their own. To read more about our team members and their editorial backgrounds, please visit our site's About page.