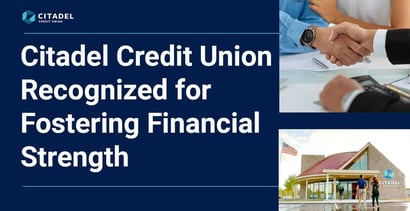 Experts share their tips and advice on BadCredit.org, with the goal of helping subprime consumers. Our articles follow strict
editorial guidelines
.
In a Nutshell: Citadel Credit Union provides Greater Philadelphia residents with financial products and services that fit their lives. Its enhanced online banking platform contains several tools to help individuals improve their credit scores. Citadel Credit Union is committed to increasing financial literacy among its members. Its robust philanthropic efforts are evidence of its compassion for the Greater Philadelphia region. Citadel Credit Union has earned our Editor's Choice™ Award for its dedication to fostering financial strength in its members and the communities it serves.
Shopping for a new product or service can be an invigorating experience. Imagining how a newly purchased item will improve daily life — by simplifying tasks or providing entertainment — can motivate people to head to the mall or hop online.
But shopping for a new product or service is often more frustrating than exciting. The seemingly endless options of items available today can make settling on any one version of a product challenging.
The most disappointing shopping experiences I've had occur when I find that perfect product only to discover it's no longer available, or I'm not eligible to purchase it for some reason.
The latter of these two instances can occur when attempting to enroll in a credit union's services. Many credit union products and services are only available to individuals who work for a specific employer or are members of a particular organization.
Citadel Credit Union provides its members with comprehensive financial products and services. Members don't need a specific employer or organization affiliation to join. According to its website, Citadel Credit Union (Citadel) membership is open to anyone who lives, works, worships, or studies in the six-county region of Greater Philadelphia. The six counties Citadel serves are Bucks, Chester, Delaware, Lancaster, Montgomery, and Philadelphia. 

Founded in 1937, Citadel began as a credit union for employees of Lukens Steel Company, a steel company located approximately 40 miles west of Philadelphia in Coatesville, Pennsylvania. 
Its original name, Lukens Credit Union, changed to Citadel Credit Union in 1986 when the credit union opened its doors to serve the entire region.
"We've grown a great deal since that time, particularly over the last 20 years," a Citadel Credit Union spokesperson told us. "We now have $5.7 billion in assets, over 500 employees, and 26 branch locations. We're the second largest credit union in Philadelphia and the fourth largest in Pennsylvania."
Products and Services That Help Members Build Credit
Citadel's products and services are designed to improve its members' financial footing.
Citadel offers retirement planning services that cater to underserved populations. It provides investment options and strategies for individuals with less than $20,000 available to invest.
"We provide advisory services and a range of investment options for blue-collar workers who are interested in planning for retirement," the spokesperson said. "Our investment team is dedicated to serving this market, including those who are just getting started on their investment journey."
Citadel offers a range of credit cards, including cards that offer cash rewards and points that members can redeem for gift cards, merchandise, and travel. 
"Our Choice Mastercard has one of the better rates in the market for a credit card of its type," the spokesperson said. "It's a good option for folks that are looking to build a healthy credit history and grow their credit score."

Citadel recently relaunched its online banking platform. Members can now obtain their credit score for free within its online banking portal. Credit monitoring services are also available for free to all members.
Members can access a customized action plan within Citadel's online banking to help them implement steps designed to improve their credit scores. Citadel's online banking portal presents members with personalized offers for credit cards, and auto, home, and personal loans. Tips and articles detailing credit-improvement strategies are also available within Citadel's online banking platform.
Citadel offers a full suite of business banking products and services. The credit union told us that, although the credit union won't turn any businesses away, it particularly prides itself on serving small businesses, including minority-owned firms and companies owned by people with disabilities.
"Approximately 27% of the business loan applications we receive come from minority-owned businesses or businesses owned by people with disabilities," the spokesperson said. "If we can't offer a business a loan, then we're committed to providing them with guidance to help them grow their capital and better position their business to receive a loan in the future."
Financial Education for Consumers and Businesses
Citadel believes in promoting financial health among its members and communities. The credit union dedicates a portion of its website to financial education.
The credit union posts a minimum of one blog entry each week. Citadel's blog posts cover various topics, from money management steps for millennials and debt consolidation to retirement healthcare and small business grants. 
Citadel's security center provides resources that help members stay abreast of the latest developments in financial security and fraud protection.
"We encourage members to take proactive steps to learn the best practices in security that will help safeguard them against fraud," the spokesperson said.
Citadel produces a bi-monthly newsletter that covers widespread scams and fraudulent activities that may target members.
"We pay particular attention to any fraud that we discover is happening in the Greater Philadelphia region," the spokesperson said. "And we also alert members to issues that aren't necessarily related to credit union activities, such as Facebook Marketplace scams."
Citadel's business banking, mortgage, and wealth management departments produce webinars that educate members about personal finance. The credit union also conducts seminars covering financial education topics that are important to members. Citadel told us it plans to continue expanding its array of services that foster financial strength in the community.
"Our business banking team is developing a webinar series specifically for minority-owned businesses," the spokesperson said. "We're also planning to develop a financial literacy roadshow that will enable Citadel employees to interact face-to-face with the community and deliver in-depth education."
Citadel Credit Union Focuses on the Community
Citadel Credit Union is a not-for-profit, member-owned organization. It betters the communities it serves through its philanthropic arm, Citadel Cares.
The credit union's revenue streams influence how much Citadel contributes to charities annually. But, through Citadel Cares, the credit union is committed to donating $2 million to Greater Philadelphia causes over four years. 
The Citadel Cares initiative supports four pillars:
The Health and Wellness pillar contributes to programs that promote mental and physical health in the community.
An Education and Youth Prosperity pillar supports financial literacy programs for community members of all ages.
A Food Security pillar supports those in Citadel's footprint lacking sufficient access to food.
The Building and Development pillar helps people secure and maintain residences for themselves.

"The Building and Development pillar is led by our vice president of mortgage and real estate," the spokesperson said. "And it's really growing in the face of the housing crisis. We focus on low-income neighborhoods where people may be unable to afford housing costs. We've been able to help people in tangible ways, including partnering with nonprofits that build roofs and raising funds for people who need a new roof but can't afford one."
Citadel is the head sponsor of the Parkway Run & Walk, which raises funds for pediatric cancer care and research at Children's Hospital of Philadelphia. The event, attended by over 100 Citadel employees, is Children's Hospital of Philadelphia's biggest fundraiser for pediatric cancer.
2023 saw Citadel's CEO of 22 years, Jeff March, announce his retirement. The credit union is excited to continue March's legacy in its next chapter under newly named CEO Bill Brown, who has more than 25 years of senior leadership experience in financial services with firms like Citi, HSBC, BNY Mellon, Investors Bank, and Dime. Despite the leadership change, Citadel Credit Union told us the credit union's commitment to its members and communities will not waver.
"Every dollar we make is reinvested back into improving the products and services we offer our members," a Citadel spokesperson said. "And that improves our members' well-being and financial future."