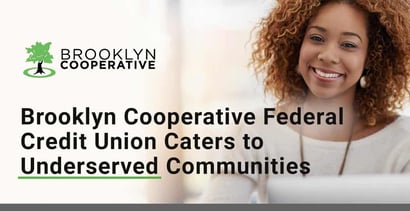 Experts share their tips and advice on BadCredit.org, with the goal of helping subprime consumers. Our articles follow strict
editorial guidelines
.
In a Nutshell: Brooklyn Cooperative Federal Credit Union serves mostly low-income and immigrant communities. The credit union aims to help members boost their wealth, buy property, and start businesses through its financial counseling and credit-boosting loan products. And if Brooklyn Coop can't help a member, it will call on one of its many local nonprofit partners to provide financial advice, housing counseling, and legal services. 
Grow Brooklyn, one of Brooklyn Cooperative Federal Credit Union's affiliates, exemplifies the credit union's philosophy of giving back to the community. The nonprofit offers three services: free tax preparation, housing counseling, and legal services. 
Grow Brooklyn primarily prepares taxes for low-income individuals and families through its IRS Volunteer Income Tax Assistance Program (VITA). It operates seven locations that prepare thousands of tax returns each year and refund millions of dollars to taxpayers in Brooklyn. 
The organization also helps homebuyers and homeowners. Grow Brooklyn offers counseling to help first-time buyers purchase homes through HUD, as well as on foreclosure prevention. Its legal volunteers also help with end-of-life planning and estate administration.

The nonprofit was founded by the Brooklyn Coop in 2007 "to provide service to families that complement the credit union's retail financial services. Grow Brooklyn's mission is to enable families to grow and preserve their assets, thereby securing their economic future," its website states. 
Often, individuals who connect with Grow Brooklyn are referred to the Brooklyn Coop for banking, loans, and financial planning services. The credit union aims to help community members buy property and build businesses which, in turn, can help the borough thrive. 
"Sometimes, they'll refer people who have graduated from their niche for assistance, and require a loan. So, they'll help someone get out of foreclosure, make a deal with the existing lender, and then send them to us for a loan," said Daniel Gonzalez, Director of Lending at Brooklyn Coop. 
Sometimes, housing counselors refer clients to the credit union while other times they may refer them to a foreclosure-prevention attorney.
And Brooklyn Coop aims to help them all continue on their path to financial growth that benefits both individuals and the community.
Focusing on Unbanked and Underbanked Populations
Brooklyn Coop was founded in 2000 and now has branches in Bushwick, Bedford-Stuyvesant, and Cypress Hills. The credit union serves populations that are often overlooked by other financial institutions. 
"We have a lot of immigrant folks coming in. Probably half of the membership is generally low income. We try to serve people that are underserved in that way," Gonzalez told us. 
Many of Brooklyn Coop's members are focused on simply opening bank accounts. They often can't start accounts elsewhere because they either don't have the required documentation or because the bank charges more than they can afford.

Many of those potential members have poor credit or no credit and are seeking to build it, often with the goal to take out a loan. Brooklyn Coop members typically seek mortgages and business loans.
"The business side is hurting a lot. We had a lot more demand for business loans before the pandemic. But consumer loans and mortgages are picking up. It's good that there's some recovery," said Gonzalez. 
One member shared his experience banking with Brooklyn Coop: 
"I have been very happy with BK Coop for 3 years now. However, today they went above and beyond. Samira was extremely patient and helpful with me today while I was going through issues with my utility company … I am very thankful for her patience and help to get to the bottom of the situation. Thanks again — I will continue to tell people to leave big banks and join Bk Coop!"
Credit-Boosting Loans Support First-Gen Communities
One of credit union's most popular products is its credit builder loan, which is similar to a secured loan without the security deposit requirement. Instead, funds in the loan are used to secure the loan itself. 
"That way, people who don't necessarily have $500 on hand can go ahead and get their credit started without making that deposit. So it's a very useful product, a lot of people have built their credit that way, including myself," Gonzalez said. 
The product is particularly useful for young people in some communities. If their parents haven't given them joint cards when they were teens, for example, they may enter their adult lives with no credit. 
"They're unlike people who have been here for at least one generation, who usually have some credit when they're 18. So you have to build your own credit, build your own way," Gonzalez said. 

And the credit union will approve any member interested in the loan. All they have to do is become a member, fill out the loan application, pay a $25 credit check fee, and sign a contract. 
"There's not much to it. It takes a minute, and there's no actual scoring involved. There's no actual credit check performed. That's only a member request, if they want to look at their credit," said Gonzalez. 
Most banks are unwilling to provide services like these, but Brooklyn Coop wants to serve individuals left out of those processes. Many members who receive a loan go on to fund businesses or purchase homes with the credit they build. 
Secured loans are another popular product. These differ from the Credit Builder loan in that borrowers must provide advanced deposits. 
"Because you're providing your own funds, you get a lower rate. So instead of 8% for the credit builder, you get 5% for the secured loan. So some people do prefer that; obviously, if they have the funds, it will be a little cheaper to pay back," Gonzalez said.  
Brooklyn Coop: Meeting Member Needs
Brooklyn Coop also offers secured credit cards, but because of their higher risk, it requires a minimum credit score of 650 to qualify. Some members use the Credit Builder loan to boost their credit and eventually secure a credit card. 
"It's happened a few times that they will come in, and they'll have no credit or poor credit. They'll rebuild their credit or, or build it up from scratch. And then they'll get a credit card after that," Gonzalez said. 
The credit union also aims to attract new members by offering vacation and holiday loans. These are lower-interest loans that encourage members to take out small loans for travel or gifts at certain times of year. 
"I think it drives up demand. I think people see it in their email, or hear about it from a friend and they'll come in and say, 'I want the holiday loan,'" Gonzalez said. 
Brooklyn Coop's staff also contributes to building member financial literacy. For example, the institution has a business mentor for members who need help with business plans or permits, as well as with credit-related issues. 
Brooklyn Coop's sister organisation Grow Brooklyn has a full-time housing counselor who can assist members with their applications for housing programs.
"We send them to one of our various partner organizations. And we used to have a credit counselor come in every week from Grow Brooklyn," Gonzalez told us. 
Through its loans, credit products, and nonprofit partnerships, Brooklyn Coop has become an integral part of member finances — and the community.