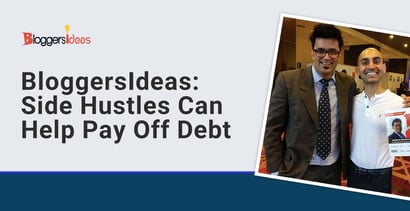 In a Nutshell: BloggersIdeas has helped readers turn their passion projects and side hustles into profitable ventures since 2013. Blogging requires dedication and hard work, and it may mean balancing an online gig with a primary income source until the online gig becomes successful on its own. Options for achieving that goal include selling premium content, advertising, and securing partnerships and sponsorships. All of those options require a high level of hard work and commitment, but entrepreneurs who persevere can look forward to a stable income and all the benefits that come with it.
In the internet era, bloggers, streamers, and YouTubers are often seen as people who make lots of money for simple tasks, including writing, playing video games, or talking into a camera.
But behind the scenes, those ventures require hours of preparation for every video or article that makes its way to the screen. And even more time may be spent networking and optimizing content to make media profitable.
When people are diligent with that work, it can lead to a big payoff that allows creators to boost their income, improve their quality of life, and achieve financial independence by paying off debt. No one knows that experience better than Jitendra Vaswani, Founder of BloggersIdeas.
"I started digital marketing and the whole make-money-online journey in 2013 when I bought this first domain on the internet," Vaswani said. "That was BloggersIdeas. It was my first blog."
BloggersIdeas is a resource for people who want to earn extra money, and even a primary income, through blogging. It has provided valuable tips and information to bloggers since 2013.
"At that point, very few bloggers from India were making good money from blogging itself," Vaswani said.
Vaswani was an early success story. Although he went to college to be an engineer, he is now an internationally renowned expert on digital marketing and turning side hustles into lucrative careers.
Through BloggersIdeas, he shares his accumulated knowledge and wisdom to help others achieve the same level of success.
Content and Keyword Research Boost Quality and Visibility
Research is fundamental for any online venture. That is true of achieving expertise and proficiency in a niche in the blogosphere and achieving success as a blogger. Vaswani had experience in both areas.
Before he started his own blog, Vaswani researched content marketing, search engine optimization (SEO), and how to make money online. His starting point was following internet marketers Neil Patel, John Chow, and Jack Johnson.
"John Chow, he's making six figures every year from blogging. I said, 'Wow, is it possible? Is it possible to do this and make money?'" Vaswani said. "I followed them online, and I started seeing what kind of things they are doing on their blogs. That's where I got the idea to start my own and make money from it."
Watch on
Vaswani followed the same steps these experts were taking. He sought sponsorships for content, sold banner advertising space, and implemented other best practices on his blog.
While research and preparation are crucial, they can't take the place of execution. Bloggers still need to get around to deploying everything they've learned. Otherwise, it's wasted time and knowledge with no real chance of earning a stable income and living debt-free.
"When I was starting this journey, I knew I had to put a lot of effort in to reach that point," Vaswani said.
SEO and Digital Marketing Drive Traffic and Revenue
"By the end of 2015, I was getting 3,000 visitors a day," Vaswani said. "It was about 100,000 visitors a month on my blog. I scaled my blog from 400 visitors a month to 100,000 visitors a month. That's the kind of work I was doing."
Those numbers were the result of a year of hard work. Vaswani said he didn't achieve that sort of traffic overnight, and he didn't dive head-first into blogging at the expense of other income streams.
He was still working a day job when he started BloggersIdeas, which initially focused on digital marketing and SEO. He took the strategies he was learning and implemented them on his blog to supplement his base income.
"At that point, at my job, I was getting only $200 a month, to be very honest. From there, I have grown a lot," Vaswani said. "By the end of 2014, I was making $600 a month, which was much more than my job."
From there, Vaswani said he set his sights on growing that income even more. He left his day job and focused full time on writing for his blog. He succeeded, moving his revenue from $600 to $1,600 to $2,000 and beyond. But the potential reward was not without risk.
"When I left my job, it put a lot of pressure on me," Vaswani said. "That meant I had to earn because now, there is no stable income. I have to do something with this thing. I was very focused and was working 16 hours a day. It was more than my job. I gave 100% of my effort to make money online."
Ads and Sponsorship Enhance Earnings Without Extra Effort
When it comes to earning money online to enhance income and eliminate debt, entrepreneurs typically have three options. First, they can sell a product or provide a service for free and then charge for a premium version. They can negotiate sponsorships and partnerships with companies that align with their interests. And they can sell advertising space on their blog, podcast, or other venture.
Ads are an excellent way to bring in passive income by letting outside companies market their products to an audience. Bloggers can earn just by drawing traffic to their site without doing any extra work, or they can join an affiliate linking program, where they get money from helping convert consumers to a product or service they discuss in their content.
Partnerships and sponsorships also allow bloggers to earn money from the work they already do. Sponsorships can keep a blog running at a high level of quality which can also drive more traffic and open monetization opportunities through advertising and cross-promotion.
But bloggers need to grab the attention of a potential sponsor before they can get an offer. Vaswani accomplished that by writing about Payoneer, an online payment gateway.
"They saw it, and they liked my blog," Vaswani said. "They liked my social media profile because I was highly engaged."
Payoneer invited Vaswani to a networking dinner, where he made a deal to become their brand ambassador for India in 2015. The partnership drastically increased his income and notability.
"They paid me good money," Vaswani said. "And from there, I got a huge brand push."
Overcoming Adversity Requires Dedication and Hard Work
Many bloggers will likely have to fight against the initial inertia of getting started and gaining steam. They may also experience pushback from other areas of your life.
"My family, when I was starting out, they didn't understand my dreams," Vaswani said. "They were not supportive. They didn't like that I was blogging."
Vaswani attributes that attitude to the traditional Indian mindset. A young man like himself is expected to find and maintain steady employment, get married, start a family, and aim for stability and freedom from debt rather than taking risks with innovation and entrepreneurship.
"I broke all the rules," Vaswani said. "Then, after some time, when I started my business, my family started understanding my business. They said, OK, this guy's doing something. He now has a bank balance. He bought a house.' At the age of 26, I bought my first house. In my family, nobody ever did that, but I did."
When going solo as an entrepreneur, 10- to 14-hour days — or longer — are not uncommon. That may sound like a lot, but if someone is passionate, it may not seem like as much work.
"You need to audit yourself. How much time are you wasting scrolling social media feeds, watching internet videos?" Vaswani said. "That is not giving you anything of value."
Bloggers can achieve independence and success with the right mindset, motivation to earn and pay off debt, and willingness to do some hard work.
"This blog has given me everything in life," Vaswani said. "Stop making excuses. Start working on your dreams."
Advertiser Disclosure
BadCredit.org is a free online resource that offers valuable content and comparison services to users. To keep this resource 100% free for users, we receive advertising compensation from the financial products listed on this page. Along with key review factors, this compensation may impact how and where products appear on the page (including, for example, the order in which they appear). BadCredit.org does not include listings for all financial products.
Our Editorial Review Policy
Our site is committed to publishing independent, accurate content guided by strict editorial guidelines. Before articles and reviews are published on our site, they undergo a thorough review process performed by a team of independent editors and subject-matter experts to ensure the content's accuracy, timeliness, and impartiality. Our editorial team is separate and independent of our site's advertisers, and the opinions they express on our site are their own. To read more about our team members and their editorial backgrounds, please visit our site's About page.