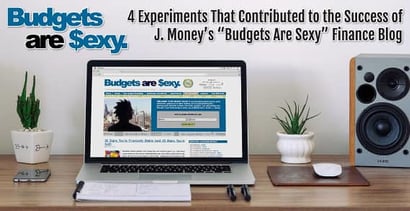 In a Nutshell: J Money (J$), the mohawk-rocking financial blogger of Budgets are Sexy,  started his first experiment — tracking his net worth every month — eight years ago. Rather than suggest that readers can obtain the same results doing exactly as he does, J$ prefers to lead by example on his blog, showing readers through "experiments" what works (and doesn't) for him personally. One such experiment is how J$ cut down on spending and grew his "side hustle" into a full-time job.
"Hey, give me a second, I'm just making a cup of coffee," J Money says, answering the phone for our 3 p.m. interview. J, the man behind the mohawk and the blog Budgets are Sexy, prefers to keep a little anonymity, hence the pseudonym and silhouetted 'hawk profile pictures. Since we, too, had our afternoon coffee in hand, we were curious, "How do you take your coffee, Jay?"
"Just with cream." Quickly, he adds an explanation: "I got rid of sugar a year ago. I tried to do it for three months and I made it, so I haven't added it back in — just a little experiment."
As we would come to find out, J is quite fond of challenging himself to try new things, or what he refers to as "experiments."
Mohawks and effervescence aren't typical in the world of finance, so we were excited to hear more about how he got into finance blogging and the impact it has had on his life and the lives of the 15 million visitors he has inspired. J makes learning about spending and saving habits more approachable with detailed documentation of his personal experiments to be better with his own finances.
Experiment #1 — Will a Finance Blog Keep Me Accountable?
"I consider myself an accidental entrepreneur," J says of the beginning, when buying his first house made him reconsider where he stood financially. He began to do more research and made his first budget around affording his family's new home. However, not being formally educated in finance, he often found it difficult to wrap his head around lofty financial theories.
Then, eight years ago, he started to see more and more finance bloggers disclose their financial statistics — savings, debt, income, retirement funds, investment portfolio. With real world numbers right in front of him, he was inspired to tabulate and track his own net worth.
Beyond discovering that he should have calculated it sooner, he realized how helpful it was to see real data, and that's how Budgets Are Sexy was born.
To this day, J still practices what he preaches on his site: "I say it every week — my favorite tip in the world is to track your net worth…because whatever position you're in financially, you can actually see if you're doing good or bad over time."
Experiment #2 — Can I Make My Blog Profitable?
For months, his blog served as a fun, cathartic way to keep himself accountable financially. Then, about six months in, advertisers took notice of the following he was building. Selling ad space for the next six months and seeing the revenue it generated made him think about Budgets Are Sexy as a "side hustle," a gig outside a full-time job that helps earn additional income.
J's casual approach to finance makes everything he does seem easy. Even as he detailed the timeline of his blog's success, where at one point he was working 40 hours a week on it in addition to his 9-5 job, his voice never lost its jovial tone.
However, that point, the one where he was spending 80 hours each week making money, was when his wife suggested an ultimatum — she didn't want him running on fumes anymore, so she asked if he had to pick the day job or the "side hustle," which would he choose. As they talked it over, J realized he couldn't abandon his passion, Budgets Are Sexy, just two years in.
"I couldn't give up something that I built that was growing," said J. "It just really seemed like I was on the right path with it."
After that conversation with his wife, J began saving for the day he could quit his day job. In a not-so-unexpected turn of events (J says the company he worked for hadn't been doing well), on the day he planned to give his two weeks, J was laid off.
Fortunately, J had a buffer from the funds he had saved up to get the blog to where it was generating enough income to live on. Now, 15 million visitors later, J's net worth continues to climb.
Experiment #3 — How Do I Make My Schedule Work for Me?
Living by a philosophy to "challenge everything," J looks at every action he takes as an opportunity.
"Everyday I don't know what's going to be in my inbox…from a new blog I can discover to a new friend I can make — everything is new every day," said J. "It's exciting!"
However, when there isn't enough "new" in his life, he makes his own in the form of challenging himself to get better at something or learn something new. Posting and tracking his net worth in the first place was a way to challenge himself to be more fiscally responsible, and he continued his tracking trend, tallying expenses every time he buys diapers or changes the oil.
One of the more recent challenges revolutionized the way he worked: "Someone tweeted Benjamin Franklin's schedule, so I tried it for a week."
According to his schedule, Ben Franklin would wake up at 5 a.m., but wouldn't start work until 8 a.m. to have time to meditate and prepare for the day by asking, "What good will I do today?" He would take a two-hour lunch break and finished work by 5 p.m., reflecting on his day, especially on how to make the next one better.
Eight months later, and J is still committed to the Founding Father's schedule, although he did have to make a few tweaks to fit in exercise and time with his family. It has helped him focus (J has A.D.H.D.) and be more productive. He now plans a time to reflect on daily goals and a time to officially stop working each day. J isn't alone in seeking to manage his time efficiently. Many entrepreneurs struggle with setting a schedule for themselves.
Experiment #4 — What Can I Do To Help Others?
While Budgets Are Sexy began as something "just for fun," J soon discovered he had the power to actually affect change and help others.
As his audience grew, comments on his blog indicated people were paying attention and taking up his experiments too. He began to issue challenges not only to himself, but to his readers as well, and when he reported back the results, he began to include the results of others.
Eventually, he even tried money coaching and blog advising, but felt that interacting with all his readers publicly had a greater effect. Basically, he preferred to lead by example, to show what worked for him and others, rather than to tell someone to do exactly what he did and expect the same results (especially when it comes to hairstyle — not everyone can pull off a mohawk).
He was happy to inspire Budgets Are Sexy readers to take control of their finances, but he also wanted to inspire them to give back. Leading again by example, he helped develop Love Drop a few years ago as a way to do more than just mail a donation away to XYZ Charity. He traveled across the country for 12 months, and each month he assisted in raising funds and collecting donated goods for families in need. Through micro donations, Love Drop raised $90,000 overall, and J surprised several families by showing up in person to deliver what they needed, from a new car to the cash for a service animal.
"Now that I have a lot more connections, I'm working on figuring out a way to make a bigger impact," said J, "a way to get the financial community together and do some good in the world."
The Conclusion to His Experiments? Keep Learning
As J finishes his cup of coffee, we talk about his future and his family. He says his wife, while frugal by nature, doesn't really share the same passion he has for finance. And his children?
"My boys are still pretty young, so they think everything is either $1 or $1 million," J says laughing, though he's excited to teach them healthy money habits as they grow older (they're 4 and 2 years old).
While he may have started as an "accidental entrepreneur," it's safe to say J has made it as a successful serial entrepreneur thanks to all his experiments and the community of followers he has built by just being himself. Over the course of the eight years he's been blogging, J remains humble because what he's learned, experiment after experiment, is that he's still learning.
Advertiser Disclosure
BadCredit.org is a free online resource that offers valuable content and comparison services to users. To keep this resource 100% free for users, we receive advertising compensation from the financial products listed on this page. Along with key review factors, this compensation may impact how and where products appear on the page (including, for example, the order in which they appear). BadCredit.org does not include listings for all financial products.
Our Editorial Review Policy
Our site is committed to publishing independent, accurate content guided by strict editorial guidelines. Before articles and reviews are published on our site, they undergo a thorough review process performed by a team of independent editors and subject-matter experts to ensure the content's accuracy, timeliness, and impartiality. Our editorial team is separate and independent of our site's advertisers, and the opinions they express on our site are their own. To read more about our team members and their editorial backgrounds, please visit our site's About page.