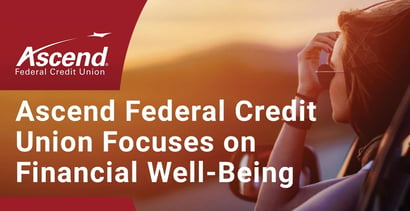 Experts share their tips and advice on BadCredit.org, with the goal of helping subprime consumers. Our articles follow strict
editorial guidelines
.
In a Nutshell: Ascend Federal Credit Union supports its members with accessible banking services to help get them on the right financial path. A focus for Ascend is ensuring members can take advantage of the vast educational resources it provides to rebuild credit or begin saving toward retirement. Ascend partners with employers to offer personalized SEG-based memberships. It is also open to the immediate family of members, people who live, work, worship or attend school in designated census tracts in middle Tennessee, and anyone who is a member of the Tennessee Nature Conservancy.
From its start at a small military base in Tennessee, Ascend Federal Credit Union has grown into one of the largest credit unions in the state. Its initial member base was a group of eight people who worked at Arnold Air Force Base who pooled their funds together in 1951.
Today, the credit union has expanded its SEG-based charter with more than 240,500 members. Ascend has 27 branches across middle Tennessee and manages more than $3.7 billion in assets.

Ascend invests in products and services that better its members' financial situations. Its extensive financial literacy resources help put members on track for a successful future. Another of Ascend's priorities is to build awareness and create access to critical financial services for underserved communities.
"Financial well-being is critical to meeting our vision and living our 'why' statement, which is everything that we do is to help our members and the communities we serve," Ascend Federal Credit Union Assistant Vice President of Business Development Erin Spence said.
Special Programs Help Members Boost Credit
Many Ascend Federal Credit Union members are younger people with little to no credit history or those with poor credit. As a credit union, Ascend doesn't make a profit. All of the money it makes goes right back into offering more accessible loan products and services. When members are smart with money, everyone in the credit union benefits.
The credit union has products specifically for people who need help building credit. One of those products is a secured credit card with a low-interest rate and no annual fee. The secured card requires that members put up a security deposit, which becomes its limit. With regular on-time payments, members will see their credit grow.
"We're using it as an educational tool and resource for folks who need it," Spence said. "If somebody is off track, it's a great secured option so they're not racking up credit card debt that they can't pay off at the end of the month. It's all based on that limit that they put on deposit."
Ascend also offers a credit-boosting checking product it calls the Rebuild Checking Account. The account is for members who have experienced a charge-off or don't qualify for traditional checking products that are credit-based.
"Members can regain their foothold using the Rebuild Checking Account," Spence said. "After they're in that program for a year and meet all of the requirements, they're eligible to reapply for one of our traditional checking products." 
Ascend recommends its educational financial literacy courses to these members to help them understand credit and why it's so important. It encourages them to go through specific playlists on the platform to learn how to manage and keep finances in check.
Opening Access to Underserved Communities
Serving underserved communities is important to Ascend. Its tools and products ensure that underserved members have personalized banking services that fit their individual financial needs.
The credit union's efforts have led to growth in underserved communities. Serving those markets provides an avenue for people to have greater access to financial products and services that help them get and remain on the right track financially. The credit union said that thanks to its investment in financial wellness tools and resources, more members can succeed.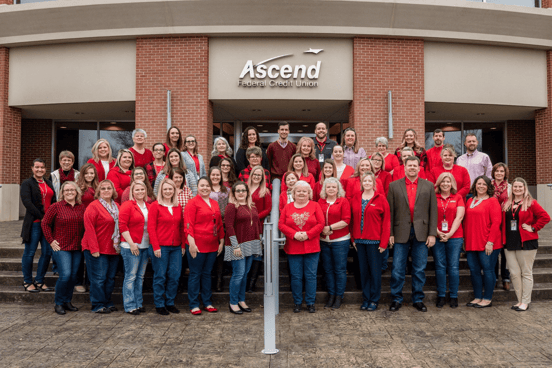 Turning people away, especially in underserved communities, is not what Ascend wants to do. The credit union opens branches in these areas to have a greater presence.
"Since we're not for profit, we have that responsibility to our members," Spence said. "We also recognize that it helps our communities at large and helps so many deserving individuals be more successful."
The community also benefits from Ascend's robust donations program, which supports charitable groups across the midstate. The credit union regularly partners with Second Harvest Food Bank of Middle Tennessee to provide food to the people who need it most. And it supports ongoing donations to Monroe Carell Jr. Children's Hospital at Vanderbilt.
Each branch receives a budget to donate to charities that impact the community they're in.
Educational Classes and Workshops for All Ages
Ascend Federal Credit Union decided that it needed to have a professional online education tool that represented its brand. Its platform provides 24/7 access to working professionals or anyone on the go.
In partnership with EVERFI, Ascend offers professional, streamlined, and easy-to-digest online financial lessons. Visitors to ascend.org can take advantage of the courses. You do not have to be a member to access the platform.
"We wanted to make these resources available to our community at-large," Spence said.
The modules can be tailored to the needs of Ascend's workplace banking partners. Those partners receive customized landing pages.
Ascend also offers a robust workplace banking seminar program in addition to the online lessons. The topics of scheduled workshops change depending on the group the credit union is presenting to and what they want to learn.
Prominent universities in the area take advantage of the workshops and host them on-campus for students, as well as faculty and staff. 
"It's a great natural fit as they're going through their educational programs to align with financial wellness," Spence said. "It's something that at that age is so critical, especially if they've not already been introduced to it before they get to college."
Many workshops shifted to virtual environments because of the pandemic. During a time full of unknowns, Ascend said partners were thankful to have the workshops. Popular workshop topics center around credit and budgeting, and include more advanced subjects such as wealth management and retirement investing.
Ascend also offers financial literacy programming through a partnership with Banzai! For school-aged children. The credit union sponsors schools in the area to receive tools and Banzai! lessons for students aged 8 through 18.


"Laying those basics for the younger demographic is something that we're passionate about," Spence said. "We currently have 66 schools that are active users of the program, and we've been able to educate nearly 13,000 students through our partnership."