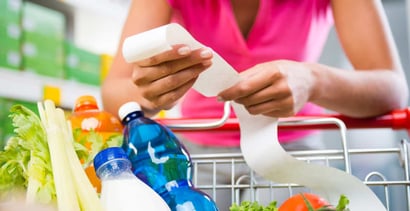 Our popular "How-To" series is for those who seek to improve their subprime credit rating. Our articles follow strict
editorial guidelines
.
Feeding your family shouldn't be stressful, but thanks to inflation, rising food prices are putting a serious strain on consumer budgets across the US.
Overall grocery prices have jumped 13% year over year. Eggs (30.5%) and poultry (17%) have seen some of the biggest price hikes from just a year ago.
Unfortunately, there's no sign of food prices easing up any time soon, so managing your household budget will require a shift in how you shop for groceries. Here are 18 grocery-saving hacks to help you stretch your food budget as inflation continues to soar.
1. Start Meal Planning
Feeding America estimates that 40% of all food in America goes to waste. Meal planning can drastically cut down on what ends up in the trash by allowing you to be more purposeful about what you buy in the first place. Meal planning helps you know exactly which ingredients you need for each meal throughout the week which reduces shopping aimlessly.

If choosing recipes and planning meals overwhelms you, use a free meal-planning service, such as Mealime, that does all the work. Mealime saves time, lets you choose recipes for your diet, and curates grocery shopping lists from the recipes you choose.
2. Compare Circulars For Sales
Once you have your meal plan set, cross reference which ingredients you may already have in your pantry and fridge so you don't double up. This is also a good time to compare prices at local grocery stores to see which has the best deals on the items in your shopping list. 
You can review grocery circulars quickly using an app like Flipp that organizes local sales all in one place based on your zip code. The app even offers a shopping list feature to help you stay organized.
3. Look For Manager Markdowns
Some deals may not be listed in a store circular, including items that have been marked down thanks to nearing expiration dates, often referred to as manager markdowns. Browse food displays for deals on meat, poultry, fish, or dairy items that are approaching their recommended sell-by date as you could save up to 70% off the regular price. Just make sure you cook or consume the item right away or freeze it for later so it doesn't spoil.

This is also a good reminder to check the sell-by or expiration date to ensure you will have enough time to consume any fresh food or drinks you buy to avoid waste.
4. Avoid Convenient Options
Convenience doesn't come cheap, especially at the grocery store. Any food that has been pre-cut, pre-chopped, pre-diced, pre-marinaded, or prepared in any way to make cooking easier will cost you between 30% to 60% more than if you had purchased the unprepared version. 
The reality is, prepping veggies, fruit, and meat doesn't take a lot of time or effort. To reduce the time needed to prep these ingredients, find time in the day to cut, chop, or dice your veggies and fruit so they're ready to go when you need them.
5. Buy in Bulk Wisely
Buying in bulk usually offers the lowest price per unit, but it's not always the best solution when it comes to saving on food. If you buy too many bulk packages of fresh foods, you run the risk of some of that food spoiling. 

Not to mention, buying too much in bulk will drive up your overall grocery bill, which could prompt you to use a credit card and carry a balance that will end up costing you more, thanks to interest charges.
6. Focus on the Price-Per-Unit
Comparing prices among brands is important when it comes to saving on groceries, but don't assume the cheapest option is the best value — package sizing and product count vary. 
Instead of focusing on the product price, look at the price-per-unit, listed in small print below the price tag to determine which item offers the biggest savings. 
7. Opt For Frozen Over Fresh
Opting for frozen produce over fresh vegetables and fruits can offer cost savings without sacrificing your family's health. In fact, vegetables and fruits are flash-frozen at peak ripeness, meaning they offer the same or even more nutrients than fresh options. 

Check out this recommended list of six foods you should buy frozen to cut down on waste and save money.
8. Stick With Store Brands
Don't turn away from store brands — in many cases, they offer the same or similar ingredients as the national brand and save you an average of around 30%. Next time you're out shopping, compare the store brand ingredients side by side with a national brand to see just how similar they are. 
9. Know Which Organics Matter
You don't have to sacrifice health to save money, especially when it comes to organic produce. In fact, the Environmental Working Group has identified 15 vegetables and fruits that are perfectly safe to buy nonorganic, thanks to tough inedible peels that protect the actual food you eat from harmful pesticides. 

Check out which produce falls under the Clean Fifteen, including pineapple, avocados, and kiwi. Shop smarter the next time you buy organic.
10. Try Meatless Meals or Reduce Portion Size
Meat has traditionally been the most expensive ingredient on your plate and has experienced significant markups recently. This doesn't mean you have to cut meat out of your diet altogether, but reducing portion sizes or opting for one meatless meal each week could cut grocery spending significantly each month. 
Not sold yet? Try one of these 24 meatless meals approved by carnivores.
11. Skip Baked Goods
The smell of freshly baked cookies is hard to resist, but you may want to rethink that sweet treat. The bakery department has the highest markup on grocery items, ranging as much as 300% compared to making your favorite treats from scratch. 

Homemade cookies, muffins, brownies, and cake require few ingredients, which is why baking is something just about anyone can tackle to save big. But for those who just don't want to deal with measuring ingredients and making a mess in the kitchen, boxed mixes are still much cheaper than ready-made baked goods and are easy to whip up in minutes.
12. Take Advantage of Free Loyalty Programs
Gone are the days you had to pour over the Sunday circular in search of coupons on your favorite foods. Many grocery stores offer instant discounts at checkout as long as you're registered for their loyalty programs.
Signing up is free and easy — just fill out a registration form and provide a phone number that you enter at check out to qualify for instant savings. 
Better yet, download the store's grocery app, where you can find additional digital coupons and earn rewards for money off future purchases. For instance, the Albertsons for U app offers $5 off your next purchase of $25, along with other digital deals, when you sign up.
Here's a look at some of the best grocery store rewards programs and how to sign up.
13. Snap Pictures of Your Receipts
Not only do grocery receipts contain valuable coupons for local businesses, but you can also turn those pieces of paper into extra cash in your pocket. Just snap a picture of your grocery receipt using a cash back app such as Fetch Rewards to earn points that can be redeemed for free gift cards to stores like Walmart, Target, and Amazon. 

The number of points you earn depends on the type of groceries you purchase or the store you shop at, so check the app's special deals section to figure out which food items will net you more points faster.
14. Shop Online For Groceries and Use Coupons
Ordering groceries online is one pandemic habit you may want to hold onto because it can result in big savings. After all, it's a lot easier to stick to your list when you're shopping online rather than walking by tempting food displays and freshly baked goods that make your mouth water. 
Plus, you can find online coupons to reduce your cart total even further. Check deal aggregators like CouponCabin.com for discounts at a variety of grocery stores.
15. Get a Grocery Rewards Card
When it comes to saving money, it's not just the price of the goods you're buying that matters, but how you pay. These days, you can find robust credit card reward programs that offer more money back on various purchases, including groceries.

For example, the American Express Blue Cash Card offers 6% cash back at supermarkets across the U.S. on up to $6,000 in purchases per year. Take time reviewing different cash back credit cards to find the best one for your needs, and be sure to pay off the balance each month to avoid interest fees that negate your savings.
16. Look For Fuel Reward Programs
It's not just groceries that are getting more expensive, the price of gas is also rising. The good news is you can offset the added expense at the pump by shopping for food at grocery stores that offer fuel reward programs. 
For instance, Kroger Family of Stores offers 1 fuel point for every $1 you spend on food that can be redeemed for discounts at Kroger-brand gas stations and participating Shell stations. Many other grocery stores offer similar programs, so look for options near you and shop strategically.
17. Use Self-Checkout
Self-checkout may seem tedious, but it can help you save big. According to the North American Self-Checkout Systems study, shoppers who used self-checkout bought fewer items on impulse than those who used the staffed checkout lanes. 
Self-checkout requires you to pay closer attention to what you put in your cart and how much things cost. It also gives you a moment to reflect on each potential purchase and whether you really need it. 

Another way to dodge impulse purchases is to grab a handbasket rather than a cart for quick grocery runs. Your space will be limited to the necessities.
18. Don't Shop Hungry 
While this tip may seem overused, it's one that bears reminding: When you shop hungry, everything suddenly looks appetizing, and you will be less sensitive to prices and more tempted to buy extra food you don't need.