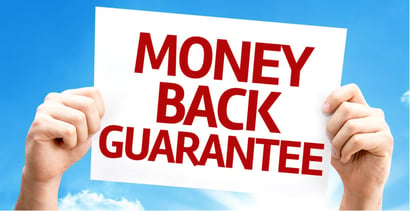 With the best credit repair money-back guarantees, you don't have to worry about wasting your hard-earned money on services that won't deliver what they promise.
The top complaint most reviewers have when working with a credit repair company is that the service takes too long to get started — which means the company collects your monthly payments while you get frustrated waiting for service.
But our options below will refund your money if you're unhappy with the service you receive. That puts the onus on the credit repair service to get started and stay dedicated — and puts you in charge of your credit-building journey.
Best Overall | Other Guarantees | FAQs
Best Credit Repair Companies With Money-Back Guarantees
Sky Blue Credit Repair offers a host of credit repair services that few other companies can match. Not only will Sky Blue file 15 disputes (five per credit bureau) every 35 days, but the repair service also offers a free consultation and the industry's only unconditional 90-day money-back guarantee if you aren't happy with the results you receive.
Best-in-class support
In business since 1989
Rapid 35-day dispute cycle, tailored to your situation
90-day 100% money-back guarantee
Low $79 cost to get started, cancel or pause membership anytime
| Better Business Bureau | In Business Since | Monthly Cost | Reputation Score |
| --- | --- | --- | --- |
| A+ | 1989 | $79 | 9.5/10 |
A 90-day window is significant because it can take up to 30 days to receive the results of a credit bureau dispute. Since you'll have nearly three months to test the service, you can see how your first two rounds of disputes fare before making a judgment on the service.
During your free consultation, a Sky Blue credit expert will examine your free credit report with you and determine if there are any inaccuracies or false information you can dispute. If there are, the expert will work with you to create a plan to remove the data from your credit file — which often results in a credit score boost.
And since Sky Blue offers everyone the same service for one flat monthly fee, you won't have to worry about a representative constantly trying to sell you on a higher tier or upgraded service package. Instead, the credit repair agency will focus on delivering you an improved credit score in as little time as possible.
Free online evaluation
One-on-one action plan with a certified FICO professional
24/7 Access to your online client portal
90-Day Money-Back Guarantee
| Better Business Bureau | In Business Since | Monthly Cost | Reputation Score |
| --- | --- | --- | --- |
| A+ | 2009 | $69+ | 7.5/10 |
The Credit Pros offers a refund policy and limited money-back guarantee that will reimburse unsatisfied customers.
According to The Credit Pros website, clients "may cancel this Agreement at any time within five (5) days after signing and receive a full refund of all fees paid. Additionally, upon Client's request, Client will be entitled to a full refund of all funds Client has paid up to the date of their request for refund if the following occurs:
CP does not assist Client in sending any letter disputing inaccurate items appearing on Client's credit report(s) within the first thirty (30) days of Client entering into this Agreement; or
no items are removed from [the] client's credit report within the first ninety (90) days. This guarantee is only redeemable after ninety (90) days in the program. Refunds [are] limited to payments made for 90 days of service only. (ex., If [the] client is in service for 150 days, with no change made to their history, they can request a refund, but that refund will be limited to 90 days of service).
This guarantee does not apply to the Money Management Program.
3. Ovation Credit Repair
This offer is currently not available.
| Better Business Bureau | In Business Since | Monthly Cost | Reputation Score |
| --- | --- | --- | --- |
| N/A | N/A | N/A | N/A |
Editor's note: Ovation Credit Repair is no longer accepting new clients.
Ovation Credit Repair has a no-risk refund policy that's different from other credit repair companies on this shortlist. Instead of a refund, Ovation credit service simply won't charge you if you don't get what you're promised.
According to the Ovation website, "Our policy is very straightforward. During any month, if we fail to provide the agreed-upon services we will not charge your Monthly Fees for that month. It's as simple as that!"
That's a simple yet effective policy that gives you peace of mind in knowing that you'll see a change to your credit report — or you simply won't have to pay for the service. It also ensures that Ovation will do everything in its power to deliver on its promise of an improved credit score.
How Does a Credit Repair Money-Back Guarantee Work?
Just like the return policy at your favorite retailer, every credit repair firm has a different version of a money-back guarantee. Some have stipulations attached to the refund while others offer a no-questions-asked return of your paid fees.
Sky Blue Credit Repair, for example, offers the only unconditional money-back guarantee in the credit repair industry. If you're unhappy with the service at any time during your first 90 days, you can request — and receive — a full refund of the fees you've paid.
The refund window only lasts for 90 days — you cannot receive a refund for any fees paid after your first three months of service from the company.
No other credit repair agency offers that sort of blanket policy. The other services on this list each offer a unique form of a money-back guarantee, but there are caveats that can disqualify you from a refund.
The Credit Pros, for example, offers a 90-day money-back guarantee window with restrictions. If the service successfully negotiates any changes to your credit report during that time frame, you may not be eligible for a refund.
This includes small changes — such as a misspelling of your name or address — that won't trigger a change to your credit score. Also, you forfeit your claim to a refund if you miss a payment or make a late payment during the 90-day window.
Ovation credit service has a different spin on the money-back guarantee. Instead of refunding your money, Ovation simply won't charge you for any month that doesn't produce results. You'll continue to pay your monthly fees when the service delivers on its attempts to remove inaccuracies on your credit report, but when there's no success, there's no fee.
No matter what service you choose, you should keep in mind that no credit repair service can guarantee that it can improve your credit score or remove inaccurate information from your credit report.
The credit repair process requires cooperation from each credit reporting agency and all of your creditors. Investigating disputes takes time and can sometimes result in long waits during investigations.
You've likely seen ads in newspapers or on websites — or heard commercials on the radio — from companies that claim they can remove bankruptcies, liens, or late payments from your credit report. Some go so far as to guarantee they'll increase your credit score.
This is not only deceptive, it's fraud. There's no legal way to remove legitimate items from your credit score that the creditor does not agree to remove.
These companies typically prey on consumers who need a quick credit score boost. Instead of increasing your score, they end up decreasing the amount of money in your bank account — and then disappear.
Your best bet when choosing a credit repair organization is to stick with a reputable firm that has a history of success and lots of positive reviews. And when you choose a company that offers a money-back guarantee, you know you'll get the service's best efforts. After all, their profits depend on producing results — not promises.
What is the Best Credit Repair Money-Back Guarantee?
There aren't many guarantees in the credit repair industry that can match that of Sky Blue Credit Repair.
Sky Blue's money-back guarantee is fairly simple. If you're unhappy with the customer service or results you receive at any time during your first 90 days with the company, you can request a full refund of the fees you paid — no questions asked.
Almost every other credit repair firm will offer a money-back guarantee with stipulations. Those fine-print rules often make it difficult and time-consuming to get your refund. Even if you do qualify for a refund, some services may make you wait for one month or longer to get your money back.
Another factor that makes Sky Blue a top choice in the credit repair industry is the company's honesty when working with customers. If the firm cannot help you — or feels as if you don't truly need its services — it will not take you on as a client.
Reviews from previous customers show that Sky Blue has earned the trust of many consumers who seek help with repairing their credit reports.
"I have to say that I was skeptical about giving out all my info to a stranger, but turns out these guys are pretty honest. I was trying to only get one thing removed from my report and the person I spoke to on the phone straight out told me, 'It wouldn't be worth your money to have us focus on this specific item,' and suggested I cancel my membership for a refund. Before ending the conversation he gave me a few tips for the future which was nice of him." — Tyrice, a Consumer Affairs reviewer
That upfront honesty is a running theme among most reviewers. Instead of collecting monthly fees from as many people as possible, Sky Blue's representatives seem intent on providing a thorough consultation with accurate information and advice.
"I was told that given the small number of issues on my credit report I did not need to use Sky Blue's services. The gentleman I spoke with gave me a few simple tips on how to improve my credit score on my own then cancelled the service and refunded my initial payment. They could have easily strung me along for a month or two but they didn't and I think that says a lot." — Doreen, a Consumer Affairs reviewer
Part of this honesty is a result of the no-obligation money-back guarantee the company offers. There's no reason to string a customer along if they can recoup their money. Instead, the company only takes on cases that it feels confident about working on.
Part of Sky Blue's initial consultation includes searching your credit report for any inaccuracies that could weigh down your credit score or result in declined credit applications. If your consultant determines that you could benefit from credit repair services, you will work together to come up with a plan to tackle your issues.
If you have no or few inaccuracies, the consultant will likely provide you with tips on how you can improve your credit score or dispute the items on your own. Either way, you can feel confident you're receiving good advice from a trained expert.
And if you decide to work with Sky Blue, you're covered under one of the best money-back guarantees in the credit repair industry. This no-strings-attached refund policy is rare, not only in the credit repair sector but in just about all facets of the financial industry.
How Can I Spot a Credit Repair Scam?
The internet, print media, and radio and television airwaves are filled with ads from credit repair firms that claim to remove any negative item from your credit report — whether they're legitimate items or not.
In short, if something seems too good to be true, it often is. Several things separate a reputable credit repair company from a here-today, gone-tomorrow scam company, including:
Never work with a credit repair organization that does not provide you with a copy of the "Consumer Credit File Rights Under State and Federal Law." This lets you know your rights when obtaining your credit file and disputing any inaccurate data on your file. By law, a credit repair service has to provide this to every client.
Avoid any company that requires an initial fee or other payment before it begins working on your case. In some situations, a company may ask for an initial fee after a consultation. This is acceptable. But any company that wants money before it even examines your credit profile is not only unethical — it's illegal.
Stay away from any credit repair firm that requires you to sign a form that waives your rights under the Credit Repair Organizations Act. While the courts won't accept a CROA waiver, it's still a red flag if a company wants you to void your legal right to hold it accountable.
Make sure any contract you sign offers a detailed breakdown of the amount you're charged, the date on which the services will begin, the name of the business you're contracting with, full details of the services to be rendered, and a statement that acknowledges you can cancel the contract without penalty within three days.
No credit repair company can legally remove legitimate items from your credit report without the consent of the creditor. If the company you're working with makes such promises, you're likely signing up for a scam.
Some credit repair scam companies will even go so far as to create an entirely new identity for you — with a new Social Security number and other identifying information. The company will have you conduct all of your financial transactions on your new identity that has no credit history attached to it.
This is illegal, and, if caught, you and the credit repair service will have to suffer the legal penalties associated with this federal crime.
Nearly every credit repair scam involves some sort of illegal tactic to remove items from your credit report. On occasion, a scam company will collect your fees and disappear without doing any work. But this scam is less common since so many of these services allow credit card payments that provide payment protections.
That said, you should also avoid any service that requires payment in cash, check, wire transfer, or money order only. Such untraceable and irreversible payments are a definite sign of a potential scam.
When deciding which credit repair company to trust, consider the company's history, reviews, and track record of success. Trust your gut and understand that a legitimate repair service will never guarantee results.
Take advantage of free consultations and use that time as your opportunity to interview any service you're considering. If something seems uncomfortable or confusing to you, ask questions. If you still don't feel confident in the service, follow your intuition and don't provide any key information — including your payment data or Social Security number — to that company.
With a little common sense, and by protecting your own interests, you can guard yourself against potential scams and ensure a smooth and successful credit repair process.
Does Lexington Law Offer a Money-Back Guarantee?
Lexington Law has been our top-ranked credit repair service for a very long time. While the firm's reputation and results stand out among the crowd, the company does not provide a money-back guarantee for its service.
As the company states on its FAQs page:
"Unfortunately, credit repair is never guaranteed. What we can guarantee is that we will do everything in our power to help you achieve a fair, accurate and substantiated credit report."
If the money-back guarantee is a make-or-break factor, consider Sky Blue Credit Repair for your credit repair needs. If you're willing to forego the money-back guarantee, then Lexington Law may provide the service you need to get your poor credit score back on track.
Most results of any credit repair law firm
Lexington Law Firm clients have seen more than 81 million removals from their credit reports since 2004
Get started today with a free online credit report consultation
Cancel anytime
| Better Business Bureau | In Business Since | Monthly Cost | Reputation Score |
| --- | --- | --- | --- |
| See BBB Listing | 2004 | $99.95+ | 8/10 |
Lexington Law partners with paralegals and lawyers from around the U.S. who work on behalf of clients to dispute credit report inaccuracies. A lawyer comes in most handy if you're having trouble getting a creditor to cooperate with information requests or dispute inquiries. When that happens, a dispute letter from a lawyer tends to get the ball rolling faster.
When you or a credit repair agency files a dispute through a credit bureau, the bureau will begin an investigation on your behalf to perform a debt validation on the item in question. If you dispute an item placed on your credit report by a lender or creditor, the bureau must wait for a response from that party before continuing its investigation.
If the creditor is slow to respond, the process will play out over a longer time frame. That will not only stoke your frustration, but it will force you to pay more monthly bills to continue your credit repair service.
Having a lawyer on your side can speed up the process. But Lexington Law really specializes in helping clients who have a large number of items to dispute. This can happen if you're the victim of identity theft or if the credit reporting agencies mixed your credit file up with someone else's (a scary thought, but it happens more often than you may think).
If you have a large number of disputes, you can justify Lexington Law's slightly higher monthly cost for access to a lawyer. If you only have a few items to dispute and don't see litigation as a likely means to an end, you're better off with a service that offers all of its services for one fee, doesn't charge more for higher tiers of service, and can stand by its service by providing a money-back guarantee.
If you have a limited number of items to dispute, perhaps fewer than three, consider disputing the items on your credit profile yourself. As we've seen above from previous reviews, Sky Blue Credit Repair even recommends this path to potential clients who don't have a large number of items to dispute. This will give you more control over your own credit restoration and allow you to learn more about your credit score along the way.
What Can a Credit Repair Agency Remove from My Credit Report?
In short, a credit repair service can only legally remove items that shouldn't be there. There are some exceptions to the rule, though.
Credit repair is intended to dispute inaccuracies on your credit report and solve certain credit issues. These can range from a misspelling of your name or an incorrect address to much larger issues — such as a bankruptcy that never happened or late payments that should have already aged off your reports.
Most items remain on your credit report for at least seven years. These include late payments, defaults, or repossessions. Some bankruptcy proceedings can stain your credit history for as long as 10 years. A hard inquiry should remain on your credit history for only two years.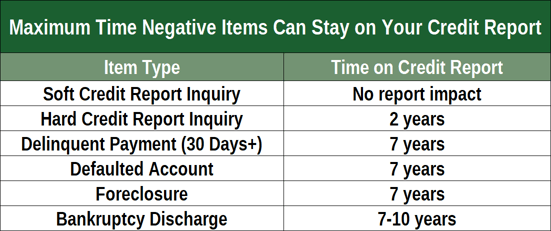 From time to time, one of these items may remain on your credit file longer than it should. This means your credit score will continue to be negatively affected by the item when it shouldn't. When that happens, a dispute is a fairly simple way to remove the inaccuracy.
Even the small things, like an incorrect spelling of your name, can affect your credit approval odds. While your name doesn't impact your actual credit score, a lender could deny your credit request if the name on your application doesn't match the name on your credit file.
The same goes for your address. Many creditors or rental agencies will check on your previous and current address when making rental or lending decisions.
Other common errors on your credit report may include:
Incorrect reporting of an open account being closed or vice versa
Debt that is listed more than once
Being reported as the owner of an account when you're an authorized user
Balance errors (either your current debt or overall credit limit)
Incorrect dates for most recent payment, account opening, or account closing
You may also see items you previously disputed and had removed from your credit report reappear. This may happen if a creditor uses automated reporting software that submits the same data to each credit reporting bureau every month. Even after you've had an item removed, it can reappear on your credit file if the lender reclaims the debt.
You'll, unfortunately, need to submit a new claim if that happens and contact the lender or creditor to bring the error to their attention.
You can also dispute any item that never legitimately occurred. Some consumers report having other people's information on their own credit report or a late or missed payment that never took place. These items will require investigation by the credit bureau. But if your claim is legitimate, you should have no issues getting the items removed.
Sometimes you can have negative items removed from your credit report even if they are legitimate and within the proper time frame. For example, if you were 30 days late on a credit card payment and you don't have a history of late payments with the lender, you — or your credit repair firm — can send a goodwill letter to request that the data furnisher remove the negative item from your credit report.
This is totally a game of chance. Some lenders will honor the request if you have a long history of on-time payments. Other businesses may have a strict policy of making no adjustments. If you're looking to make a large purchase that requires a good credit score, it's worth a shot.
Just remember that goodwill letters work best if you don't have a history of late payments or other negative credit issues. And most lenders will only consider a goodwill adjustment for something small, such as a late payment. Rarely will a creditor remove a major item, such as a default or a repossession.
On some occasions, you can have a large item, such as a bill sold to debt collectors, removed from your account by negotiating with the collections agency. A collections firm purchases charged-off debt for pennies on the dollar. The business understands that it will likely not receive all of the debt, so it purchases it at a discount with the hope of getting a portion of the debt back.
If you're able to repay the debt in full, you can sometimes negotiate with the debt collectors to remove the negative mark from your credit report in exchange for repayment of the debt. This can help improve your score dramatically if the agency agrees.
Just make sure to get the agreement in writing before you send the payment. That way, you're covered if the debt collector doesn't follow up on the deal.
How Much Will My FICO Score Improve?
This depends greatly on what items you have removed from your credit report. Incorrect spelling of your name will result in no discernable change to your score. Removing a late payment will give you a boost, but not as much as removing a bankruptcy.
Here's a breakdown of how many points you can expect to reclaim by removing specific items from your credit report, according to Financeography:
Late Payment — 5 to 60 points: Older late payments don't impact your bad credit score as much as recent late payments. If the item you remove is a few years old, it won't impact your score as much as an item that is only a few months old.
Repossessions — 30 to 80 points: These can greatly weigh down your credit score, but they're harder to remove. If you stopped paying on an item for long enough that the lender had to repossess it, chances are the lender won't be willing to help you by removing the stain from your credit file.
Hard Inquiries — 5 to 20 points: While a single hard inquiry may not beat your bad credit score up badly, you could see a cumulative effect if you have lots of inquiries. If you can have several removed at once, you could see a larger jump in your credit score.
Charged-off Accounts — 15 to 75 points: If a lender charges off your account due to nonpayment, it may sell your debt to a collection agency. When that agency reports the debt, you'll receive a double-hit to your credit score — the collection and the charge-off. Having the charge-off removed could give your poor credit score a little more life.
Tax Liens — 20 to 90 points: If you pay your tax lien off, you can submit a form through the IRS to have the lien removed from your credit history.
Foreclosures — 30 to 75 points: A foreclosure can hurt you far beyond the hit to your credit score. A foreclosure typically only occurs on a mortgage or other sizable debt. Defaulting on such a large amount can scare away future lenders who may otherwise consider your application for a loan or credit.
Bankruptcy — 30 to 60 points: A bankruptcy lives on your credit report for as long as a judge says it will — typically between three and 10 years. There's no way to request removal of a bankruptcy from your credit report, but you could attempt removal if you repay the debts you're charged with. Otherwise, patience is the only way to see it through.
Keep in mind that these numbers are simply estimates of how much your credit score will improve if you remove specific negative items from your credit file. Each case is different and could result in a greater — or lesser — score increase.
Generally, your score will see some sort of increase when you remove negative items from your credit file. The amount of increase will depend on the type of item you remove and how long that item has been on your credit report.
Credit scores are designed to weigh your most recent behavior more heavily than past mistakes. If you've made 10 consecutive on-time payments, your credit score will put less emphasis on a late payment from 11 months ago.
As such, removing that older late payment, repossession, or other negative items, won't boost your score as much as getting rid of a recent mistake.
How Long Does the Credit Repair Process Take?
This depends on the number of items you need to remove and the method you choose to dispute them. Lexington Law's clients see an average of 10.2 items, or 24% of their representing negatives, removed within four months.
Nearly every credit repair agency limits how many disputes it will file each month. Remember that if an item appears on the credit report provided by each credit reporting bureau, you'll need to file a dispute with all three separately to have each removed.
Here's a breakdown of how many disputes you're allowed each month with the most popular credit repair firms:
Sky Blue Credit Repair: 15 items (5 per bureau) every 35 days
The Credit Pros: Between 5 and an unlimited number of items every 30 days (depending on which service tier you choose)
Ovation Credit Repair: Between 5 and an unlimited number of items every 30 days (depending on which service tier you choose)
Some firms, including Lexington Law, do not publicize the exact number of items you can dispute each month with its various pricing tiers.
Every dispute requires a 30-day window for the credit bureau to investigate the claim. You likely won't receive any updates during that time frame.
If you have several items to dispute, you could find yourself waiting a long time to complete your credit repair mission if you're limited to a small number of disputes every month. This is especially true if you also have to wait 30 days to receive a decision on your dispute.
If you're in a hurry and have at least rudimentary financial knowledge, you could consider taking on your own credit repair journey. This will require you to file your own disputes — either through traditional mail or online — but you won't find yourself limited to a set number of disputes each month.
If you want to start small, you can pull your free annual credit report to check for inaccuracies. If you find something you'd like to dispute, you can do so online at each of the bureau's websites.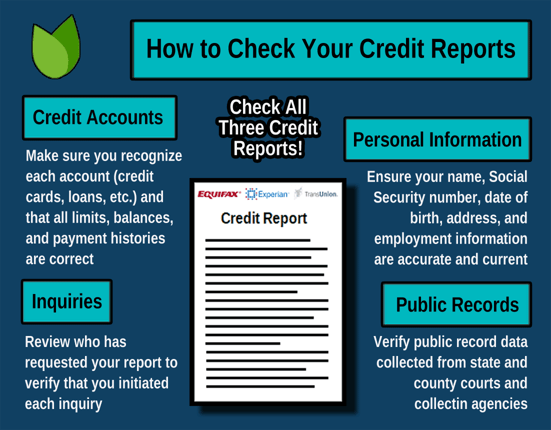 Each credit bureau provides an online dashboard that will allow you to track the progress of your dispute throughout the investigation process. While each dispute can take up to 30 days to resolve, the credit bureau may contact you to request more documentation if necessary.
This could happen if you're disputing a late payment that you claim was on time. The credit bureau may ask for a dated proof of payment. You may also need to provide account statements if you're attempting to change a current balance or incorrect credit limit that is listed on your credit report.
Whenever you receive a documentation request, respond as quickly and thoroughly as possible. The faster you get the documents to the investigator, the faster you'll receive a dispute resolution.
There's no way to accurately predict how long your credit repair process will take. It is up to creditors and credit bureaus to remove the negative items, and how long that takes will vary with each dispute.
Be wary of any credit repair firm that claims it can clean up your credit file in a set time frame. Not only is that impossible, but it's also illegal. No credit repair company can guarantee results.
Instead, it should provide a clear and concise plan that it will take to help repair your credit report inaccuracies. After that, it's up to the company to follow up on its plan.
That's why a money-back guarantee is so important for consumers who may be wary of a credit repair service. A true guarantee, like the one offered by Sky Blue Credit Repair, puts pressure on the service to deliver results. If it cannot, you will have no obligation to the company and can recoup the money you spent on its services.
Research the Best Credit Repair Money-Back Guarantees Before Committing
Credit repair is an empowering process. Not only can you give yourself a fresh start financially, but you can take control of who helps you get there by choosing a credit repair company that has your best interests at heart.
By choosing a company that offers one of the best credit repair money-back guarantees, you can partner with a legitimate credit repair company to fix your credit situation, undergo credit restoration, and remove inaccuracies that are keeping you from living the financial life that you deserve.
Your credit score not only dictates a loan or credit card application — it can affect your ability to get a job, rent an apartment, or even open a bank account. Don't let someone else's mistakes — and false reporting — keep you down.
Give credit repair a shot. And if it doesn't work, you can get your money back.
Advertiser Disclosure
BadCredit.org is a free online resource that offers valuable content and comparison services to users. To keep this resource 100% free for users, we receive advertising compensation from the financial products listed on this page. Along with key review factors, this compensation may impact how and where products appear on the page (including, for example, the order in which they appear). BadCredit.org does not include listings for all financial products.
Our Editorial Review Policy
Our site is committed to publishing independent, accurate content guided by strict editorial guidelines. Before articles and reviews are published on our site, they undergo a thorough review process performed by a team of independent editors and subject-matter experts to ensure the content's accuracy, timeliness, and impartiality. Our editorial team is separate and independent of our site's advertisers, and the opinions they express on our site are their own. To read more about our team members and their editorial backgrounds, please visit our site's About page.