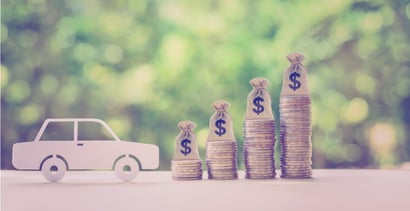 Finding auto loans after repossession can sound like an impossible task. If you've missed your car payment so often that your car has been repossessed, it can be hard imagining who would want to loan you money for another car.
Plenty of lenders, it turns out.
Auto lending networks specialize in helping people with bad credit, no credit, bankruptcy, and repossession find loans from a variety of lenders. You may be able to find loans for new and used cars and even refinancing after the network gives you a list of lenders with offers for you to choose from.
Best Auto Loans After Repossession
Vehicle repossession can be a sign of having bad credit. A car dealer may want your business, but many lenders may be leery of financing another car if you've gone through the repossession process at least once.
The auto lending networks we recommend below are easy to use and you can often get an online quote within minutes. You can also get the money within 24 hours, allowing you to buy a car quickly and get on with your life.
These companies all provide a lot of information on their websites to make getting a vehicle loan easy, including payment calculators, interest rate estimators, and current interest rates for various types of auto financing.
After filling out a short and secure offer form, users can be matched with multiple offers from various lenders, including banks and dealers, in just a few minutes. After choosing an offer, you can proceed to their website to finish the application and determine next steps for buying the car you want or refinancing your current loan.
How Soon Can I Get a Car Loan After a Repossession?
Once you have enough money to replace a repossessed car, such as through a subprime lender, you may still have to wait a while before you can be approved for a loan.
Going through the repossession process will damage your credit rating for at least seven years after the vehicle repossession.
That doesn't mean you have to wait seven years to buy another car. You can obtain a bad credit auto loan after repossession, though some lenders may require you to wait a year before they'll consider your loan application.
The bad credit car loan specialists we've recommended stipulate on their websites that they're willing to work with borrowers who've gone through an auto repossession. Most bad credit car loan sites stipulate they can reach a decision within 24 hours.
The loan application process takes only a few minutes, so it's easy to apply to a few of these companies to see if you qualify for a loan and then get to a car dealership to buy a car. Each lender should get back to you within a day, and possibly in a few hours, so you'll soon have an idea of how soon you can get a loan after a repossession.
What Happens to a Car Loan After a Repossession?
The troubles you've had making payments on a car don't end after a car repossession, whether it's a voluntary repossession or not. You will still be responsible for what you owe on the auto loan.
After the lender gets the car, it will resell it to recoup what you owe. If that isn't enough money to pay off the balance, then you'll owe a deficiency balance that will be reported to the credit bureau and listed on your credit report and will hurt your credit score. And, don't forget, you'll still owe that balance.
For example, if your loan balance is $7,000 and your repossessed car sells for $5,000, then you still owe the lender $2,000. If, however, more money is collected from the sale than what you owe, then you must be paid the surplus funds.
The sale price of your car at auction may not cover the balance you owe the lender. If that's the case, the lender may ask a court to enter a deficiency judgment against you so that the lender can try to collect the remaining balance on the loan.


Repossession expenses are also likely and will be added to your deficiency balance. This can include the cost of sending a repossession agent, storing the car, and preparing it for sale.
Some states have laws allowing consumers who have lost their car in an auto repossession to reinstate their loan, according to the Federal Trade Commission. You can reclaim your car by paying the amount you're behind on the loan along with your creditor's repossession expenses.
Once you get your car back, you'll want to avoid another repossession by making payments on time and following the reinstated contract.
Can You Refinance a Car Loan After Repossession?
If you've built up a lot of equity in your car and want to keep it, even after a repossession, then you may want to do anything you can to keep the car or get it back.
If you couldn't afford to make a loan payment or the high rate was making it difficult to afford, then refinancing a loan can make it more affordable. Refinancing after a repossession, however, is difficult.
As Auto Credit Express points out, refinancing a loan or any other requests about your car payments should be made before a car repossession begins. If you've built up equity in your car, then you've probably made on-time payments, and you may have just hit a rough financial stretch that can be overcome.
Some lenders may extend the loan a few months to help you make payments or refinance your loan with a lower monthly payment by lengthening the loan term.
Once your car is repossessed, your auto lender may offer two options so you can get your car back, neither of which involve refinancing a loan:
Reinstating your vehicle loan if you make all back payments plus all costs of the repossession.
Sell you your car if you pay the balance due on the loan plus any repossession costs.
Most states require lenders to tell borrowers when their car will go to auction, so you'll have a chance to buy it for cash. But even then, you'll still be required to pay the lender the difference between what your car sells for at auction and the balance owed on your loan.
Is a Voluntary Surrender Better than a Repossession?
A voluntary repossession is where you surrender your car because your lender has asked for it or you're expecting the lender will ask for the car anyway and want to make the process easier.
This can reduce your creditor's expenses, which you'd be responsible for paying after the repossession. As far as the debt you owe, a voluntary surrender is cheaper than a repossession that's done without your assistance.
Your late payments and the repossession will be listed on your credit report and will lower your credit score. The extra fees, such as if someone doesn't have to be hired to take your car, may not be reported in a voluntary surrender.
Before you get to a voluntary surrender request, it can be worthwhile to contact your lender about your debt when you realize you will be late with a payment. Most will work with you if they believe you'll be able to pay soon, even if it's slightly late.
You may be able to negotiate a delay in payment or a revised schedule of payments. Setting up automatic payments for your auto loan can make it easier to get a short delay approved. If a new agreement changes the original contract, get it in writing.
Will I Be Required to Make a Downpayment?
A down payment is a great way to lower car finance costs. It means borrowing less money, which can make monthly payments more affordable.
Some loans don't require a down payment. Those are usually for people with high credit scores.
A subprime loan after a repossession will likely require a down payment. Even without a repo, subprime lenders typically require at least $1,000 or 10% of the vehicle's selling price, according to Auto Credit Express. A trade-in with equity can also meet that requirement.


Auto Credit Express also points out that a repossession that's less than one year old may not qualify someone for a loan. Having multiple repossessions on credit reports will make qualifying harder.
But once the repos age a little, a subprime loan can be a way to buy a car at an auto dealer and improve your credit situation with timely payments.
Can I Get a Car Loan from a Credit Union?
Credit unions are well known for offering low loan rates with low fees. If you're a member of a credit union, it's worth at least checking if you qualify for a loan after a repossession.
However, credit unions are generally less likely to take risks than other types of lenders, partly because they have the responsibility of investing their members' deposits and savings wisely. A high level of creditworthiness may be needed to qualify for a car loan from a credit union.
Still, credit unions can be more lenient with first-time borrowers or with people who have poor credit. Their main purpose is to serve the needs of their members, and that can include people with bad credit who need to shop at a car dealer. Having poor credit can lead to a higher rate than if you have good or excellent credit.
One area to be aware of if you get an auto loan through a credit union is a practice called cross-collateralization. A financial institution may have this clause in loan documents, but it's more common with credit unions.
It allows the car that a borrower is financing through the credit union to be used as collateral for another debt, such as a credit card issued by the credit union. If you stop paying your credit card bill, the credit union could repossess the car it financed for you — even if your car payments are made on time.
It helps make loans less risky and helps a credit union, as a not-for-profit financial cooperative, avoid financial losses that would impact all its members.
How Long Does it Take to Fix Your Credit After a Repossession?
A repossession stays on your credit history for seven years from the original delinquency date. That's the date of the first missed payment that led to the repossession status.
A repossession is usually a last-resort option for a lender after a borrower has stopped making payments. It's considered derogatory on a credit report, meaning it will have a substantial negative impact on credit scores.
It can lead to a borrower paying higher rates to make up for the added risk the lender is taking.

You probably don't want to wait seven years to buy a car. You can fix your credit score before then by paying off the loan for the car and the deficiency balance, which may include costs for the repossession.
You may have to wait a year after repossession to get a loan from a lender that specializes in bad credit loans, or through one of the networks we recommended that connect borrowers with such lenders.
You Can Obtain an Auto Loan After Repossession
Auto loans after repossession are available from many lenders. The auto lending networks we recommend work with lenders that specialize in helping borrowers with bad credit, including those who have gone through a car repossession.
Some lenders require waiting one year after a repossession before they'll loan you the money for a car. Others may provide a loan but may charge a higher rate for the bigger risk they're taking.
However long you decide to wait to get a loan after a repossession, it can only take a few minutes to fill out an online application from an auto lending network. These networks will often let you know within 24 hours, if not a lot sooner, whether a lender has agreed to work with you. From there, you can quickly get the money to go buy a car and get on with your life.
Advertiser Disclosure
BadCredit.org is a free online resource that offers valuable content and comparison services to users. To keep this resource 100% free for users, we receive advertising compensation from the financial products listed on this page. Along with key review factors, this compensation may impact how and where products appear on the page (including, for example, the order in which they appear). BadCredit.org does not include listings for all financial products.
Our Editorial Review Policy
Our site is committed to publishing independent, accurate content guided by strict editorial guidelines. Before articles and reviews are published on our site, they undergo a thorough review process performed by a team of independent editors and subject-matter experts to ensure the content's accuracy, timeliness, and impartiality. Our editorial team is separate and independent of our site's advertisers, and the opinions they express on our site are their own. To read more about our team members and their editorial backgrounds, please visit our site's About page.