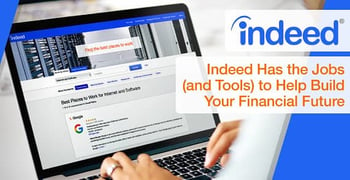 Experts share their tips and advice on BadCredit.org, with the goal of helping subprime consumers. Our articles follow strict
editorial guidelines
.
In a Nutshell: Your credit rating can easily be dragged down by your income, so why not try to raise both with a new job? Looking for a job can be a daunting task, but it certainly doesn't have to be. Indeed is the world's most powerful job search engine and, for the last 5 years, has been the #1 source of external hires for thousands of companies. Indeed.com is able to pull jobs from every corner of the Internet that other job sites can't find. Indeed provides so much more, though. Using real-time data, Indeed has research tools that no other job site has to identify employment trends and career paths. With the simple goal of helping people find jobs, the company has become a true Google for employment.
When you started that first job out of high school or college, it probably seemed like you were making a lot of money. Fast-forward a few years, maybe after a promotion and a small raise, and your current paycheck isn't large enough.
Now, add some debt, a few years with no raise, and maybe a spouse or a family. The credit card debt can pile up fast when your salary doesn't keep up with the growing demands of your life. When you are stuck in a job with lower-than-market pay or few benefits, it can be a frustrating experience.
In these times, Indeed.com, the world's most powerful job search engine, can be your ally. Their motto, 'We Help People Get Jobs,' is simple and true. They are the world's No. 1 job site for a reason.
When trying to improve your credit, it can often feel like you are working hard but still not making any progress. Indeed has the tools to help you in that process no matter what your goals are.
Want to change jobs? Indeed's simple search can help with that.
Want to see how much you're worth to ask for a raise? With Indeed, that is simple, too.
Want to see what path will take you to your dream job? You can find that on Indeed, as well.
By using Indeed to its full potential, you could get a better job, a higher income — or both — and get yourself out of a bad credit situation.
The Beginnings Of A True Google For Jobs
In the late 1990s, Paul Forster and Rony Kahan had the idea to start jobsinthemoney.com. They worked in the financial industry and felt there was a need for a jobs site that catered to only financial professionals. The website was a rousing success, and in 2003 it was acquired by eFinancialCareers.
In 2004, they wanted to expand on that great idea and start a search engine for all jobs that would be based on Google's successful model. Indeed.com was born and has since grown into a goliath attracting 180 million unique visitors a month.
The main premise seemed to be that looking for work should not feel like a second job. With Indeed's clean, no-nonsense interface, you get every job available, neatly lined up and easy to peruse.
Indeed.com is able to index almost every job on the internet, including those on company websites, on other jobs boards, and from direct posts from employers. The sheer number of jobs is why the site boasts over 180 million unique visitors per month. It is the evolution of the classified ad for the United States and over 60 other countries.
Bad credit and living paycheck-to-paycheck often go hand-in-hand. But if you can find a way to make your paycheck bigger (and show a little restraint at first) you can see your credit score rise like a phoenix from the ashes.
The logic is simple: When you get a higher-paying job, you can budget the excess to go directly toward paying down debt. After a period of time, your balance is paid down, your credit is up and you have a higher paying job to boot.
Looking for a new job is not often thought of as simple.
But with Indeed, it is easy to find a job perfectly matched to your skill set. You can enter job-specific skills (Photoshop, Class D driver's license, lifeguard certified) and see opportunities that are available across town or across the country.
Millions of Indeed users have already found jobs, and you can see their stories populate a live map on Indeed's I got a Job! page.
Maximum Results With Minimum Effort
Indeed allows you to apply on a company's website or to upload your résumé to a database that can be searched by employers. This means that you don't have to be actively searching, but employers can actively be searching for you. When your résumé is uploaded to the website, you can take advantage of the "Apply Now" button and send your résumé to a company with the tap of a button on your computer or mobile device.
The "Alerts" feature also puts Indeed to work for you. Input job keywords and a location and you can receive email alerts when a job matching that description becomes available. You get all of the same results from Indeed.com but on your own time. Also, you never miss a job opportunity just because you have not searched the website that day. It is easy to add or edit keywords and searches, too, so you can tailor the results to your own needs.
Indeed Can Improve Your Financial Situation Without You Having To Change Jobs
Do you like your job, but would just like to get paid more? If so, Indeed makes it easy to see the range of salaries being offered at jobs similar to yours. If other companies are paying employees more for doing your job, then it may be time to ask for a raise.
There are more than enough job listings on Indeed to get an accurate range of what you would be worth on the open market. In the "Salaries" section, you can input a job title and location and learn what the average salary is in that area. The section will also list jobs of interest below the informative charts, which allows you to see the opportunities that are currently available.
Asking for a raise can certainly bring about anxiety, but when you have done all the homework and can present your boss with evidence that you are being paid under market value, it makes a much more compelling case. You can turn a salary negotiation from tense to sensible with just a little research on Indeed.
Another great use for Indeed is getting part-time or freelance work. If your current job is not giving you enough income to deal with your mounting debt, making extra money without having to worry about a high level of commitment could be a solution. In fact, if you find that you are often late on bill payments and have to pay the minimum amount due on your credit cards, a few months or so of adding part-time or freelance work could give you the footing you need to step out of that hole for good.
Know What You're Worth, But Also Know Where You Can Go
Analytics help to better understand how the job market in your area is evolving, and Indeed.com has more tools to help you understand what the future could hold for you.
Trends — Type in any job field and see a chart listing the percentage of postings that have matched that search over the years. Select the relative scale and see the percentage of growth seen in that field since 2012. You can input as many fields or skill sets as you like for comparison purposes. This allows you to see the popularity of a job over time and how much that particular job or skill is growing in demand.
Industry Employment Trends — One of the most extensive and informative features is the website's Industry Employment Trends section. This allows you to see what the trends in the U.S. are for 13 main employment avenues. Click on any of these avenues (Education, Healthcare, Retail just to name a few) and get a plethora of information about the industry. See top keyword searches, top job titles, and top locations for each. Also, see how many jobs are posted and how much interest they have garnered month-by-month.
Career Paths — This neat feature allows you to look at a tree of different jobs related to the one you are seeking. Also included are the average salary, education level attained and skill set of a candidate that an employer sought for all of the jobs in the chart. While this feature is still in the testing phase, it can help you unearth other paths in the job world you may not have thought of.
By visualizing where a career can take you or how much it can pay, you can make more informed decisions on what steps to take next. Whether that next step is an application, training, or going back to school is up to you.
Indeed Gives You Back the Power to Shape Your Future
So many of us have encountered stumbles in the form of student loans, housing debt or mounting credit cards bills that get in the way of improving our financial standing. When using the wrong tools, these roadblocks can feel more like dead ends. Indeed gives you the right tools — from job updates in your city to information on the job skills needed to move to the next level — to help craft your future.
A new job, or just getting paid what you're worth, can help you adapt to changes in life without the anxiety of a bad credit score.