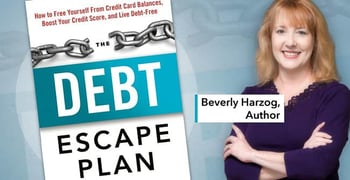 Experts share their tips and advice on BadCredit.org, with the goal of helping subprime consumers. Our articles follow strict
editorial guidelines
.
Credit cards are a double-edged sword. The buying power is endless (in theory), but the debt can be dangerous — 42.4 percent of Americans are burdened by such debt, averaging out to $10,902 per person. A self-proclaimed former "credit junkie," Beverly Harzog doubled that damage in credit card debt.
Beverly Harzog is a nationally-syndicated credit card expert, LendingTree's Consumer Credit Advisor and the award-winning author of "Confessions of a Credit Junkie: Everything You Need to Know to Avoid the Mistakes I Made."
After her first book, readers raved about Harzog's tips and tricks for using credit cards to save, build and repair credit rather than just spend. But what if they'd heard it before digging themselves thousands of dollars deep in debt?
Harzog took these responses to heart and set out to write her own unique strategy for releasing yourself from the crippling chains of colossal debt.
"The Debt Escape Plan: How to Free Yourself from Credit Card Balances, Boost Your Credit Score, and Live Debt-Free," exposes credit card debt for the monster that it is, then walks you through individualized tactics for overcoming it for good.
Stuck in debt or stuck with your head in the sand?
They say the first step to recovery is acceptance. A decade worth of shopping, swiping and over-spending landed this former shopaholic six feet under in debt, with seven maxed-out credit cards and a severe case of "head-in-sand syndrome," writes Harzog.
She begins by illuminating not just one but nine reasons you may be in a vicious cycle of debt. She abandons the traditional "lay off the lattes" and "cut up the credit cards" advice in favor of an à la carte style of debt advice and recovery.
Harzog recognizes there's no one-size-fits-all approach to debt repair because there isn't one single universal vice behind everyone's debt problems.
"If you still feel that you're a victim, you aren't ready to commit to the hard work of paying off your debt."
Harzog's empathetic insight laced with a tell-it-like-it-is attitude empowers her readers to face their debt head-on and psychologically embrace it.
People find themselves in debt for all kinds of reasons, even unfortunate life circumstances beyond their control. "It's still your debt, and you have to pay it off," writes Harzog.
Are you a money master or unconcerned consumer?
Harzog created a tool to help you explore your unique feelings about money, credit, and debt. Her "What's Your Money Personality?" quiz assesses your personal relationship with money in combination with your particular learning style.
In part one of the money personality quiz, readers explore their personal relationships with money. Harzog presents various scenarios ranging from your uncle passing away to stumbling upon a sale at your favorite store and asks you to choose the reaction that most resembles your likely response.
Tally up your score at the end of the assessment and discover the good, the bad and the ugly sides to your money personality, including famous role models who embody the same stances on personal finance.
"I don't want you to change your personality to fit into a specific approach. For one thing, you're just fine the way you are. For another, it won't work."
So are you a budget-buster, a clever cheapskate or maybe a terrified tightwad?
You're just 10 questions away from finding out.
In part two, Harzog calls upon the psychological framework of Neil Fleming's VAK/VARK learning styles model. Her eight-question questionnaire prompts you with various scenarios and asks how you would handle them. Your results will determine whether you are a(n) visual, auditory, read/write or kinesthetic learner.
Once you know your learning style, you can use it to help tackle important projects, "and getting out of debt is a super-important project," she said.
She shows readers how to take advantage of their learning style while chipping away at debt, including how to work in cahoots with your partner, who may or may not share the same Money Personality or learning style.
Escaping debt and never looking back…
The Debt Escape Plan is not just a clever title but an actual resource that you can take advantage of — for free.
On her site, Harzog has created and offered several money-saving, credit repair and debt payoff worksheets throughout her book for you to utilize and customize to your unique financial personality profile.
She offers seven secrets for boosting your credit score, tips for tackling the burdens of medical bills, as well as motivational methods for keeping your spirits up throughout your debt escape plan.
"The trick is setting yourself up for success so that you keep going no matter what roadblocks you encounter."
Indulging in mini-treat therapy, finding a debt buddy and coming up with an Ally McBeal-inspired theme song for yourself are just some of the quirky yet effective strategies Harzog suggests for keeping it positive when you're feeling doubtful about your debt.
She highlights the signs of a true debt disaster and caters the plans of action to various individualized circumstances that anyone can relate to. She even educates readers on the dos and don'ts of debt collection agencies, equipping harassment victims with the proper strategies to combat collection agency abuse.
The bottom line
Whether you're 10K under with a shopping addiction or got hit with a double-whammy divorce and financially crippling illness, Beverly Harzog has a debt escape plan that can work for you.
She's experienced both ends of the credit card debt spectrum, making her engaging and empathetic toward readers. If you're looking to break free from debt and enjoy a debt-free future, "The Debt Escape Plan" can help you get started.
Photo credit: beverlyharzog.com