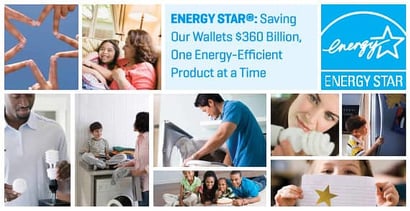 In a nutshell: Established by the U.S. Environmental Protection Agency in 1992, the ENERGY STAR® program and its energy-efficient products have saved Americans $360 billion on energy costs. This article explores the ways consumers can save hundreds each year on energy bills by utilizing the many resources and tips available on Energystar.gov.
One of the simplest ways to save money is by reducing energy consumption in our homes, yet many of us aren't taking the initiative to do so. A McKinsey & Company study found American homes and businesses waste $130 billion a year on standby appliances and poor insulation alone.
The ENERGY STAR program was created to help Americans combat this ever-growing problem by offering more than 70 energy-efficient product categories ranging from appliances and electronics, to lighting and water heaters.
We spoke with Denise Durrett of ENERGY STAR to learn more about the ways consumers can reduce energy use and utility costs in their homes.
ENERGY STAR Bulbs Save $35/Year & Last up to 25X Longer
Denise told us that changing a light bulb is one of the first and easiest things someone wanting to start saving money can do.
"Just by swapping out five of the most-used light bulbs in your home with ENERGY STAR certified light bulbs, you can save $35 a year," she said.
That may not seem like much at first, but ENERGY STAR certified light bulbs also last 10 to 25 times longer than non-energy efficient bulbs, so you'll receive that savings year after year, easily adding up over time all while using 70 to 90 percent less energy.
According to ENERGY STAR, "If every American home replaced just one light bulb with one that has earned the ENERGY STAR, we would save enough energy to light 2 million homes for a year, save about $460 million in annual energy costs, and prevent 6 billion pounds of greenhouse gas emissions per year, equivalent to the emissions from about 550,000 cars."
15 Tips for Reducing Energy Use & Your Electric Bill
While purchasing ENERGY STAR certified products for your home can induce substantial savings, you don't have to spend money to save money. The ENERGY STAR website provides a plethora of useful money-saving tips that will be reflected on your monthly utility bills. It's now up to you to start making the small changes that lead to big savings.
9 Free Ways to Start Saving Money and Energy
We've selected nine tips available from ENERGY STAR to easily begin saving hundreds without spending a dime:
Plug electronics into a power strip. This provides a convenient on/off point to ensure all electronics are turned off when not in use.
Wash clothes in cold water. This saves the energy that would have been used by your water heater. Just make sure to use cold-water detergent.
Lower your water heater temperature to 120 degrees or lower. Fact: The average American household spends $250 a year on water heating alone.
Turn off lights and fans when not in use. Fact: It costs almost $20 a year to leave a light on eight hours a day.
Turn off the water when brushing your teeth or shaving. This not only saves energy but also helps conserve water resources.
Seal your attic/basement hatch or door. This can save up to 10 percent on your energy bill.
Use drapes. Drapes can let the sun in to help warm your house during cooler months and keep the sun out during warmer months, improving energy use.
Don't over dry clothes and always clean the lint trap before use. Clothes dryers are responsible for approximately 6 percent of household electric use.
Use your microwave to cook as often as possible. Fact: You can reduce your cooking energy by as much as 80 percent when using the microwave.
For all 67 money-saving tips, visit www.energystar.gov/campaign/waysToSave
6 Tips to Lower Appliance Costs Without Replacing Them
Heating and cooling is responsible for up to half of your electric bill alone, and Denise told us that refrigerators consume a substantial amount of energy because they run 24/7. If you're not looking to replace your fridge or A/C unit anytime soon, there are still plenty of easy ways to save on these two significant energy consumers.
Adjust your refrigerator temperature between 37 and 40 degrees.
Change your air filter regularly, at a minimum every three months. A dirty filter will cause your heating/cooling system to work harder.
Do not open the refrigerator door unnecessarily, and make sure the door is sealed properly.
Install a programmable thermostat for your A/C. Proper use of pre-programmed settings can save up to $180 a year.
Let hot foods cool before placing them in the refrigerator.
Seal your heating and cooling ducts. This can improve the efficiency of your system by up to 20 percent.
Save on Product Costs with Rebate Finder & Seasonal Promos
There are plenty of ways to save on energy costs, but there are also ways to save on the price of the ENERGY STAR products themselves, even though they don't cost more than most standard models.


"If a product has the ENERGY STAR label on it, you know you're getting a highly energy-efficient product that most often doesn't cost more than a standard model," Denise said. "So you're saving money on energy bills and doing something good for the environment."
Rebate Finder
The Rebate Finder tool allows you to find savings that aren't so obvious, such as incentives from utility companies, sales tax exemptions, and discounts unavailable at the store.
"Our partners submit rebate information for their ENERGY STAR offerings to energystar.gov, making it easy for consumers on our site to see what's available in their area," Denise told us. "Rebate Finder works well for people who are looking to make energy-efficient enhancements in their home. Simply put in your zip code and get a list of rebates for your particular area."
For example, we found plenty of mail-in rebate offers from power companies just for owning ENERGY STAR appliances, ranging from $25 for clothes washers and dryers to $20-30/ton on central air conditioning units.
Seasonal Promotions
There's also seasonal promotions from ENERGY STAR that you can find by signing up for their free newsletter.
This year's campaign was Flip Your Fridge, an incentive for consumers to recycle their old refrigerators and replace them with ENERGY STAR certified models that can save as much as $260 over the course of five years while reducing their carbon footprint by 7,900 pounds.
Join 4 Million Others & Track Greenhouse Gas Savings Online
Sometimes it's difficult to believe something is happening when the results aren't necessarily visible, and saving energy in your home can be one of those things.
However, ENERGY STAR has created a pledge online where anyone can commit to taking energy-saving actions in their home to reduce greenhouse gas emissions and visibly track their progress.
"By setting up a My ENERGY STAR account, you can actually track your greenhouse gas savings based on the actions you're taking in your home," Denise said. "It keeps a running track record about what you're doing for the environment."
There are five categories to choose from with actionable items for you to pledge to take. By completing items, your energy saving progress will be recorded in an observable way to understand how you're helping the environment and see how much you're saving.
It's small steps like changing light bulbs, turning off water, and powering down electronics when not in use that all add up to make a big difference. There are currently more than 4 million consumers who have taken the pledge and collectively saved nearly $900 million in energy costs and reduced carbon pollution by more than 15 billion pounds.
Setting the Bar for Energy-Efficiency Standards Since '92
ENERGY STAR was created in 1992 by the Environmental Protection Agency (EPA) to help businesses and individuals save money and the climate through energy efficiency. It is now the international standard for energy-efficient products.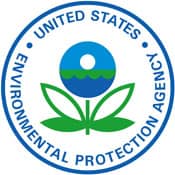 "ENERGY STAR is the trusted, government-backed symbol for energy efficiency helping us all save money and protect the environment through energy-efficient products and practices," according to their website.
To earn the ENERGY STAR label, a product must meet the requirements set forth by the EPA. This includes testing in EPA-recognized laboratories to ensure the product lives up to the ENERGY STAR standard.
These standards are continually set higher year after year as new advancements allow for better energy savings. For example, a new home constructed under ENERGY STAR specifications is up to 15 percent more energy efficient than those built under ENERGY STAR specifications in 2009.
The program is currently in its 23rd year and has 16,000 partnerships with a broad range of manufacturers and trade associations, retailers, efficiency program providers, home builders, and small businesses. Today 85 percent of Americans recognize the ENERGY STAR label.
"The program's emphasis on testing, third–party review, and compliance screening bolsters its integrity and ensures that consumers can trust ENERGY STAR certified products, homes, and commercial facilities to deliver the energy savings promised by the label." – ENERGY STAR website
ENERGY STAR has sold more than 4.8 billion energy-efficient products since 1992, with more than 1.5 million new homes and 22,000 facilities currently carrying the ENERGY STAR certification.
Protect the planet and your pockets by taking the pledge to reduce greenhouse gas emissions today.
Photo credits: ENERGY STAR, iconshut.com 
Advertiser Disclosure
BadCredit.org is a free online resource that offers valuable content and comparison services to users. To keep this resource 100% free for users, we receive advertising compensation from the financial products listed on this page. Along with key review factors, this compensation may impact how and where products appear on the page (including, for example, the order in which they appear). BadCredit.org does not include listings for all financial products.
Our Editorial Review Policy
Our site is committed to publishing independent, accurate content guided by strict editorial guidelines. Before articles and reviews are published on our site, they undergo a thorough review process performed by a team of independent editors and subject-matter experts to ensure the content's accuracy, timeliness, and impartiality. Our editorial team is separate and independent of our site's advertisers, and the opinions they express on our site are their own. To read more about our team members and their editorial backgrounds, please visit our site's About page.