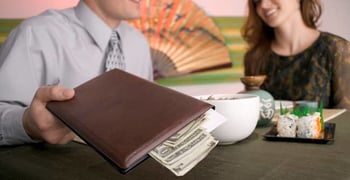 Experts share their tips and advice on BadCredit.org, with the goal of helping subprime consumers. Our articles follow strict
editorial guidelines
.
Navigating social etiquette and expectations on a budget can be tricky. Friends, family, co-workers and peers aren't all going to have the same financial reality as you, nor will they have the same goals and priorities.
What is an affordable option for one person may not be what is affordable for you, but in the context of social settings and events, it can be hard to turn down an opportunity to hang out or celebrate.
Peer expectations only add to the pressure. To maintain the balance between social expectations, fun and financial reality, follow these guidelines.
1. Know your limits.
Know ahead of time how much money you have to spend on social affairs.
Designating a separate account for social spending and "play" is a great way to ensure you're budgeting in the fun stuff (I recommend between 10 to 15 percent of each paycheck.)
If you have $X to spend for the year, how much does that break down to per month? Are there months with bigger or more expensive events than others? Summer and the holidays are two times of year that might require some extra cash budgeted in.
How much can you spend on each event- weddings, vacations, birthday parties, happy hours, etc?
When you know what you're willing to spend before being surrounded by the influence of friends, it's easier to stick to your limit.
To take it a step further, only bring enough cash to cover what you've budgeted. It will force you not to overspend or be swayed by peer pressure (or alcohol).
"Saving money doesn't have

to be the end of social outings."
2. Prioritize. 
Once you've defined your "play" budget, you may find you're unable to attend every party, event and happy hour.
Rather than feeling pressured into going anyway and making spending choices you'll regret later on, be direct with your peers.
Explain that you're saving for a specific financial goal or priority. Rather than continuing to pressure you, they will likely come to support you.
3. Offer an alternative.
Saving money doesn't have to be the end of all social outings. Everyone, regardless of his or her financial circumstances, loves a good deal.
Rather than meeting for drinks at your usual gathering spot, offer to host a potluck, suggest a walk in the park or try a free class.
There are plenty of ways to spend quality time with friends and peers without spending beyond your budget.
Photo source: youcanbethatgirl.com