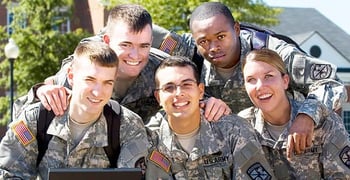 Experts share their tips and advice on BadCredit.org, with the goal of helping subprime consumers. Our articles follow strict
editorial guidelines
.
Your military pay, training, experience and intangible skills can lead to a higher credit rating.
But do not join the military just for that reason.
Perhaps college isn't for you and you have not found a good job, so the military seems like a great idea. Maybe you'll join to get away from a toxic environment.
The best reasons to join the service are for the chance to fulfill your potential and be part of something bigger than yourself. Join the military for the teamwork and for the incredible responsibility.
Here's a disclaimer from Today's Military, a government website about military service:
"The environments can be dangerous. The conditions can be challenging. The stakes are always high. Rigorous personal demands are the rule. It requires self-discipline, education, intense physical work and a dedication to excellence."
So how does this help your credit rating?
1. Pay
Your military pay normally rises annually and jumps when you earn promotions.
You are unlikely to be laid off, which is something that credit rating agencies like. Your food, housing and healthcare are free.
You get 30 days of annual leave. Your spouse and kids are eligible for the same healthcare (at a small cost) and many other family support services.
Your total compensation is competitive with an equivalent civilian job. Your steady pay means that you're a lender's dream customer.
2. Training and experience
Your training comes from any of the formal military schools that you may attend, as well as simulators and real-life missions.
Eventually you will be responsible for operating and maintaining equipment worth millions of dollars. You will join a team and later lead it.
As you gain experience you will be handling responsibilities in your 20's that many civilians do not see until their 30's.
You can work on your college degree or other certifications with tuition assistance and (after you leave the service) your GI Bill.  The military even helps pay off government student loans.
"Credit bureaus will see that you earn

more money and pay your bills on time."
3. Skills
Other benefits earned in the military will serve you well in civilian life.
4. Professionalism
You will be physically fit. You will look good in a uniform and in office attire.  You will stand tall, look people in the eye and have a firm handshake.
You will have communication skills and confidence.
5. Integrity
You tell the truth and follow a code of ethics. You figure out the right thing to do and then do it.
6. Veteran status
Even after the military, you are still eligible for membership in military-friendly credit unions (with low-interest credit cards) and insurance companies (with lower rates).
You are also qualified for low-cost mortgages.
Your service makes you a better member, and that raises your credit rating.
Whether you stay in uniform for an entire career or leave after your first contract, the military skills and experience will stay with you for life, and boost your credit rating.
Doug is authoring a three-week featured series with BadCredit.org on military finances.

Photo source: trojan.troy.edu