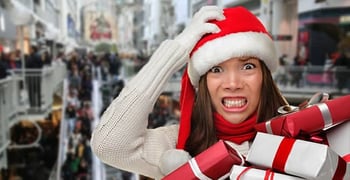 Our popular "How-To" series is for those who seek to improve their subprime credit rating. Our articles follow strict
editorial guidelines
.
The holiday season is in full swing and shoppers everywhere are getting pummeled by retail promotions and promises. This season is especially competitive, as retailers are beginning to recognize a major shift in consumer behavior brought on by the recession.
While gas prices are down and job numbers are looking promising, holiday shoppers are still highly budget conscious and looking for the best deals this season.
Not every deal is a good one and not every discount represents the savings it might promote. When you're out fulfilling your gift list, beware of these seven holiday spending traps.
1. Shopping without a strategy
Going into the hectic holiday season blind is a bad idea. According to Manisha Tahkor, a finance expert and contributor to The Wall Street Journal, there are two kinds of gifting strategies:
wide and shallow, where you gift small items to a big group of recipients
narrow and deep, where you gift bigger purchases to a small number of people
When you fail to have a gameplan, these strategies will often combine to the detriment of your budget — you end up gifting wide and deep or buying expensive items for lots of people.
Looking for a surprise someone will really enjoy? Debt relief is the gift that keeps on giving.
2. Using credit card with a revolving balance
With total credit card debt hovering at more than $880 billion in the U.S., many Americans enter the shopping season with a revolving balance and no savings. Those who rely on credit cards to cover the cost of gifts are only digging themselves deeper into debt and should consider only using cash.
These consumers should definitely reduce their overall spending this season and consider DIY gifts like home-baked goods or treat mixes.
3. Forgetting to budget for hidden holiday costs
Gifts, decor and food are the typical line items included in the average holiday budget. However, there are many other expenses related to the busy season, and these oft-forgotten costs will send you over budget if you're not careful.
Host(ess) gifts, postage for holiday cards and packages and gifts for teachers/coaches/service providers are just some of these hidden costs.
For a comprehensive holiday budget guide, Google "holiday budget plan" for templates that outline all the potential expenses you might encounter.
4. Self-gifting
The National Retail Federation estimates self-gifting will reach $127 per person this year. It's tempting to pick up a few things for yourself when everything is on sale, but you can quickly overspend.
If you have room in your budget to accommodate these impulse buys, go for it. Otherwise, take note of what you want and share your wish list with others, They'll be grateful for the heads-up and you can continue focusing on your gift list.
5. Opening a new store card for the discount
These days, the typical checkout experience includes a pitch for the store's credit card to receive 5 to 15 percent off your total purchase. Store cards are typically a bad idea. Most retail cards have extremely high APRs (more than 20 percent in most cases) and very low credit limits ($500 to $1,000).
Applying for these credit cards creates a hard inquiry on your credit report, which can affect your credit score. Unless you shop with the store frequently and can commit to paying off the balance monthly, use your cash-back bank credit card for lower APR and more versatile perks.
6. Spending more to qualify for free shipping
Many retailers are raising the minimum purchase required to qualify for free shipping in order to boost online sales. This strategy is working, as 58 percent of shoppers plan to add more to their online baskets just to avoid delivery fees.
You can avoid spending more by searching for real free shipping offers from sites like FreeShipping.org or asking a live sales agent via the chat option for any available coupon codes. Otherwise, look for free site-to-store shipping options from stores like Kmart and Sears.
The retailers have recently expanded their in-store pick up options with new offerings like Free Cross Store Pickup. This allows customers to pick up Sears.com or Kmart.com orders at any of each other's local stores to avoid shipping charges, including same-day and curbside pickup.
There's also Free Shipping Day (Dec. 18), when hundreds of stores offer free shipping with no minimum plus extra coupons and delivery by Christmas Eve.
7. Using rewards as an excuse to spend
Credit cards offering travel or cash-back rewards help consumers get more bang for their holiday buck. However, the desire to accrue rewards should not be used as justification for mindless spending.
Paying interest on a balance you can't afford to pay off within a month cancels out the value of accrued rewards. Use your rewards cards in conjunction with a smart spending plan to get the best of both worlds!
Check out our credit cards for bad credit that come with excellent rewards.
Photo credit: logosoftwear.com