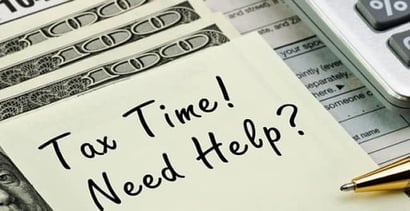 From big names to up-and-comers, BadCredit.org experts share their picks for the top resources in the personal finance industry.
With the tax season upon us, Americans will receive billions of dollars returns from their state governments and the IRS.
A three- or four-figure windfall of cash might not resolve your debts overnight, but it could help take out a significant chunk and pave the way for a better credit score.
To get the most out of your tax return this year, check out these six fantastic tax preparation services.


For more than 25 years, TurboTax has continuously ranked as the number one tax software, with an average of 4.6 out of 5 star ratings resulting from thousands of customer reviews. Routine error checks, guaranteeing 100 percent calculation accuracy, personalized expert aid when you need it and an easy-to-file interface are all features you can expect from the leading software for tax solutions. No matter your tax circumstances, they offer a multitude of products for all manner of taxpayer needs.
Price: $0-$79.99+
Twitter Handle: @turbotax
URL: turbotax.com


With 80,000 well-trained CPAs, Enrolled Agents, tax attorneys and former IRS agents, H&R Block is able to confidently serve taxpayers with more than 12,000 online and in-store tax solutions. Their easy-to-use digital system has been serving independent taxpayers for more than 15 years, including $50 billion claimed in 2013. When you meet with an H&R Block tax representative, you'll be meeting with a master tax adviser who has completed a 14-level certification program and must complete a minimum of 15 hours of continuing education each year.
Price: ~$0-$49.99+
Twitter Handle: @HRBlock
URL: hrblock.com


With 200,000 taxpayers assisted annually, 92 percent of TaxSlayer.com clients received refunds in 2014. That's including more than 5 million e-filed returns in the last decade, culminating in an average refund of $3,379 per taxpayer. They allow you to pay your filing fees with your federal tax refund, resulting in zero out-of-pocket costs at time of file. You'll get the maximum refund you are entitled to (and 100 percent accurate calculations) or your money back, including any penalties or interest charges incurred.
Price: ~$0-$34.99+
Twitter Handle: @TaxSlayer
URL: taxslayer.com
Jackson Hewitt Tax Services

The professionals at Jackson Hewitt Tax Services pride themselves on knowing the tax code better than anyone in the business. Each certified tax expert promises to treat your tax files as if they were his or her own. With more than 6,300 locations, including thousands of representatives based in Walmarts across the country, they are a leading national tax solution in your local community.
Price: ~$0-$49.95+
Twitter Handle: @jacksonhewitt
URL: jacksonhewitt.com


Taxbrain is an easy-to-use online tax solution with more than 4,400 hubs across the United States and Canada. Their network of professionals built the Taxbrain technology from scratch, and their personable team of experts bring you all the taxpayer support you need. With hassle-free refunds and zero out-of-pocket fees, they are the fastest-growing international tax company out there. Over the last 17 years, in partnership with Liberty Tax Service, they have prepared more than 16 million tax returns.
Price: ~$14.95-$69.95+
Twitter Handle: @taxbrain
URL: taxbrain.com


OnePriceTaxes.com has been providing taxpayers with personal income tax solutions for almost a decade. They pride themselves on transparent transactions with their customers. No hidden fees or extra charges will be tacked on, and you can expect the cost to be low. While most of their competitors charge individuals up to 5 percent of their tax returns in exchange for their services, OnePriceTaxes.com offers a more affordable tax solution. With their simple "One Price" model, filing taxes is as simple as it gets, no matter your tax situation.
Price: ~$19.95-$29.95+
Twitter Handle: @OnePriceTaxes
URL: onepricetaxes.com
With your refunded money in hand, consult a debt relief firm to learn the best way to put your hard-earned money to work.
Photo sources: twitter.com; hocheisercpa.com/accounting-tax-solutions-for-businesses-individuals