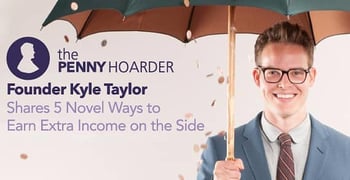 Our popular "How-To" series is for those who seek to improve their subprime credit rating. Our articles follow strict
editorial guidelines
.
In a Nutshell: The Penny Hoarder is a personal finance website with 10M monthly visitors that serves up fresh ideas daily on how to save and earn money. Kyle Taylor founded the site while overcoming $50,000 of his own personal debts by documenting how he would earn extra income on the side, and it wasn't long before people wanted in on his secrets. Kyle shared five ideas with us how to make and save a few extra dollars, and most let you make your own hours. From amateur photography to writing political campaign letters — there are "Taylored" options for just about anyone.
The rising costs of rent, child care, insurance, and student loan payments have the majority of Americans living paycheck to paycheck, and 62-percent have less than $1,000 in savings. It's safe to say a lot of Americans are strapped for cash.
The Penny Hoarder is a website dedicated to helping consumers find new and sometimes quirky ways to earn and save every single day. We reached out to Penny Hoarder Founder, Kyle Taylor, to learn some of his ideas for making some extra money quickly and easily.
Set Your Own Hours, Get Paid to Visit the Bar, Sell Amateur Photos, Write Political Campaign Letters & More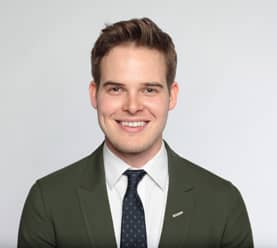 The ideas Kyle shared with us range from earning up to an extra $1,500 a month through political-campaigning gigs to saving up to $200 a year by signing up for a cash-back credit card (yes, there are rewards cards available even with poor credit — skip ahead to #4).
Kyle breaks down the details of each and you can pick and choose your favorite ways to put a few extra bucks in your wallet or to put away for a rainy day.
1. Foap: Sell Photos Directly From Your Phone ($5/Photo)
The first recommendation on Kyle's list is Foap, which is a website and mobile app that allows anyone to take and sell photos for $10 apiece – you'll earn a quick $5 for each one sold (Foap receives the other $5).
"There's a lot of websites out there that allow professional photographers to sell their photos, but this is a photo service for amateur photographers. You can sell iPhone and Android photos right from your phone," Kyle explained.
"The better your photo the more likely it is to sell. The way it works is you take a photo, you upload it to their marketplace, and then every time somebody wants to use it they pay $10, of which you get $5 and the app gets $5. We've had some readers make a few hundred bucks with it," he said, and added that he wish he knew how to take better pictures.
2. NextWave@Home: Call Voters & Write Letters to Congress ($1,500+/Mo.)
With elections quickly approaching, this is one of the more timely options on the list. Kyle explained that companies like NextWave@Home are paying people to call voters in swing districts and facilitate a letter to politicians on specific issues.
"Your job is to study the issue and understand which side your client represents," Kyle explained. "They give you call sheets and ask you to call voters in swing districts around the country and work with those voters to have them write a letter to their politician on the issue. You write the letter and the person receives it, signs it, and then it gets sent off to a member of congress."
Kyle also pointed out that the reason he likes this one is because "it's a make your own hours type of job with 20 – 25 hours a week, and you can easily make $1,500 or more in a month."
3. Bar Integrity Mystery Shop: Get Paid to Visit Your Local Bar (Varies)
Bar Integrity Mystery Shopping is something Kyle can personally vouch for as this was his job in college. He said sometimes they even picked up the bar tab, so basically this job pays you to go to the bar and drink for free. Yes, please?
"You get paid to go to the bar and you pose as a restaurant customer. You rate them on speed of service, how friendly they are, along with a bunch of other things," Kyle said.
"There are also Bar Mystery Shops that are for people under 30 and you have to see if the bartender cards you. It's a way for chain restaurants to ensure their training of bartenders is up-to-speed at the restaurant or district level, and to be able to do any re-training before anything nefarious may happen," he added.
This type of job also has the make-your-own-schedule luxury, and Kyle said that when he was doing it he could earn up to $40 per location, "and I usually got a free bar tab out of it as well, so it was a fun little job."
4. Cash-Back Credit Card: Sign Up & Save ($100 – $200+/Year)
This offer is more on the savings end of things, but can score you an extra $100 to $200 a year just by using a rewards credit card to purchase things you're already buying, such as groceries, gas, or utilities.
"We've really been encouraging our readers just to get a better credit card. For so long so many of the cards have been stuck at 0-percent or 1-percent rewards, but we're starting to see some larger cash rewards," Kyle said.
"In general, the better the rewards the tougher the credit restrictions, so maybe it might not be possible for folks with a low credit score to get a 2-percent reward, but even upgrading to a 1-percent reward is a huge improvement. We tell our folks even if you're just putting your groceries on it, which for the average family in this country is over $800 a month, it can easily add up to $100 to $200 over the course of a year," he added.
Kyle's right, there are attractive credit card offers with cash-back rewards even for those with poor credit, and these cards will help improve your credit with responsible use — a win-win.
5. Moonlighting App: Advertise Your Skill Set (Minimum $10 Payout)
The Moonlighting app lets you post your skills for free to allow other Moonlighting users to find and hire you.
"Whatever it is you're good at – whether it's cooking, or painting houses, or whatever it is – you advertise your skill on this site and people can come on and hire you. It's sort of like a mini Craigslist, but what we like about it is that some of our readers are finding that because it's just focused on gigs, it's a really slimmed-down way for them to get linked up with customers," Kyle said.
There's a $10 minimum payment amount, and according to the Moonlighting site, "The fee charged on the Receive side is the bank fee of 2.9% plus 30 cents per transaction, similar to any merchant credit card cost. Then Moonlighting charges a small half-percent transaction fee."
The Penny Hoarder Began as Kyle's "Personal Diary" —
and Now Serves 10M Monthly Visitors
When Kyle started The Penny Hoarder almost six years ago, he was $50,000 in combined student loan and credit card debt. Like many young adults, he was looking for ways to pay off his debts while also afford rent, so he started doing things on the side like his Bar Mystery Shop gig to make ends meet.
His endeavors led to a lot of questions from people he knew about where he was finding these ways to earn extra money, so he thought, Maybe I should just write about this since so many people ask — and that's how The Penny Hoarder began, as what Kyle refers to as his "personal diary."
As the site grew, it became less of what Kyle was doing to earn money and more about what his community of readers could do and were doing. Today, Kyle manages a team of nearly 20 people in St. Petersburg, Florida who find money-making ideas for him five days a week, and the site is updated daily with fresh ideas.
Visit ThePennyHoarder.com For More Ways to Earn Cash
Not only will you find lots of savings and earning information at The Penny Hoarder website, but the content is fun and personable.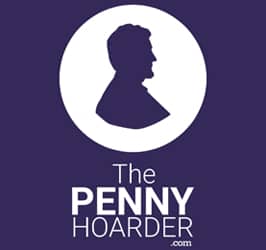 "Our mission is really just to make sure that people have more money in their pockets," Kyle said.
"For so long finance has been one of those topics that's been kind of hush-hush, and our hope is that we can play a small part in making money and finance fun and available to everybody so that it's something that people feel comfortable talking about, and feel comfortable getting a hold of," he added.
Visit ThePennyHoarder.com and subscribe to get all of the latest advice delivered directly to your inbox. There are literally thousands of other tips for making extra income on the site, so there's no shortage of ideas to help supplement your income. And who knows, you may discover a fun money-making hobby.