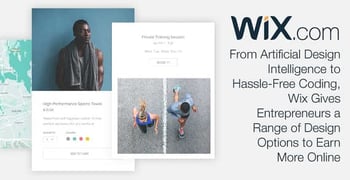 Experts share their tips and advice on BadCredit.org, with the goal of helping subprime consumers. Our articles follow strict
editorial guidelines
.
In a Nutshell: Earning income by starting or expanding an online business or side venture is an enticing prospect, but it can also be an intimidating one. The online website building platform Wix offers a suite of tools and resources — like the Wix Editor, Wix Code, Wix Artificial Design Intelligence, and Wix SEO Wiz — that help users of any skill level create a professional-grade website in as little as an hour. Wix also offers a variety of subscription plans, from free to VIP, that accommodate any user's budget. With easy upscaling and robust support, Wix makes it simple for users to create and manage their sites, so they have more time to focus on their online endeavors.
Like many people, you may be thinking about starting an online business or side gig — or expanding an existing one — as a means of earning extra income. Maybe you're a business person who wants to tap into the online market. Maybe you're a creator who wants to sell and distribute your work electronically. Whatever your enterprise, the internet has a niche for you to fill.
But building a web presence can be an intimidating task. Sure, you might know how to run your business or creative project, but that doesn't necessarily mean you have experience with web design or online marketing.
Plus, your resources might be limited. You might not have the funds to hire a professional web developer, you might not have the technical knowledge to code your own site, and you likely don't have time in your busy schedule to learn. Then, even if you have a website, there's the prospect of self-promoting through ads and social media — a daunting and time-consuming uphill battle, to say the least.
To save time and money for those in this situation, the website development platform Wix offers a simple, effective, and budget-friendly way for startups and bootstrappers to establish an online presence, attract traffic, and start generating cash flow.

Using the Wix Editor's drag-and-drop interface, anyone can quickly create and customize a site that will meet their particular needs.
"You can easily create the kind of website that you want," said Matt Rosenberg, Public Relations and Communications Manager at Wix. "There's a large ecosystem built around the website editor. It really lets you run your entire business front to back."
Users of All Skill Levels Enjoy Control and Customizability
Wix offers multiple ways to build and customize a website: Wix Editor, the proprietary Wix ADI (Artificial Design Intelligence), and Wix Code for more advanced users. Each provides a different path to creating a customized, fully functional site.
Let's take a closer look at each design option.
Wix Editor Provides Tools to Make the Perfect Website
Wix Editor allows complete control over the appearance and performance of Wix sites. Users can alter everything they see, from the positions and sizes of elements, like text and images, to background graphics, colors, page hierarchy, and beyond. Editor also lets users add advanced and interactive elements like galleries, slideshows, embedded video, contact forms, applications, and many other features. All of these options, and many others, are accessible through an unobtrusive menu and intuitive interface.
Entrepreneurs can use Wix Editor to customize an existing template, or they can build a site from the ground up using the same suite of design tools and features. Best of all, the editor is based entirely around dragging and dropping; from start to finish, absolutely no coding (or knowledge thereof) is required to use the editor. All users need is a concept and the motivation to make it a reality.
But what if you don't have any concrete idea of what you want your site to look like or how you want it arranged? Don't worry — that won't hinder your progress. Wix has you covered with its Artificial Design Intelligence.
Wix ADI Provides Unique, Hassle-Free Design
In essence, Wix ADI is an automated version of Wix Editor. ADI uses what Wix learned from having 122 million users building sites. Users are asked to answer a few questions about themselves and the purpose of their site. Based on that information, Wix ADI will assemble a complete layout and aesthetic suited to a user's specific needs and tastes. ADI will also pre-load specific features, like galleries for an artist's website or booking services for an event planner.
"ADI will make a fully functioning site," Rosenberg said. "All you have to do is answer simple questions about your business and add any custom content. Or, if you want to take it a step further and bring it into Editor, you can really fine-tune it and do whatever you like. Or, if you don't like the end product, you can start over; ADI will create a new design for you to review, tweak, and use for inspiration.
"It's a great way to bring your ideas to life. And then you can take that and edit the content. Even our most advanced Wix designers will start with ADI, just to get an idea. It really helps you think."
Wix Code Simplifies Advanced Web Design
More tech-savvy users can take their site to the next level with Wix Code, which was integrated into Editor and made available to all users in December 2017.
Wix Code is a cloud-based solution for implementing more sophisticated features through JavaScript and APIs. These include database collections, which store and organize data, like content and user information; dynamic pages, which allows creation of many pages based on a user-created template and information from databases and to simultaneously make alterations to multiple pages; custom forms and interactions, which can be tailored to users' specific needs and tastes; and many others.
"It's pretty easy to start setting up custom interactions," Rosenberg said, "and making really cool web applications — not just a website."
In sum, Wix can accommodate any user, whether they're a first-time site builder, an experienced designer, or a high-concept coder. But, just as importantly, the platform accommodates any type of business or venture. Wix provides all of the necessary tools and ensures a clean, professional appearance that builds brand integrity and consumer trust.
Subscription Plans Fit Any Goal and Budget
Wix's site-creation resources are available to everyone; users need only create an account and begin building. Once they're satisfied with the result, the site is ready to launch.
"Wix is a free product," Rosenberg said. "You can build a page today, and never have to pay a dime."
Free accounts have two key differences from paid tiers: domain names will include Wix in the URL, and the free sites display ads.
"The ads are unobtrusive," Rosenberg said. "It's a small footer that says this was built with Wix, and then there's a little bug in the top right."
If you're fine with a Wix URL and some light advertising, you will do fine with the free model. But Wix also offers paid subscriptions geared to particular needs. As users move up the pricing tiers, more services and perks become available for between $5 and $25 per month.
"If you want to connect a domain, for five bucks a month, you get the domain, but the Wix ads stay," Rosenberg said. "The next step is removing the ads."
At higher subscription levels, users get expanded bandwidth and storage. Some premium packages also offer ad vouchers that can be redeemed to promote your site through Google AdWords, Bing ads, and local listings.
With some subscriptions, Wix also includes apps for building custom forms and boosting sites' visibility in search engines. At the highest subscription tiers, users can avail themselves of an integrated shopping cart and checkout process. The VIP package features priority in the support queue and a professional site review.
Wix also provides help with outreach, marketing, and driving traffic. One offering is Wix SEO Wiz, which helps users move their site higher up in search engine rankings. Users can also include social media icons on individual pages, which makes sharing content quick and easy. Wix Editor also lets users create a form to collect email addresses, so they can create a mailing list and keep in touch with customers.
"Email marketing is important," Rosenberg said. "It's always going to be important, so we have a product called ShoutOut. As you're growing, you get a list of contacts, and you can send them updates about your business. It keeps customers engaged. It lets you talk about your company and gives them more of a story."
These features and pricing tiers make it easy for users to start small on Wix and then scale up as their enterprise grows. Anyone can launch a specialized site within the confines of their budget, grow it at their own pace, and upgrade to more sophisticated hosting packages whenever they're ready to take the next step.
Wix Combines Versatility and Value for Online Entrepreneurs
Whether you want to plug content into a template, build a custom site from scratch, or anything in between, Wix makes it easy to create a professional-looking web presence without professional-level effort.
"The professionalism builds trust," Rosenberg said. "When someone has a website that looks updated and modern, that builds trust. That's what we strive for, for our small business users and truly for everyone: We allow you to build a professional-looking website."
One particularly enticing feature of Wix is that users can manage their entire operation, from front to back, in one place. To help keep things running smoothly, Wix provides technical support to all users.
"We run a pretty robust call center where you can go online, submit a ticket and contact us, and we'll call you," Rosenberg said. "And that's for free and premium users."
Whether you're a small startup, a growing business, or an independent creator trying to make a living, Wix makes it easy to pursue your online enterprise.