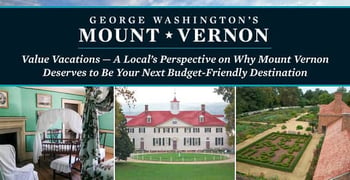 Experts share their tips and advice on BadCredit.org, with the goal of helping subprime consumers. Our articles follow strict
editorial guidelines
.
While vacations certainly fall in the luxury category, a lot can be gained from getting out of your hometown — and your comfort zone — by seeing new places on occasion. And, when you find sites especially rich with culture and historical value that don't actually require someone to be rich to visit, you've found an ideal travel spot.
One great example is Mount Vernon, the plantation house of America's first leader, George Washington. Nestled near the banks of the Potomac River near Alexandria, Virginia, Mount Vernon welcomes more than a million visitors each year to learn more about our first President and what life was like in colonial times.

Recently, we had a chance to chat with Robert Shenk, Senior Vice President of Visitor Engagement at Mount Vernon, to gain more insight into all of the affordable activities and tours offered on site.
When are some of the best times of year to visit?
While every season has its charms and advantages, my favorite time of year is fall. Not only is the weather beautiful, but there are also many excellent events to consider at that time.
Outside of fall, I love springtime when the gardens at Mount Vernon are in bloom. The Fourth of July can be a special time, too. You definitely shouldn't miss our Independence Fireworks show.
What do you think makes Mount Vernon stand out among other American historical sites?
First and foremost, we are the home of George Washington — the founder of our nation. It's remarkable how much of Washington's estate the Mount Vernon Ladies' Association has been able to save and preserve.
In addition to the famous mansion, we have many historic outbuildings and other structures to visit. At our nearby site, you can also visit Washington's working gristmill and our distillery, where we still make the General's rye whiskey.
What are some of the more interesting things visitors can learn at Mount Vernon?
A visit to Mount Vernon is, by all means, an educational experience. Not only will you have a chance to learn more about Washington's home and all the historic happenings here, but we also have many historic trades that are represented on the estate.
Our Education Center and Museum are filled with great objects and displays that should not be missed. Our new Revolutionary War 4D film and our new Be Washington interactive leadership experience are fun and exciting ways to learn more about the challenges Washington faced.
Which are the most popular tours and attractions?
In addition to our wonderful tours of the mansion, we offer a wealth of specialty tours that I hope every guest will consider. These specialty tours cover, in-depth, important, and interesting aspects of life at Mount Vernon.
For instance, our Gardens & Groves tour explores Washington's love of landscape and gardening. Our Enslaved Life tour explores the challenging life that Mount Vernon's enslaved population faced. Our popular National Treasure tour relives that famous movie and explores some of the cool, underground portions of the mansion.
Outside of touring the mansion, visiting our Education Center to learn more about the life of George Washington remains very popular. Our Revolutionary War 4D Theater, our Pioneer Farm, and working gristmill are all popular with our guests.