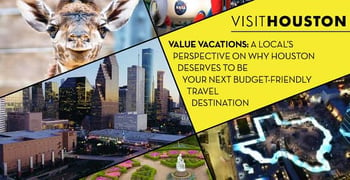 Experts share their tips and advice on BadCredit.org, with the goal of helping subprime consumers. Our articles follow strict
editorial guidelines
.
Houston features James Beard Award-winning restaurants, high-end shopping, and world-renowned arts and culture, making the possibilities for a getaway in the city as vast as Texas' size and reputation. But you don't have to live like an oil baron to enjoy a trip to the Lone Star State's largest city.
The metropolis contains sprawling free-to-visit green spaces within the heart of the city where tourists and locals relax on the grass, ride bicycles,  and play games among the skyscrapers and mirrored buildings that dot the city's skyline. More than 10,000 restaurants offer diverse and affordable meals you can't find anywhere else. The museum district provides free or affordable education and entertainment to visitors of all ages.
Recently, we had a chance to sit down with Leah Shah, Public Relations Manager at Visit Houston, to get a local's perspective on what makes Houston such a great and affordable tourist destination.
What brings the most tourism to Houston, and what are some can't-miss attractions?
"Really, it's friends and family. Houston is the most diverse city in the country, so people from across the country and the world come to live here, in part because of its affordability and also because of the opportunities it provides.
We see a lot of relatives coming for visits, but we're also a major destination for both our arts and culture scene and our food scene."
What are some of your personal favorite things to do and see in Houston that are free or fairly priced?
"Most of the museums in our museum district — which includes 19 different cultural institutions — are free to the public at all times. That's my favorite place to hang around. There's park space right in the heart of downtown that kind of feels like an oasis of green space in the middle of such a cosmopolitan city.
I also love exploring Chinatown. There's a ton of incredible food that's extremely affordable. Those are my two go-to places when I have any free time."
Houston is well-known for its food scene. What are some popular local dishes to try and restaurants that won't break the bank?
"We don't really have one go-to type of cuisine since we're the most diverse city in the country. You'll definitely find that Southern, regional kind of cuisine, but you'll also see a major variety of international cuisine.
We have well over 10,000 restaurants in the city. One of the things I love the most is that the average meal for two in the city is $35, which is below the national average of $40 per meal.
Do you have any advice for tourists looking for affordable lodging in and around Houston?
"One of the nicest things about Houston is that, although it's the fourth largest city in the US with so much to do, it's also extremely affordable.
The average room rate in Houston is only $104, which is really hard to beat when you look around at the national averages. We have great new hotels popping up every year. Just recently, we opened up a 1,000-room Marriott Marquis downtown. On the rooftop, there's a Texas-shaped lazy river. That hotel definitely hits the price point for families.
There are plenty of offerings throughout the heart of the city."
Houston is a big city with a lot to see. What's the most economical way to get around town?
"We have a lot of public transportation offerings. We have about 27 miles of metro rail, which runs downtown and through all the major attractions — the museum district, the medical center, all the way out to NRG Stadium, where the NFL's Houston Texans play. That's a really easy and affordable way to explore the attractions.
We also have Uber and Lyft, which makes getting around the city extremely convenient. Once you're here, City Pass is a great way to explore attractions at a very discounted rate. The pass can include admission to Space Center Houston, the Houston Zoo, the Downtown Aquarium, the Houston Museum of Natural Science, and other attractions."
What do you think makes Houston stand out as a tourist destination among other American cities?
"What makes us unique is being such a diverse city, but since we're in the South, we've got that Southern charm. Houston is definitely a place where everyone is welcome.
This is a very affordable city, and we're known as the culinary and cultural capital of the South, so you can really just eat your way through the city, or if you're an art lover, there's plenty of theater and museums and green space to explore as well. Houston has something for everybody."