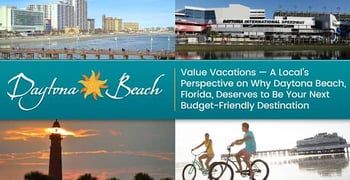 Experts share their tips and advice on BadCredit.org, with the goal of helping subprime consumers. Our articles follow strict
editorial guidelines
.
Not everyone has the money to travel the world in luxury. Fortunately, the US is home to many affordable, domestic destinations for those who want to escape their hometown for a while.
One such example is Daytona Beach, Florida, which is well-known for its scenic Atlantic coast beaches, well-attended motorcycle rallies, and high-profile auto racing events like NASCAR's Super Bowl, the Daytona 500.
Recently, we had a chance to chat with Kate Holcomb, Director of Communications at the Daytona Beach Area Convention & Visitors Bureau, to gain more insight into all of the affordable activities that Daytona Beach offers tourists.
What brings the most tourism to Daytona Beach, and what are some of the can't-miss attractions?
The Daytona Beach area is probably best known for its beautiful white-sand beaches, stretching 23 miles from Ormond Beach south to Daytona Beach, Daytona Beach Shores, and Ponce Inlet at the tip of the barrier island. Our can't-miss attractions include the iconic Daytona International Speedway, where daily tours of the "World Center of Racing" include the Motorsports Hall of Fame of America.
The Ponce Inlet Lighthouse, Florida's tallest lighthouse, offers not-to-be-missed, 360-degree views of the beaches, Intracoastal Waterway, and Ponce Inlet. There is a lot to see on the ground, too, including the lighthouse keepers' cottages and a rare Fresnel lens exhibit. At the Marine Science Center, also in Ponce Inlet, you can touch a stingray (or not!), observe the sea turtle hospital and seabird rehabilitation efforts, and learn about our marine environment.
With so many outdoor adventures to pick from — hiking and biking trails, paddle boarding, kayaking, dolphin and manatee boat tours — there are endless adventures the whole family can enjoy.
With a rich arts and culture scene, there are galleries and museums to explore, including the Smithsonian-affiliated Museum of Arts & Sciences (MOAS), which is located on a 90-acre Florida nature preserve and hosts over 30,000 objects, including the Dow Gallery of American Art and the Cuban Foundation Museum, which showcases one of the most significant collections of Cuban paintings in the United States.
Also at MOAS is the Prehistory of Florida Gallery, featuring Florida's Giant Ground Sloth skeleton, and the Root Family Museum, displaying restored railroad cars, antique automobiles, and the largest collection of Coca-Cola memorabilia. The Cici and Hyatt Brown Museum of Art, on the MOAS campus, offers the largest private collection of Florida paintings in the world.
What is the most popular time of year to visit?
Outside of big events that bring visitors from all over the world to Daytona Beach five times a year, including the Rolex 24 at Daytona, Daytona 500, and Coke Zero Sugar 400 car races, and Bike Week and Biketoberfest® motorcycle rallies, summer is probably our busiest season, when young kids are out of school.
However, visitors can enjoy year-round, sunshine-filled vacations in Daytona Beach — even when it's frosty and cold in other parts of the country. Winter golf getaways and spring family beach breaks are popular.
Daytona Beach is also known as the "Festival Capital of Florida" with over 60 art, music, culture, and food festivals held each year. Just as the mild fall weather is cooling down is when our festival season heats up with events like the Halifax Art Festival, Oyster Jam Music Fest, and Turkey Run car show and swap meet. Shhh, don't tell anyone, but fall just might be my favorite time to enjoy a relaxing beach and spa getaway.
Daytona Beach is a great place to compete and meet! A rising destination for sports, Daytona Beach attracts high-caliber events, like the Symetra Golf Tour Championship, National Cheer and Dance Association Championships, and many Team USA competitive events.
What are some of your personal favorite things to do and see in Daytona Beach that are free or inexpensive?
One of the sweetest things to do is a tour of Angell & Phelps Chocolate Factory in historic downtown Daytona Beach. The tour is free and so are the samples afterward!
Another favorite is strolling on the beach. Beach access for pedestrians is free and open 7 days a week. Catch a sunrise and make it extra special. Here's a list of other free fun things to do.
What are some popular local dishes to try or restaurants that won't break the bank?
Fresh seafood is always a good bet. For casual, fresh seafood, visit one of the many local favorites such as Crabby Joe's located on the Sunglow Pier in Daytona Beach Shores.
For eclectic breakfast and lunch options, stroll around downtown and duck into the Dancing Avocado restaurant on Beach Street. For a dinner option, with live music, don't miss the open-air casual atmosphere of Kona Tiki Bar located just off Granada Boulevard in downtown Ormond Beach.
Do you have any advice for tourists looking for affordable lodging in and around Daytona Beach?
Daytona Beach is known for offering a wide variety of lodging options.
With over 200 properties, ranging from four-star resorts to B&Bs to rustic campgrounds and everything in between, visitors can find whatever they may be looking for at DaytonaBeach.com.
What's the most economical way to get around town in Daytona Beach?
Daytona Beach International Airport offers competitive direct flights from Atlanta, JFK, and Charlotte with hundreds of connections from there.
We are also an easy drive with access off Interstates I-95 and I-4. All major rental car and ride-sharing companies serve the market. Public transportation options also include Votran bus service.