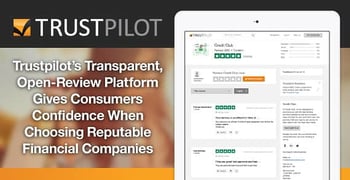 Experts share their tips and advice on BadCredit.org, with the goal of helping subprime consumers. Our articles follow strict
editorial guidelines
.
In a Nutshell: Not all financial organizations are created equally, and the best way to discover which ones are worth your time — and money — often comes from asking a company's prior clients about their experiences. In 2007, Peter Mühlmann saw an opportunity to help people become better informed consumers through direct communication with each other and with the companies they patronize. By allowing customers to post open, unmoderated reviews of their business interactions, Trustpilot not only fosters a better-informed consumer base but also provides companies with valuable insight into how they can improve their products and services. This strategy has made Trustpilot an authoritative source that is revolutionizing the way consumers and businesses engage in commerce.
In a competitive field, like financial services, thousands of companies compete for customers on selling points, like favorable rates and customer service. A lot of people choose to do business with companies based on word-of-mouth. Maybe your uncle told you something positive about a lender. Or on the flip side, maybe your best friend told you not to touch a particular bank with a 12-foot pole.
What if you're looking at a financial services company that seems like it has everything you need, but you don't know anyone who's had any prior experiences with it? This is where online customer review platforms come in. Maybe you don't know any of the people leaving those five-star reviews, but if enough real people vouch for a company or service, you can't easily dismiss the opinion of the masses. One such site that helps consumers make informed decisions is Trustpilot.
"Trustpilot is an open-review platform," said Zachary Pardes, Head of Communications for Trustpilot – North America. "That means anybody can leave a review as long as they've had a brand experience with that company. A brand experience could be a direct order, or it could be a customer service interaction — some sort of experience with that brand."

But beyond just allowing people to share commercial experiences and critiques with one another, Trustpilot also shares reviews with the companies themselves. It allows businesses to interact with their consumers, giving them the opportunity to ensure their patrons' satisfaction, and a chance to advertise that satisfaction as a means of growing their client base.
Founded in Copenhagen, Denmark, Trustpilot now has offices on three continents.
"We have quite a few offices," Zachary said, listing Copenhagen, New York City, Denver, London, Vilnius (Lithuania), Melbourne, and Berlin. The company employs more than 600 people of 40 different nationalities. And it caters to an entire worldwide web of consumers and businesses interacting with one another in the interest of more satisfactory commerce.
The platform hosts a total of nearly 40 million reviews, with more than 1 million new reviews posted monthly and 45,000 reviewers joining each day. Trustpilot features more than 200,000 businesses, including many in the financial realm, such as Quicken Loans, SoFi, Lending Tree, Western Union, and Credible. So when it comes time to research a new financial institution you want to do business with, Trustpilot is a great place to start.
Trustpilot's Process: The Dynamics of Open Reviews and Lines of Communication
An open-review platform means any consumer can tell the world about commercial interactions like purchasing a product, using a service, or interacting with customer service representatives. These reviews can be posted free of charge, and they become visible on the Trustpilot site as soon as they are submitted.
"All reviews go up unmoderated," Zachary said. "We do it that way because we want it to be a transparent, open community."
Once posted, legitimate reviews are permanent. They do not disappear after a certain amount of time, and companies cannot remove them or suppress them in any way. "What goes up," Zachary said, "stays up, unless it violates our terms and conditions."
The site's policies prohibit defamatory remarks, libelous claims, and foul language; if a review is free of these things, then it is on Trustpilot to stay.
To maintain the confidence of consumers and businesses, Trustpilot invests heavily in quality control. If a customer or a business spots a review that seems suspect, they can report it to the platform's compliance team. However, Trustpilot also employs advanced algorithms that monitor posts, identify suspicious reviews, and remove those deemed illegitimate. Some of the things these processes look for are multiple reviews originating from the same IP address, overly frequent posts from individual users, and suspicious or repetitive language used in reviews.
In this way, Trustpilot mitigates the noise inherent in online interactions. That ensures channels of communication remain clean and open, further facilitating interactions among consumers — and between consumers and the companies they're reviewing.
How Information and Feedback Benefit Consumers
Trustpilot offers an organic knowledgebase consisting of honest, public reviews of customer experience with specific companies. If those experiences are satisfactory, the review will recommend the product or service to others with the same need. Otherwise, the reviewer can caution their fellow consumers about pitfalls and drawbacks they may experience.
But Trustpilot's platform does more than just connect consumers with each other. It also creates a natural feedback loop between consumers and companies.
"It's very much a two-way communication channel," Zachary said. "That's really what we're all about: creating that dialogue."
Through this open line of direct communication, consumers can offer praise and recommendations, thereby contributing to the success of the brands they appreciate. They can also offer constructive criticism, calling attention to shortcomings they've encountered. This serves to not only warn other consumers but to alert the companies themselves to important problems and the need for resolution.
Another advantage of Trustpilot is that companies' interactions with their consumers are open and visible for everyone to see. Is this business attentive to concerns voiced by its customers? How well does this company remedy its customers' dissatisfaction?
As the mantra goes, "The whole world is watching." Obviously, this greatly benefits consumers by ensuring businesses are held publicly accountable. But, just as significantly, it offers enormous benefits to businesses as well.
How Interaction with Customers Benefits Businesses
Because Trustpilot reviews affect a company's public image, the platform presents excellent marketing opportunities.
"We're a Google Review partner," Zachary said. "That offers businesses a chance to showcase reviews across search engines." They can also show Seller Rating stars in paid advertisements, which drives click-through traffic and increases the chances of customer conversions.
Beyond attracting new customers, though, Trustpilot also represents a tool for reputation management and customer support. An unfavorable comment or review presents an opportunity for intervention. An attentive company can address individual problems early, before they get bigger.
Consumers are able to return to reviews and revise them to reflect subsequent interactions with a business. Improved interactions can lead to more positive reviews. Poor interactions, on the other hand, can lead to further critique. This provides companies with a means of systematically improving their performance and brand image, and it also shows potential customers the lengths to which a company is willing to go to ensure customer satisfaction.
"You get to see how that company interacts with a customer and how they help make things right," Zachary said. "And that's just as valuable, if not more valuable, than the positive reviews. It shows what a company is willing to do to take care of their customer."
Trustpilot also provides a helpful infographic detailing how this sort of attention to customer criticism can actually help retain even dissatisfied consumers.
"That's what we pride ourselves on," Zachary said. "The ability to make good companies great and help them stand out; and for companies who need a little work, we give them the means to do so."
Any business seeking to take advantage of this level of engagement can do so for free. A company can establish a Trustpilot page (or claim one that has already been established by one or more customer reviews). After that, they can begin managing reviews and communicating with their clients.
The platform also features a suite of services at various pricing tiers. These include tools that encourage customers to write reviews, facilitate traffic to the company profile and site, increase customer conversions, integrate reviews with social media and apps, improve customer service and retention, and enhance the circulation of consumer reviews.
While all of these provide strong avenues to grow a consumer base, they all rest on the foundation of Trustpilot's most powerful offering: the ability to connect directly with consumers.
Trustpilot Drives Change in an Evolving Economy
In the past, a brand was defined by how it characterized itself. In the digital age, though, brands are increasingly defined by what consumers say about them.
"According to Pew Research, 82% of people are reading reviews online," Zachary said. "It's almost second nature at this point. You're not going to do business with a company before learning a little bit more about them, before finding out how other people's experiences were with that company."
Of course, there will always be problems in commerce, and so there will always be negative reviews.
"Nobody's going to be perfect," Zachary said. "Everyone's going to make mistakes. The world's biggest and best brands make mistakes. It's how you respond to them and help make things right with the customer that's really going to set you apart."
In essence, Trustpilot is the venue for this dynamic. The platform empowers both the consumers and the businesses inhabiting this new commercial environment by facilitating the free, clear flow of information. In this way, Trustpilot is helping to build a more open, accountable economic community to the benefit of everyone who engages in it.