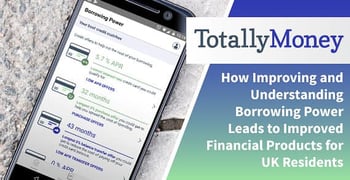 Experts share their tips and advice on BadCredit.org, with the goal of helping subprime consumers. Our articles follow strict
editorial guidelines
.
In a Nutshell: Many UK residents have historically been unfamiliar with — and even apathetic toward — their credit scores and information, both of which can lead to serious financial missteps. To help these consumers take control of their situations, TotallyMoney provides free credit scores and reports, as well as targeted, actionable advice for those suffering from credit woes. The service also matches users with products that are both within their financial reach and well-suited to their current needs and provides automated notifications about users' credit information. In short, TotallyMoney takes the legwork out of understanding your credit score and gives you more time to enjoy its benefits.
With credit scores playing such a large role in our financial lives, it's surprising how many people aren't paying attention to them.
A July 2017 news article in the Sun reported that, of the 2,000 UK residents polled by online lender MYJAR, over 25% had never looked up their credit scores. Of those who had, 20% hadn't checked them in at least a year. Among the respondents, 5% reported having been rejected for mortgages and mobile phone contracts due to poor credit, and 40% attributed financial difficulties to their poor credit scores.
Brits carry an average of £1,780 of credit card debt and another £1,600 in loan debt. And while more than half of those polled said they didn't know how much debt they were carrying, more UK consumers are taking steps to gain a better understanding of their financial situations.
"(This consciousness) is something that's growing incredibly quickly as more people realize that their credit score is something they should be paying attention to and taking more control of their finances," said Alastair Douglas, CEO of TotallyMoney, a leading financial service company working to increase consumer awareness of credit scores and reports. Through financial education, TotallyMoney is helping people fix their credit, qualify for better financial products, and improve their overall well-being.

Douglas attributes the changing attitude to new legislation, like General Data Protection Regulation (GDPR), as well as increasing consumer awareness of data and how it is being used. "Younger consumers — particularly millennials — are taking that attitude and are much more likely to be proactive," he said.
TotallyMoney helps consumers understand their data and take steps to improve their financial standing. "At its heart, it's a free credit report service," Douglas said.
Yes, TotallyMoney lets you see your credit score and check your credit report, but it also helps you understand what your data means in the context of personal finance. And, maybe even more importantly, it helps you find financial products that are best-suited for you and for which you would likely qualify.
"We've moved beyond just giving that information to customers statically," Douglas said. "Our service is all about trying to make that data meaningful."
Making Credit Relevant, Understandable, and Actionable
TotallyMoney incentivizes consumers to take an interest in their credit scores by economizing that information for them.
"One thing that we've learned is that the average person doesn't want to have to become an expert in the ins and outs of the consumer credit industry just so that they can figure out what the best deal for them is," Douglas said.
Take, for example, getting on the metro. A person just needs to know how to get to work from where they live; they don't need to understand mechanical engineering, transit legislation, and all the other things that keep the trains running. "They shouldn't have to, really," Douglas said. "That's the approach we're taking."
TotallyMoney's purpose is to help consumers move from point A — or bad credit or ignorance of their credit information — to point B — or understanding personal finance and making the most of their situation. To facilitate the journey, TotallyMoney provides targeted advice about individual credit scores and records.
"Our product is really focused on looking into your credit file and telling you what you need to know," Douglas said. "Our service, through things like Borrowing Power and Match Factor, is all about showing you your data and then explaining what actions you should take."
TotallyMoney actively scans and monitors its users' credit data, notifying them of details that deserve or demand their attention. "We will turn each of those notifications into a suggested action that you can take in order to rectify that problem," Douglas said. "Our service is about taking the data and turning it into easy-to-accomplish, actionable items and making that as easy as possible for the customer to do."
The benefits of achieving and maintaining a high credit score are enormous. "The most obvious one is, to buy a flat or a house, you need a mortgage, and you won't be able to get a mortgage if you have a bad credit rating," Douglas said. "Even if you're just trying to rent a flat, you'll often have to pass a credit check so that the landlord is confident you'll be able to keep the rent payments up." If you can't pass that check, you won't even be able to rent a place to live, let alone purchase one.
There are also implications for access to basic modern services. "If you've got a bad credit rating, you won't even be able to get a mobile phone contract," Douglas said. "You may be stuck on pre-pay gas or electricity, which is more expensive. So you get punished twice: Not only do you have to pay in advance, but you also have to pay a higher rate."
In fact, just knowing your credit score can be beneficial. "If you haven't got any idea as to whether you're viewed as good or bad credit by the credit industry, then you may be paying a lot more for a credit card or a loan than you need to," Douglas said. That's where TotallyMoney's Borrowing Power metric and Match Factor tool come in handy in getting users the best deals on the ideal financial products.
Matching Consumers to the Best Deals on Financial Products
When consumers know their credit scores, it gives them a better understanding of their eligibility for financial products and services.
"A credit score is basically just a fairly crude measure that the credit reference agency comes up with based off what's in your credit report," Douglas said. "That's why we developed Borrowing Power, which looks at different sources of eligibility information."
Borrowing Power is a metric that shows users how their credit stacks up against the market and against other consumers, helping them make smarter decisions about their present financial situation. Each user is scored out of 10 with a higher value indicating greater attractiveness to vendors and greater likelihood they'll extend credit.
Based on that, the Match Factor tool will pair users with product offerings. Users can see products for which they qualify and that are best-suited to their needs and situations. By knowing their eligibility, users can avoid another hit to their credit score when they apply — and are rejected— for a product that's currently out of their reach.
The Borrowing Power rating is updated in real time, so users can see their metric at their convenience. But most people won't want to babysit their credit scores all the time, and TotallyMoney takes care of them again with its Intelligent Alerts service.
Intelligent Alerts Help Proactively Improve Credit
"Some people like to log in to the service regularly and really get all the detail," Douglas said. "Other people just want to know it's working away in the background for them."
For the latter group, TotallyMoney continually screens users' credit reports and eligibility data. Twice each month, Intelligent Alerts notifies users of any points of interest — for example, a change in their Borrowing Power score. "If your Borrowing Power has improved, we will let you know if there's a better product in the market you're eligible for," Douglas said.
The process also works to help users proactively improve their credit scores. "Our Intelligent Alerts service will notify you if we can see any problems that might be occurring," Douglas said. "Often, there'll be a period where you can see a problem about to happen, but there's still time to rectify it."
Say, for example, you forgot to pay a utility bill, which will result in a black mark on your credit record. But, if you see that it hasn't been paid, you can still pay your bill during the grace period and avoid the hit to your credit score.
For those who delve deeper into their credit records, TotallyMoney makes it easy to flag problems. "One in 4 people find there's actually a mistake — that there's something incorrect on their credit report," Douglas said. "Our service allows you to correct those mistakes, and therefore, you stop getting punished for them."
This reporting system is integrated into the TotallyMoney service. "We make it as easy as possible for customers to raise that dispute," Douglas said.
Users simply click on the item in question, select one of the pre-populated issues, provide a short commentary, and submit it for review. They may have to provide additional documentation in the future, but the reporting process itself is quick and simple, giving users more time to enjoy the benefits of good credit, rather than worrying about the details of their scores.
Harnessing Data to Empower Consumers
TotallyMoney is working to improve its offerings and alleviate the problem of poor credit and seemingly little credit awareness in the UK.
"There's a huge amount of untapped potential in the details in the credit reports — being able to do much cleverer stuff with that data as a means to provide better recommendations," Douglas said. In addition to making its services smarter and easier, TotallyMoney aims to draw better insights from this data as its consumer base grows.
In the meantime, the service will continue helping UK residents keep track of, understand, and improve their credit scores, as well as connecting them to better financial products and helping them achieve better credit situations.
"We're keen to make sure we've got the happiest customers," Douglas said. And a better credit score is enough of a reason to smile.