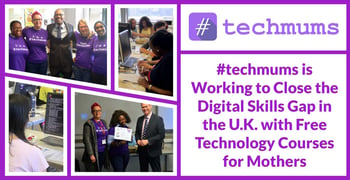 Experts share their tips and advice on BadCredit.org, with the goal of helping subprime consumers. Our articles follow strict
editorial guidelines
.
In a Nutshell: #techmums offers free courses to help mothers learn new tech skills and keep pace in an increasingly digital world. The program's ultimate goal is to close the gender gap in technological comprehension and proficiency, and it starts with educating mothers on everything from computing basics to coding and web design. And with the support of partner organizations and corporate sponsors, #techmums plans to take its in-person courses online and expand its target audience beyond the U.K. That will help #techmums bring its mission to women around the world.
A London mother who ran a school uniform business would often send her son across town on the bus to show physical samples to potential clients. And that wasn't in mid-20th century England; it was in the 2010s when a more convenient means of showcasing her products was available. However, that particular businesswoman simply didn't have the tech know-how to take her operation into the digital world.
But that changed when she started taking classes offered by #techmums, an educational organization aimed at helping mums — or mothers — in the U.K. learn about technology. After just one session, the woman learned how to attach pictures to emails, which took her business in a new direction.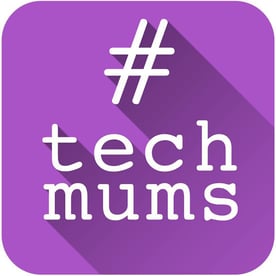 "#techmums is a way to get mums more familiar, confident, and excited about the use of technology," said Lauren Allison, CEO of #techmums. "Our primary goal is to show mums that technology can be exciting and have a significant impact."
And the free tech education offered by #techmums is tailored to be mum-centric. Its courses use language, terminology, and examples that are easy to grasp, and focus on common tech concerns experienced by mothers in the U.K.. The organization also makes the content available to anyone who wants to shore up their tech knowledge.
Many of the courses cover the basics, including keys and keyboard shortcuts, and online safety. More advanced topics include coding and web design. Overall #techmums equips women in the U.K. with the knowledge they need to succeed as mothers, professionals, and tech-savvy role models.
Education and Social Impact Starts with Mums
In the mid-1990s, #techmums Founder Dr. Sue Black was a 25-year-old single mother caring for three children under the age of five. Her journey into technology and education began with a single math class and led to her earning a Ph.D. in software engineering.
"While she was doing her Ph.D., she'd applied for a lectureship and was accepted, and for the first time she could provide for her family and experience the benefits of technology," Allison said.
But in 2012, Black was running a coding workshop for children, and she noticed that fathers were eager to get involved while mothers stayed on the sidelines. That observation was a stark reminder of the U.K.'s gender gap in tech education. According to Allison, 20% of mums say that a lack of digital literacy limits their ability to join or return to the workforce.
"She had been doing research at the same time and realized that one of the single biggest factors in a child's education — especially when it comes to literacy and numeracy — is the education of the mother in their home environment," Allison said. "Putting that together with the digital skills gap, she realized mums could be the silver bullet to a lot of different issues we have. If you want to educate a child or family, educating the mother is a sure way to do that. To address gender inequality in technology, we need to have more women who feel confident with technology."
Free Courses Cover Both Fundamentals and Advanced Topics
Mums can attend in-person courses through #techmums clubs that are run by partner organizations. The classes cover everything from the tech basics to web design and coding.
"We have some mums who are actually scared of the keyboard. They understand what all the letters are, but they may ask, 'What is F11?' and, 'Will it break the computer if I touch it?'" Allison said. "We demystify technology."
Intermediate topics include how to use Google Docs and Google Calendar, which can help mums put tech to good use for their families. They can also learn how to keep themselves and their families safe online, by avoiding phishing scams, protecting their passwords, shopping safely, and using parental controls.
But the benefits of a #techmums education extends well beyond the domestic sphere. The courses teach learners tech skills that help them advance their careers, including setting up a LinkedIn profile, searching for jobs online, and working from home.
"Part of bridging the digital skills gap is helping mothers return to work or get into the workforce for the first time," Allison said.
And #techmums delves into even deeper nuances of technology in its courses on web design and coding.
"We primarily teach a little bit of Python, but we also reference other languages during the course so mums can see how they work," Allison said. "We try to use real-world examples as well. For instance, an algorithm class focuses on a recipe. Many learners know how to follow certain steps in a recipe to produce the desired result. With an algorithm, that's the same thing."
In addition to the traditional classroom setting, #techmums courses will be available online by early 2020. Mums who are interested in getting a jump on their online education can access some of the content by signing up for the #techmums Tech Taster course.
Sponsorships and Partnerships Keep Content Free
#techmums maintains various partnerships to expand the reach of its educational resources and make its courses more relevant. It is working with the University of Leeds, FutureLearn, and fellow outreach partners UKBlackTech and NESTA, on online courses to increase diversity and minority participation in the tech industry.
Because all #techmums courses are free, the group also relies on donations and sponsorships to fund efforts and keep courses available. Capital One U.K. was the first corporate sponsor for #techmums, and supported #techmums research into the impact of digital exclusion.
"They see the value in our programming and support us," Allison said. "We don't want to charge our mums anything for the courses, and our partners aren't allowed to charge anything. #techmums is about enabling potential, and you can't do that if people are getting into debt."
To further extend its reach, Black said she started #techmums TV, which was broadcast weekly from the Facebook U.K. headquarters for five weeks. The web show brings digital topics to a broader audience of mothers — over 300,000 mums tuned into the program, according to Allison.
And the benefits of reaching and educating mothers can be felt in many different areas. Mums who are confident and tech-savvy can instill that competency in their children and ensure they have the knowledge to succeed in the digital world.
"By supporting a mum on her new journey with technology, you see an ongoing ripple effect throughout her family," Allison said.
Tech Skills Can Help Boost Self-Confidence, Online and Off
That London mum increased the earnings of her school uniform business tenfold after taking classes through #techmums, and hers is just one example of how the organization improves the lives of mothers by helping them understand and navigate digital technology. Any mum can gain the same knowledge in just two hours per week over a 10-week course.
"It's really about familiarity and building confidence," Allison said. "Not just confidence with technology, but self-confidence often rises as a result of the courses. Part of that is just being with other mums and realizing some people feel like they're the only person left behind."
That is far from the case, as plenty of people still struggle to understand and use technology. By connecting and learning together, women realize that tech knowledge is well within their reach.
#techmums is also developing smaller courses that will better fit into busy schedules to enhance learning opportunities. The organization is also scaling its model to reach a wider audience, because lack of digital literacy isn't just a problem in the U.K.
#techmums set out to close the gender skills gap in tech by empowering the current generation of mums. And those mothers will set a positive and encouraging example for future generations to do the same.