Experts share their tips and advice on BadCredit.org, with the goal of helping subprime consumers. Our articles follow strict
editorial guidelines
.
In a Nutshell: Food insecurity is a problem across the United States, from urban areas to college campuses. Swipe Out Hunger is a national student-based organization that seeks to end hunger on college campuses by ensuring students have access to food through food pantries and peer-donated meals. School administrators as well as state lawmakers have supported the nonprofit program by adopting the Hunger-Free Campus Act. And more than just providing meals when needed, Swipe Out Hunger creates a sense of compassion and community that brings students together.
In 2010, UCLA boasted a state-of-the-art dining hall that students could access by swiping their ID. The system automatically deducted one credit from the declining balance on their meal plans. It was a fast, easy way for students to access food.
A group of friends at UCLA noticed how some students had plenty of swipes left over at the end of a semester, while others had none and went hungry. Being hungry for a few days at the end of a semester — already a stressful time — can have a significant impact on a student's academic or professional future.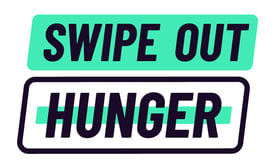 That group of friends, including Rachel Sumekh, decided to take some boxes of food from the dining hall and hand it out to hungry students around campus. But when the administration found out, they told the group it couldn't do that on campus.
Instead of accepting the administration's policy and being satisfied with her effort, the passionate group of Bruins set out on a mission to establish a new dynamic, which became Swipe Out Hunger.
"The Swipe team at UCLA built a coalition in the student senate, and they launched a more formal meal-sharing donation program. Those partnerships that the group started on campus developed a model of collaboration and sustainability that we have since scaled to more than 110 campuses across 38 states," said Tenille Metti Bowling, Director of Communications at Swipe Out Hunger.
The organization was named Swipe Out Hunger after the ID cards that students swiped at dining halls, and Sumekh is now the CEO. By providing student activists with the tools and guidance necessary to work with their administrations, Swipe Out Hunger and its advocates aim to ensure that no student goes hungry.
Students and Administrators Collaborate to Distribute Donated Meals
In a 2018 survey of 43,000 students at 66 institutions, including both two-year and four-year schools, 1 in 3 students reported regularly experiencing food insecurity defined as difficulty getting adequate food within the previous 30 days. That phenomenon occurs across student demographics, including low-income students and student-athletes even at top-tier, flagship schools.
"Whether you're at a community college or an Ivy League university, food insecurity really does exist," Bowling said. "But the good news is that there are solutions. At Swipe Out Hunger, we believe in redirecting the resources that are already on campus to those in need."
Through Swipe Out Hunger, students can donate meals to others who would otherwise go without. Each campus program has a different structure designed and implemented in collaboration with students and administrators. But the goal of each is to ensure every Swipe Out Hunger program meets the specific needs of that student community.
Despite their different natures and approaches, each program shares two standard features, both of which serve to destigmatize food insecurity and ensure students get the nutrition they need. First, Swipe Out Hunger establishes campus food pantries that are welcoming environments. Second, the program aims to eliminate paper vouchers for meals and replace them with existing ID card technology.
"When they're in line to check out at the dining hall, we don't want them to be looked at differently for having a paper voucher," Bowling said. "It's the same card that everyone else has. Both of those are subtle program changes that we advise college campuses to adopt so that students aren't seen as a separate entity or called out in a way because they're accessing supportive services."
Hunger-Free Campus Legislation Calls on Colleges to Seek Solutions for Food Insecurity
"We have also been advancing legislation and policies to address food insecurity on college campuses," Bowling said. "Most notably, in 2017, our founder and CEO wrote legislation for the California Hunger-Free Campus Act."
The Hunger-Free Campus Act seeks to foster greater food security on campuses and encourage innovative long-term solutions to end student hunger. The legislation allocates funding to schools that take up that mission by helping students enroll in CalFresh (food stamps). It also helps schools furnish campus food pantries, partner with local food banks to distribute food on campus, and establish a meal-sharing program through which students can donate unused meal credits.
The meal-sharing requirement has helped Swipe Out Hunger programs proliferate through the California university system and has made inroads with smaller colleges. The organization also empowers existing programs to take active roles in implementing the act's policies and provisions.
Hunger-Free Campus legislation was adopted by Minnesota in 2019 and New Jersey in 2020. While these states adapted the California legislation to fit their circumstances, they all pursue the same goal of ending food insecurity and helping students reach their full academic and professional potentials.
"It's really exciting to see one bill from three years ago continue to gain traction," Bowling said. "In California alone, $20 million has been allocated through the Hunger-Free College Act. We were very pleased to see that."
FairCARES Initiative Ensures Students Receive Federal Pandemic Relief Funds
In March of 2020, campuses across the United States abruptly closed to stem the spread of COVID-19 and protect the health of their students, faculty, and staff. Students found themselves in a strange landscape of online courses and isolation from peers, teachers, and administrators.
"Once that happened in mid-March, we immediately took stock and started providing resources and guidance for how students and admin could take action at the time," Bowling said. "We hosted a bunch of different webinars about what was happening and how they can ensure students are a part of the decision-making process as it relates to the COVID-19 response. Most prominently, we launched a student advocacy campaign, which is called FairCARES."
The U.S. Congress CARES Act allocated $14.25 billion to support public and private educational institutions, $6.28 billion of which was earmarked as emergency aid meant to go directly to students. Swipe Out Hunger's FairCARES campaign ensures that money is distributed effectively, equitably, and transparently to affected students while ensuring student voices are heard.
"Every institution can determine its own distribution plan, and so we have been working on our advocacy campaign to make sure students are having the conversation with their administrations about equity and expediency, so students receive their funds quickly but also transparently," Bowling said. "We've been closely engaged with a handful of campuses in our student network and beyond about that, which we think is great because so much is happening on college campuses. It's been wonderful to see colleges be so responsive to their students."
Swipe Out Hunger: Student-Centric Model Serves up Meals and a Sense of Community
Swipe Out Hunger began informally and has gained both administrative and legislative support over the years. But true to its beginnings, Swipe Out Hunger is dedicated to maintaining that student-centric model.
"If we're working with campus admin on a program, we want to know how they're engaging with students and plan to bring them into this work," Bowling said. "We know the difference it makes to have students at the table."
In a 2019 evaluation, Swipe Out Hunger found that 50% of meal recipients said they learned about the program from a friend, not through official channels. That underscores the fundamental importance of including students.
"We believe they're the experts," Bowling said. "They know better than us, and we want to help them design programs that meet each community's need."
Ultimately, Swipe Out Hunger wants to ensure that no student goes hungry. But the program's benefits extend beyond individual meals, just as the value of food often extends beyond simply having something to eat.
People often invite friends and family over to dinner, prepare meals for loved ones, or host potlucks and cookouts with neighbors. Sharing food is a fundamental part of human nature, and through the act of giving and receiving food, people can build strong foundations for positive communities.
"I was speaking with a student at Southern Illinois University a few weeks ago as part of our story collection efforts," Bowling said. "She said, 'Honestly, I've never felt so cared for by an institution. I'm so grateful that SIU has this program for me, and it makes me feel like they really care.' In addition to all of the academic and health reasons why it is great for institutions, it also makes students feel better about their time there and about the community the college has cultivated."