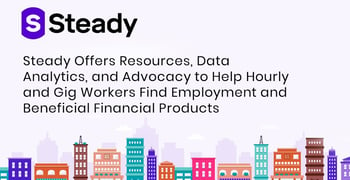 Experts share their tips and advice on BadCredit.org, with the goal of helping subprime consumers. Our articles follow strict
editorial guidelines
.
In a Nutshell: The coronavirus pandemic is forcing labor market shifts, and many workers find themselves struggling to make ends meet through hourly or gig work. But those people can use analytics from Steady to gain insight into income streams, identify earning opportunities, and find employment. The Steady Booster Marketplace also helps users by showcasing beneficial financial products and rewards users with cash for switching to better services. In response to the COVID-19 pandemic, Steady also launched a suite of offerings including an in-demand job board, grants for unemployed workers, and low-cost online telehealth conferencing.
Adam Roseman grew up watching his parents grind away at hourly jobs and struggle to earn enough money for themselves and their children. As a result, Roseman developed an interest in the changing conditions of workers, particularly those in the growing gig economy.
"I started to dig into the migration of the American workforce away from full-time W2 work to something different," said Roseman.
That's when Roseman and a team of other passionate professionals got the idea to launch Steady, a platform designed to help workers leverage information and opportunities to enhance their incomes. Steady's 2 million members are primarily hourly workers, but its resources are also helpful for gig workers.
According to Roseman, Steady members earn, on average, an additional $4,000 per year by using it to find opportunities to supplement or improve their incomes.
"The overwhelming majority of these folks would prefer a full-time job that would provide them with stable income and with a package of benefits rather than having to cobble together different forms of work," said Roseman, who also serves as the CEO of Steady. "They are not doing this out of choice. They're doing it because they have to work different types of jobs or contract platforms like gig work to make ends meet."
And Steady helps them find more lucrative opportunities through detailed analytics, a marketplace for side gigs, and even direct financial support when needed.
Analysis Reveals Patterns and Insights on Personal and Community Income
Steady can help individuals generate supplemental income during regular or periodic shortfalls, and teaches them about personal income trends and patterns. Users view their earning history by source, see how streams have performed over time, and make more informed decisions by linking their bank accounts to the platform.
"As we've progressed, we've taken that income analysis, and we are using a tremendous amount of data science to help people learn how they can earn more based on how much the community earns," Roseman said.
Steady leverages its data analytics not only on the micro level but also at the macro level to provide insight. It looks at income trends across all of the platform's users. Members learn successful strategies and best practices and explore new income opportunities through Steady's community performance analytics.
For example, a warehouse worker employed by one company may take home a certain annual salary while a worker at another company on the other side of town is making substantially more per year. Armed with that knowledge, workers can identify more lucrative employment opportunities to increase both their earnings and job satisfaction.
"We view this very much like a collaborative data solution, almost like a union where people contribute their data for the benefit of the overall membership base," Roseman said. "Everyone who joins helps everyone else gain more information on how they can potentially earn more."
Boosters Marketplace Curates Services and Products
The Steady Boosters Marketplace furthers its mission with a lineup of third-party offerings designed to save its members money on financial products and services. It also offers added incentives to help its members get on the right financial track.
Steady selects marketplace offerings to suit the needs of its members, and each member is matched with offerings based on the platform's analysis of their bank account data and earnings. Steady can isolate member challenges and recommend low or no-fee solutions to help them improve their financial situations.
For example, the marketplace includes fee-free checking accounts that don't charge for overdrafts. According to Roseman, the average Steady member pays $70 per month in overdraft charges, and by switching to a different account, they could save money that would otherwise go to bank fees.
Steady's Income Boosters rewards members with compensation and other benefits when they sign up for services in the Boosters Marketplace. Steady pays a portion of its referral fee back to the member.
"We're taking the fee we received from the company we refer them to, and we give the majority of that fee back to the worker," Roseman said. "Not only are we providing something that's going to lower their expenses, but we're also giving them most of our fee to help them solve their income challenge."
Initially, Steady could only provide boosters in the form of prepaid gift cards, but now offers cash directly deposited into linked bank accounts. There's no waiting, no repayments, and no restrictions on how or where members can use the money — just cash when they need it.
Online Resources Offer Employment and Medical Support
In March 2020, already-tenuous income streams became more precarious in the face of lockdowns and workplace closures aimed at stemming the spread of the COVID-19 pandemic. Realizing that gig and hourly workers were experiencing some of the most challenging situations of their lives, Steady started deploying new offerings to help them through these tough times.
Steady Together, a community-based platform built on Steady's core concept, launched in response to mass layoffs and explosive unemployment rates. Every user increases value for every other user, and by working cooperatively, individuals can collectively achieve better outcomes.
"We've used our data set to understand the pain points of our members across the entire worker base," Roseman said. "We launched a bunch of initiatives under the Steady Together platform to tackle pain points we think are very pertinent right now."
One of these initiatives is the platform's dedicated jobs section, which now focuses on high-demand jobs. Many businesses that were hiring in early 2020 halted their recruiting in light of plummeting revenue and office closures. But those job listings still appear on boards and sites, and workers spent time and effort applying without realizing their résumés and cover letters were left unread.
"Someone can spend a ton of time applying for jobs they see listings for, but there's not going to be any hiring. So they're just wasting valuable time," Roseman said. "Our high-demand COVID-19 job section is focused on the jobs that are available. You're not wasting your time. There is someone who's going to be hiring for the position on the other end. And that is where you should focus your time if you're going to find work now. "
Steady also partnered with the Workers Lab, a San Francisco-based nonprofit that advocates for workers' rights Using the platform's analytics, Steady identified members who had lost income while working in industries affected by the pandemic. Thanks to funding from Workers Lab, Steady can provide cash grants directly to members, helping them weather tough financial times. Together, Steady and the Workers Lab have dispersed $1.5 million, or about $800 per grant recipient.
Many workers also lost healthcare coverage when they lost their jobs, putting them in a vulnerable position — especially with such widespread public health risks. But even the workers who remained active and employed through the pandemic weren't without risk, as they experienced a higher likelihood of contracting the disease.
That's why Steady began offering a telehealth program to ensure members could affordably safeguard their health. These telehealth consultations are accessible 24/7 and cost only $25. Users can speak directly with a doctor and, if necessary, get a prescription. Through this and other programs, Steady helps keep workers afloat and healthy, so they can care for their families and safely re-enter the workforce as soon as possible.
Steady: Advocating for Workers Amid Ongoing Shifts in Labor Practices
Digital technology and freelance platforms make it easier for workers to make money through side hustles. Gig work may provide labor and income flexibility. Still, it comes with drawbacks, including the lack of retirement fund contributions, insurance, PTO, and other benefits enjoyed by hourly and salaried workers.
On the whole, gig workers earn less, and the client companies keep the difference. To address this emerging labor issue, Steady focuses on leveraging community data to drive worker advocacy. It aims to bring awareness to the emerging challenges workers face on the federal and state levels, and support initiatives that will better the lives of the working population.
"Unfortunately, as the world continues to march forward, enterprises are driving to spend less and less on payroll costs," Roseman said. "They're moving toward an Uber-like model."
In the face of changing labor practices, workers face the same problems Roseman said he saw his parents struggle with: mainly, securing financial well-being for themselves and their families. Steady provides resources and assistance to workers facing income gaps in gig and hourly work, and looks ahead to how it can champion workers in the face of overwhelming odds.
"There's not a platform today that is utilizing tech and data to fight for the worker," Roseman said. "The employers have countless tech platforms that help them crunch data and figure out how to create the best outcome. For us, it's about building a platform that creates that collective benefit of data and gives that back to the worker."