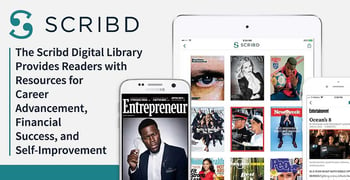 Experts share their tips and advice on BadCredit.org, with the goal of helping subprime consumers. Our articles follow strict
editorial guidelines
.
In a Nutshell: The Scribd platform was inspired by a neurosurgeon's desire to quickly share medical information with fellow doctors. It grew into a subscription-based online reading service that offers users a vast range of books, magazines, newspapers, and other publications on every imaginable topic. The platform's organizational system, navigational tools, and supplemental resources make it easy for users to find the content they seek. And resources devoted to careers, money, and current events help readers develop the knowledge and skills to enable personal growth and financial success.
Dr. John R. Adler, a Stanford neurosurgeon and graduate of Harvard Medical School, had a problem: He wanted to facilitate the exchange of knowledge among physicians by publishing medical journals online. But at the time, he couldn't find a way to widely disseminate documents — medical or otherwise — on the internet. That predicament resonated with his son, Trip Adler, who realized that a document exchange solution could meet a broader need. So Trip co-founded Scribd in 2007 to pursue the goal of easy virtual information sharing.
"Scribd quickly gained momentum with consumers and caught the eye of publishers looking for ways to reach new audiences," a Scribd spokesperson said. "By 2013, Scribd had established partnerships with several leading publishers and introduced the first-ever reading subscription service, offering access to millions of ebooks for a monthly fee."
Today, Scribd provides unlimited access to a wide range of content. Its virtual library includes ebooks, audiobooks, periodicals, research papers, sheet music, and other documents. Users can access all of the content for $8.99 a month.
"Some of our publishing partners include HarperCollins, Penguin Random House, Simon & Schuster, Lonely Planet, TIME, People, Fortune, Fast Company, The Atlantic, and many others," the Scribd spokesperson said. "It's the best of the written word for one low monthly price."
Scribd has moved far beyond sharing medical articles; it purveys professional, financial, and career information across a range of fields and industries. Titles for developing skills can help readers build their resumés, advance their careers, and improve their financial literacy. These and other offerings help Scribd readers open their minds and become more engaged learners.
Successful Professionals are Often Avid Readers
Business Insider reports that the research of Tom Corley — author of "Rich Habits: The Daily Habits of Wealthy Individuals" — confirmed a widely held belief about rich people: they read. In this instance, Corley defines rich as having an annual income of $160,000 or more and a liquid net worth of $3.2 million. Just as importantly, he defines reading as actively seeking beneficial knowledge, not just glancing at the headlines.
According to Corley, 85% of people in the rich demographic read two or more educational, self-improvement, or career-advancing books each month. He also found that 94% of them read news publications in print and online. The key to these people's success is their self-mentorship in personal growth and success by actively acquiring new knowledge.
The benefits of reading don't end there, though. Inc.com reported on a pair of studies that indicate further benefits of picking up a book on a regular basis. The first, conducted at the University of Toronto, showed that reading fiction improves open-mindedness and creative thinking. The other, led by Yale researchers, found that the cognitive engagement of reading — for 30 minutes each day — enhanced critical thinking skills, concentration, and other positive mental traits.
For those seeking career and financial success, sites like Business Insider, Inc.com, and other publications have compiled reading lists that feature titles written and recommended by wealthy and successful individuals. The National Financial Educators Council also offers some suggestions for people seeking financial success — however they choose to define it.
In general, reading allows people to acquire new skills, develop existing ones, and expand their knowledge base. Specifically, books written by — and biographies of — successful or influential individuals are easily accessible ways to learn about their secrets and strategies.
Instead of flipping through selfies or celebrity Tweets, those looking to advance their careers could benefit from Scribd's library by reading material that could improve their understanding of a subject. Through self-education, anyone can work toward improving themselves, their careers, and their financial situations.
A Library of Premium Content is Accessible Any Time
Scribd offers subscribers a variety of media and formats. The service provides access to ebooks, audiobooks, academic articles, newspapers, and magazines. Users can search Scribd to find specific titles, authors, or media tagged with specific keywords. They can filter all of this content by type, interest, language, or date added. They can also take advantage of Scribd's Explore tool, which allows them to select a particular interest.
"Scribd's mission is to change the way the world reads. We want to help make reading a part of people's everyday lives, and we believe it's more important than ever before to be informed. Whether it's reading a news article or diving into a notable non-fiction book, reading is a vital tool for understanding important issues and diverse perspectives," the Scribd spokesperson said.
All of Scribd's content is available on desktop and mobile devices. The Scribd app is compatible with iPhones and iPads running iOS 10 or later; Apple enthusiasts can even control audiobook playback on an Apple Watch. Android and Kindle Fire users running OS 4.4 also have access to the Scribd app. And anyone can log on to Scribd.com from a mobile device to enjoy the same functionality and features.
Either by web page or app, Scribd allows users to create libraries by saving and bookmarking their favorite titles. Subscribers can create specialized collections, save titles for later, and return to what they've read whenever they need to review or refresh their memories.
Scribd users can also download titles to their devices for offline access. After they're finished with a title or need to free up space for new ones, downloads can easily be removed via the Saved page. The title will remain in the Saved list for quick location later.
Resources for Exploring Career Advancement, Money, and Current Events
Scribd's books and magazines fall into many categories so that readers can navigate directly to a field of interest. If readers want to educate themselves on business and current events, they can visit the Career and Money section, which is divided into more specific Interests. Sub categories include Business Biography and History, Entrepreneurship, Leadership and Mentoring, Money Management, and Time Management.
Each category and Interest page features bestsellers, new and noteworthy titles, and reading lists curated by experts and editors.
Magazines are divided into categories on Scribd, too. The Career and Money section includes the latest issues of Bloomberg Businessweek, Business Today, Entrepreneur, Fast Company, Fortune, and Inc. Its Politics and Current Affairs category offers readers access to The Atlantic, Foreign Policy, Mother Jones, New York Magazine, Newsweek, and TIME.
Scribd also offers new subscribers a chance to bundle the service with the NYT for $12.99. This package is for new subscribers and includes Scribd's basic digital offering plus unlimited access to articles on NYTimes.com and the NYT app.
Scribd Users Can Leverage Knowledge for Self-Improvement
What began with a neurosurgeon's desire to share medical information with doctors has grown into a platform that provides millions of people with access to knowledge. Today, Scribd boasts 80 million monthly readers in 100 countries, 750,000 paid subscribers, and 40 million titles — with new content added each day. It would take a reader almost 4,000 years to work through all of the content currently on the platform.
"In addition to premium content from publishers, we also offer access to millions of documents shared on the Scribd platform, including presentations, research papers, legal documents, and more," the Scribd spokesperson said. "More than 150 million hours of content has been read on Scribd to date."
To give new readers a chance to explore this diverse range of offerings, Scribd offers a 30-day free trial. While that isn't enough time to digest all of the information on tap, a subscription grants users unlimited access to a world of knowledge.
On Literally, the Scribd blog, readers can find resources to supplement their reading journey. These include reviews to focus and narrow reading choices, lists to help them get their bearings in a vast cosmos of information, and news to help readers keep abreast of recent releases in their fields of interest.
Scribd makes learning convenient and affordable and provides resources for self-improvement or entertainment. In either case, reading has been demonstrated to improve cognitive function and open a world of possibilities, making it an invaluable practice for those seeking education and career advancement — no matter where the start.