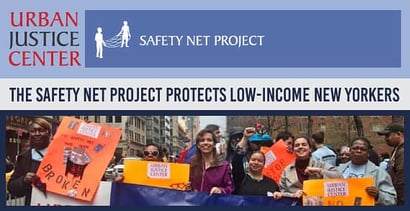 Experts share their tips and advice on BadCredit.org, with the goal of helping subprime consumers. Our articles follow strict
editorial guidelines
.
In a Nutshell: When New Yorkers find themselves threatened by the loss of basic necessities, like housing and public benefits, the Urban Justice Center's Safety Net Project is on the case. Furthering UJC's founding vision of providing legal counsel to the homeless, SNP protects the welfare of vulnerable populations by fighting unlawful evictions and advocating for people receiving public benefits. But beyond providing direct legal services for the New York City community, SNP also coordinates a community organizing initiative, where current and former clients of SNP and low-to-no-income New Yorkers congregate to advocate for better treatment at the hands of different Social Services Agencies.
Since 1983, Samuel G. has lived in the same rent-controlled apartment in New York City. Recently, he received a notice terminating his tenancy.
His landlord claimed he was smoking in the hallway or allowing someone else to do so. But on the infamous day of September 11, 2001, Samuel was exposed to particulate debris from the World Trade Center collapse. Since then, he has suffered from asthma. Samuel does not smoke and doesn't allow smoking in his presence — and he wasn't responsible for anyone smoking outside his apartment.
Despite his argument, Samuel's landlord sued him over the smoking issue. Samuel took advantage of New York City's Right to Counsel legislation, which guarantees legal representation for low-income tenants facing eviction.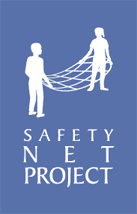 Samuel's attorney filed a motion to dismiss the case, as the landlord's grounds for termination were self-evidently untrue. Samuel's landlord settled, and Samuel continues to live in his home of more than three decades.
Samuel's hard-won legal victory is thanks to the Safety Net Project (SNP), an initiative of the Urban Justice Center (UJC), which advocates for NYC's most vulnerable residents in a number of ways.
"The idea is to provide legal services to the most vulnerable communities," said Scott Wagner, Managing Director of SNP.
The organization ensures these communities have fair access to adequate housing and fundamental resources. In doing so, SNP seeks to strengthen safety net programs that are proven to reduce homelessness and poverty. It pursues this mission through free legal services, policy advocacy, and community organizing.
SNP's Roots Tap the UJC Founding Vision
SNP's history stretches back to 1984. Doug Lasdon, now Executive Director of UJC, started the Legal Action Center for the Homeless in a burned-out building in East Harlem. The organization's goal was to provide legal services to vulnerable communities, particularly single, homeless adults. It holds the distinction of becoming the first US organization to conduct legal outreach clinics in soup kitchens, a tactic SNP continues to this day.
Under UJC's umbrella, Lasdon's original project branched out into several areas. Some of these, like SNP, are focused on the welfare of low-income people. Other similarly focused programs are the Mental Health Project, which is dedicated to upholding the rights of low-income New Yorkers suffering from mental illness; and the Peter Cicchino Youth Project, which provides legal services for homeless and street-involved LGBTQQ youth.
Others focus on systemic social problems. The Community Development Project, for instance, supports groups working against racial, economic, and social oppression; the Veteran Advocacy Project offers free legal services to low-income veterans, particularly those with post-traumatic stress, brain injuries, and substance abuse problems; and the Domestic Violence Project provides support for victims of domestic abuse.
UJC has also taken an interest in the city's immigrant population through the Asylum Seeker Advocacy Project, which works against the wrongful detention and deportation of refugees, and the International Refugee Assistance Project, which develops and enforces legal and human rights for refugees. Along similar lines, UJC's Human Rights Project works with local and national advocates for domestic compliance with universal human rights standards, and the Corrections Accountability Project advances criminal justice reform by working to eliminate financial interest in the penal system.

UJC also offers recourse for New Yorkers with tenuous livelihoods through the Street Vendor Project, which provides legal representation and advocacy for small businesses operating on the Big Apple's public sidewalks; and the Sex Worker Project, which provides legal services and training, documentation, and advocacy for sex workers.
And, of course, there's SNP, which took on its current name in 2013. Previously known as the Homeless Outreach and Prevention Project, the project pursues Lasdon's original founding vision: providing legal recourse and support for the homeless and those threatened with homelessness. SNP primarily approaches this task through two broad strategies: eviction prevention defense and benefits advocacy.
Safeguarding the Homes of Low-Income New Yorkers
While SNP does conduct some affirmative litigation (taking legal action against landlords who fail to meet contractual obligations, such as maintenance and repairs), its primary legal focus is stopping homelessness before it starts.
"Eviction prevention is the larger aspect of our project," Wagner said. This involves representing people like Samuel G: those unable to afford an attorney to argue their case in court, but who are nonetheless entitled to one under New York City law.
Known as Right to Counsel, the legislation guarantees legal representation for low- or no-income persons faced with eviction.
"The right mayor at the right time picked up on a movement that already existed, and there was really strong City Council support to help move it along," Wagner said.
While Right to Counsel will be available in all five boroughs, the program is currently being rolled out over the course of five years, beginning in ZIP codes with higher homelessness and eviction statistics.
Right to Counsel is part of a larger movement called Civil Gideon. The name comes from the 1963 Supreme Court case Gideon v. Wainwright, which guarantees the right to legal representation in criminal trials. Civil Gideon argues that low- and no-income individuals likewise have a fundamental right to legal counsel and representation when faced with the loss of basic human needs like shelter.
New York City is the first US city to provide attorneys for low-income eviction cases. The idea behind that is to stem the city's homelessness crisis. Wagner told us around 60,000 people currently reside in the New York City shelter system. He believes this issue results from three major contributing factors.
First, the absence of adequate affordable housing — public housing units, subsidized housing, and government shelter payments that match the actual price of housing in NYC. Also, the prevalence of urban development is increasing property values, raising rents, increasing gentrification, and displacing people from their homes. Finally, the end of the Advantage Program in 2011, which subsidized housing for low-income residents. The end result is simple: more people unable to afford housing.
In the face of this crisis, Right to Counsel is an important tool in keeping people in their homes and out of shelters.
"A lot of the work we do right now, and what I think we'll be doing over the next five years, is connected to this Right to Counsel rollout and trying to make sure the program is a success," Wagner said.
Empowering People through Benefits Advocacy
In addition to eviction prevention, SNP also engages in benefits advocacy.
"Our benefits work has been, historically, at our root," Wagner said.
This still includes conducting walk-in legal clinics at soup kitchens, food pantries, and community health centers. At these locations, SNP is able to reach the people most in need of its services.
"Any individual who has an issue with their public assistance case and wants to get it resolved, we'll take on those cases," Wagner said.
Watch on
SNP advocates directly to New York City's Human Resources Administration (HRA), which oversees public benefits. Wagner told us that the Legal Advocates on SNP's benefits team combine informal advocacy with HRA administrators and legal representation at Administrative Hearings in the service of low-income folks facing barriers to accessing the cash assistance, housing benefits, and food stamps to which they are entitled. It is one of the few legal service providers in New York City to offer such representation.
SNP also engages directly with the homeless and at-risk population through community organizing. Unlike other organizing efforts, which typically focus on building a large group of supporters, SNP invests in a core group of committed, dependable members. These are the Safety Net Activists, composed of people receiving public benefits and living in homeless shelters. Their twice-monthly meetings feature educational presentations and guest speakers who help the group with capacity building and leadership.
These activities help activists engage HRA directly and take proactive roles in benefits advocacy. SNP staff and the Safety Net Activists work together to identify systemic problems community members are facing and devise reform plans, presented at bimonthly advocacy meetings with administrators from HRA and Department of Homeless Services (DHS). Through these efforts, SNP helps activists find their own voice and describe their experiences living in shelters, receiving benefits, and interacting with HRA.
"It's a lot more powerful if they're telling HRA representatives in their own words about their own personal experiences," Wagner said.
Through the efforts of SNP and its activists, HRA employees now have nameplates on their desks. Previously, these representatives were functionally anonymous to the people receiving benefits; the employee nameplates have improved the administration's accountability and enabled better recordkeeping on the part of recipients.
Currently, SNP and the Safety Net Activists are working to improve lines of communication between benefits recipients and HRA representatives by reporting unanswered phone lines and at-capacity voicemail accounts.
"They have their own mechanisms for accountability, but we also feel no one is ever hurt by more information," Wagner said. "The goal is to have these exchanges and try to figure out ways that we can make the shelter system and HRA stronger. Essentially, we mobilize with the communities we serve to strengthen our safety net."
Advancing Policy Through Organizing and Activism
SNP's third major effort is advancing policy.
"What we've been focusing on to move forward our policy concerns has been putting energy into community-organizing work and thinking about it from the campaign media end," Wagner said.
One of these projects is Stories of Resilience, a video and photojournalism campaign. Its goal is to challenge dominant poverty myths by showing the human faces of individuals living at or below the poverty line, rather than letting outside interests shape the narrative of poverty and homelessness.
SNP is currently working on a new initiative aimed at equipping activists, advocates, and lawyers with new media tools to be waged as weapons in the continuing fight for economic justice. SNP will offer a workshop series on storytelling and campaign building, with each series geared toward teaching participants how to use recording devices, such as cell phones, recorders, and video cameras, for storytelling. (SNP would provide a platform through which participants can share the stories they compose.)
The workshops will also address the fundamentals of campaign creation and building, from conception through execution. At the end of each eight-week workshop, SNP and workshop participants will launch new campaigns based on poverty-related issues.
Through these and other activities and initiatives, SNP does much more than merely support and advocate for impoverished and homeless New Yorkers. As with all UJC projects, SNP returns power to vulnerable populations who need it most, allowing them to take more active roles in their lives and well-being.