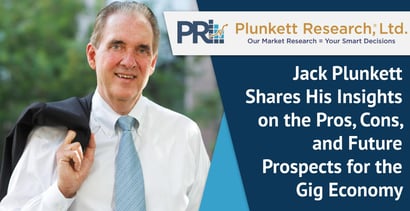 In a Nutshell: Digital technology has created a hyper-connected world, and that connectivity has massively expanded the gig economy. According to Plunkett Research, traditional entrepreneurship has declined in the United States as more and more people turn to gig work. This has created opportunities for diverse employment needs, from gap work to supplementing income streams to full-time employment. However, this work comes with certain drawbacks, particularly in the realm of taxes and benefits. New California legislation has blurred the lines of freelancers and employees, and even as the gig economy faces stark upheaval, automation threatens to further disrupt the industry and once again radically reshape the nature of contract work in the United States.
When it comes to working in the gig economy, there's plenty to love. Freelancing can offer plenty of flexibility; you don't have to be in the office at a certain time — not to mention you don't have to commute — and as long as you manage your time wisely, you can take a break or walk the dog whenever you feel like it.
Plenty of work in a variety of fields for different experience levels is available, giving you more control over the work you do and at what price.
On the other hand, don't expect paid vacation time or benefits (other than what you give yourself). You'll always be on the clock, and, technically, you'll always be on the job hunt, since long-term gigs are few and far between.
And, in addition to doing the work, you're also responsible for running your business.
This is the situation a growing number of U.S. workers find themselves in. It is not a new situation, historically speaking, but it has become a larger part of the national economy than ever before.
"There have been contract workers or contract services around for a long time," said Jack W. Plunkett, CEO of Plunkett Research. "But we put the number of independent workers at about 45 million for 2020 in the United States, including part-time independent workers who are moonlighting after their normal job hours, gull-time independents such as artists, one-person services firms and gig workers who may be full- or part-time. We're looking at well over $1 trillion of our economy. Well over 5% or maybe 6% of our economy, maybe 7%."
Online platforms like Freelancer.com and Upwork have increased access to gig work, but they have also expanded the labor pool and competition among freelancers. This swell in gig work has created numerous opportunities for workers and employers, to be certain, but it has also fostered a host of problems for individuals, governments, employers, and the economy.
Gig Work is Transforming the Nature of Entrepreneurship
"There's been kind of a multi-year drop off in the number of new business startups in the United States," Plunkett said. "At Plunkett Research, we equate that hand in hand with the growth of the gig economy.
When we interview people who are driving Uber cars, for instance, they absolutely consider themselves to be entrepreneurs, even though they're officially counted as contract workers, not as entrepreneurs. We think the drop off in small businesses is because instead of starting a hot dog stand, people are buying a car and driving for Uber."
Driving for services such as Uber and Lyft requires virtually no training, no franchise fee, and an overall low initial cost of investment. And, even if you don't own your own car, you have options.
For example, Uber will lease cars to drivers, and some rental companies also offer advantageous deals on cars. The latter offer includes maintenance and insurance at a fixed weekly cost, so drivers don't have to worry about details, such as haggling over a good deal when buying a car, and they won't have to concern themselves with selling it down the road (and so they don't have to worry about their investment depreciating).
"One of the things that's interesting to me about the gig economy is the way companies on the peripheral side have offered innovative services to help people who are working as gig workers to help them make their lives easier or make it easier for them to run their lives as contractors," Plunkett said.
Contract Work's Flexibility Fits Diverse Employment Needs
Flexibility is one of the defining features of gig work — you're not beholden to a corporate schedule, and there's no supervisor looking over your shoulder — which gives you plenty of personal freedom. Gig workers are able to leverage this flexibility to meet different income needs.
Gap workers, for example, are individuals who have recently been laid off. They drive for Uber or deliver food for GrubHub while they're in the process of finding another, more traditional employment opportunity.
Others work part time, picking up gigs to supplement their main income stream or to save money for a big expenditure, such as a wedding or a down payment on a house. Plunkett said part-time gig work is particularly popular with retirees who miss having something productive to do with their time or who want to supplement fixed incomes without working full time.
Watch on
"I remember very well one gentleman who had bought a really nice Buick SUV," Plunkett said. "He was doing the Uber Black thing, picking up higher-class fares at a higher rate. He and his wife took all the money he made at Uber and put it into their travel budget so they could go on a cruise here, a tour there, and pay for it all from his gig work."
And then there are what Plunkett calls the pros. He said the pros are often young people who use the gig economy to avoid going corporate.
Over time, they become proficient with working multiple gigs at different times when demand is higher, i.e. walking dogs on weekdays, when owners are at work, and then driving for Uber on evenings and weekends, when there's more demand for ride services.
"They get to be experts at knowing which rides to turn down, what parts of town to hang out in," Plunkett said. "They know how to grab the assignment, but then they'll quickly cancel it if they see something better pop up or if they realize they're supposed to pick up in a part of town where they don't want to."
Freelance Freedom Often Comes at the Cost of Security
The flip side of gig work's flexibility is its consistency — or, rather, the lack thereof. Additionally, in some cases, earnings may not be commensurate with cost in terms of both effort and expense.
For driving gigs to be profitable, for example, they need to meet normal expenses but they also must cover the additional upkeep and wear and tear on the vehicle.
Another financial snag with gig work is the ever-dreaded taxes, which self-employment only exacerbates. Gig workers find themselves in a more complicated filing situation; they'll have to pay for their own Social Security and other costs, which are normally deducted from a paycheck, and they must pay estimated taxes quarterly or face a fine come April 15.
Finally, there's no 401(k) matching, health insurance, or benefits — other than what gig workers are able to fund themselves. However, Plunkett said fintech companies are stepping up to fill some of the gaps and ease some of the pain points of contract work.
"There are some pretty innovative fintech companies now that are making cash advances to gig workers so they can smooth out their revenues, which I think is interesting," Plunkett said.
"But fintech is also tailoring some things like special types of health insurance or special types of savings plans or even special retirement plans for people who are gig workers to make it easier for them to participate in their own self-directed benefits that have been designed specifically for that type of person. But here's the real issue and the real thing to keep an eye on: Is that gig worker really a gig worker or is she an employee?"
Gig Economy — and Jobs — Face Upcoming Challenges
In 2019, the state of California passed legislation (Assembly Bill No. 5) that reclassified a wide range of contract workers as traditional employees. Employers like Uber must now meet minimum wage requirements, unemployment insurance, workers' compensation, and other legal mandates.
"That may spill over, too," Plunkett said. "The fed might come along and say, 'Well, okay, we also have to make you subject to OSHA, EEOC, etc.' This has just been a huge point of controversy in California."
This also opens the door for gig workers to unionize. Previously, the Independent Drivers Guild represented car service drivers in New York City and Boston, but it is not a labor union in the traditional sense. However, under the new California legislation, contract workers are now eligible to join formal unions in the state.
"One of the things we may see is the formation of more good workers' unions or associations that will try to make demands or lobby or negotiate on [contract workers'] behalf — not quite as unions, or maybe as unions — to improve their take, improve their conditions, that sort of thing," Plunkett said. "I would suspect we're going to see a lot more of that."
In response to the California legislation, Plunkett said Lyft, Uber, and DoorDash have together raised $100 million to overturn the law, which they say makes their businesses more costly and, therefore, less profitable.
To maintain revenue, companies must raise prices, but if prices rise too high, then consumers won't use the services. This serves to underscore an important point: the gig economy ultimately depends on the clients paying for these services.


"There are four constituencies here that have to be met," Plunkett said. "These are for-profit businesses backed by investors who've lost huge amounts of money to get their businesses established, and now they want to start charging a profit. There are the needs of the workers. There's the price sensitivity in the consumers. And then there are the regulatory goals of the state, local, and federal governments that all have to mesh."
Plunkett foresees a difficult period of about 10 years, during which these issues will be fully ironed out. But will the gig economy in its current form last that long? In a labor field facilitated by technology, will it take tech 10 years to start replacing workers?
"I think this disruptive industry is itself potentially going to be disrupted over the long term," Plunkett said. "If you sit down with a long-term strategy guy at Uber, he's going to tell you their goal is to not use human beings at all. They'd much rather use self-driving cars.
"Are we really close to the automobile industry being able to provide that? We're not close, but we're maybe not that far away. Or there are companies working on making deliveries with little robots that intelligently work their ways around college campuses, for instance, to deliver pizza. It doesn't take a person."
Advertiser Disclosure
BadCredit.org is a free online resource that offers valuable content and comparison services to users. To keep this resource 100% free for users, we receive advertising compensation from the financial products listed on this page. Along with key review factors, this compensation may impact how and where products appear on the page (including, for example, the order in which they appear). BadCredit.org does not include listings for all financial products.
Our Editorial Review Policy
Our site is committed to publishing independent, accurate content guided by strict editorial guidelines. Before articles and reviews are published on our site, they undergo a thorough review process performed by a team of independent editors and subject-matter experts to ensure the content's accuracy, timeliness, and impartiality. Our editorial team is separate and independent of our site's advertisers, and the opinions they express on our site are their own. To read more about our team members and their editorial backgrounds, please visit our site's About page.