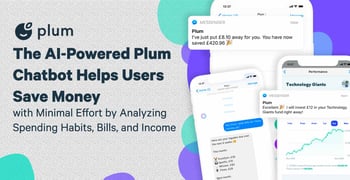 Experts share their tips and advice on BadCredit.org, with the goal of helping subprime consumers. Our articles follow strict
editorial guidelines
.
In a Nutshell: Plum is an AI-powered chatbot that makes saving and investing easier than ever for U.K. consumers. Users can easily sign up to use the chatbot through Facebook Messenger or the iOS app store and begin saving right away. Additionally, Plum offers simple investment opportunities in well-known stocks via a number of categorized funds for more in-depth investing and managed risk. The company prioritizes security, ensuring user data and financial information remains protected at all times.
Everybody knows that saving money is a good thing. Most people also know that in between keeping up with bills and other expenses and watching our bank account balances dwindle, saving money can be a real hassle.
Personally, I've experimented with a number of different methods to help me stay on a diligent savings path, with varying degrees of success.
Thankfully, technology has caught up to our financial health needs, and platforms like Plum make saving money easier than ever.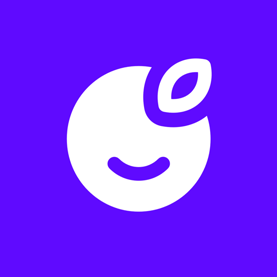 Plum is an AI-based chatbot that analyzes users' income and spending habits and automatically stashes away extra funds into a savings account on their behalf.
We recently spoke with Kévin Debien from the Plum marketing team to learn more about the company and how it makes it easy for consumers to save and invest with the help of the company's chatbot.
Debien said Plum's co-founders, CEO Victor Trokoudes and CTO Alex Michael, bring a wealth of knowledge, intuition, and foresight gained from their previous roles in the finance and tech worlds. He said they are sincere in their efforts to help consumers save.
"It's a very genuine mission, in terms of being able to save and grow money," he said.
Plum is currently available to users in the United Kingdom.
Users Sign Up Through the App or Facebook Messenger Then Connect Their Bank Accounts to Begin Saving
"In Europe, we see people getting ripped off by insurance companies, utility companies, so many things," Debien said. "They struggle to save as well. A lot of people don't have more than three months of savings stashed away."
And, oftentimes, the money people do have saved is not gaining value as fast as inflation, so in a way, they are losing money.
"I feel that people are really getting ripped off, and joining a company that's trying to fix that is very personally rewarding," he said.
Debien said joining Plum is simple. Users can download the iOS app or sign up on Facebook Messenger. Users then connect the platform to their bank account (Plum supports all major U.K. banks).
From there, Plum begins saving.
"Plum analyses your transactions and then identifies your regular income, rent, bills and daily spend," according to the company website. "Using this and other factors, like your available balance, our smart algorithm runs every few days and calculates an affordable amount to save for you automatically."
Plum's algorithm was developed with assistance from researchers at MIT and CERN.
Plum stashes away user savings money in a protected virtual bank account that is administered by the company's partner, MANGOPAY, which is an EU-licensed financial institution.
Once users are up and running, they will quickly notice the Plum chatbot's strong personality, which is a result of CTO Michael's focused vision for what he wanted the bot's voice to be.
"The chatbot definitely has a sense of humor, and he's a bit sassy," Debien said. "People really enjoy it. It's not blaming people. It's just a comforting, funny little bot that assists in your financial life."
Plum users can also adjust the amount the platform is saving on their behalf by letting it know if they would like to save more or less, or if they have a particular savings goal.
Plum Investments Makes it Easy for Users to Grow Their Funds Via Shares of Companies or Themed Portfolios
Plum not only helps consumers save money, but it is also an investment platform. Debien said this is how Plum can give users the chance to grow their money at a faster rate than inflation (of course, with the understanding that investments don't guarantee returns as markets can fluctuate due to many factors).
Users can begin investing in under five minutes with an investment as small as £1.
"We've hand-picked a range of simple, approachable investments, so whether you're a first-timer or a seasoned pro you can find something to suit you," according to the website.
Users can gain access to Plum's investment features through Plum Plus, which costs £1 per month.
Customers can select between various types of funds, including conservative, balanced, or growth, that combine stock shares (riskier but yield higher returns) with bonds (less risky but garner smaller returns).
Plum investors can also choose to invest in funds classified as technology, emerging markets, or ethical.
Plum charges a 0.15% fee on the value of fund investments. And fund provider fees are rolled into the fund values.
"Fund fees are charged by the fund providers for providing the service of creating a fund," according to the website. "These fees are not reflected in any statements, as the fund providers simply adjust the price every day to collect the fees (they take money out of the fund daily)."
Debien said Plum offers a new feature called Splitter, which allows users to automatically split their funds between Plum savings and investments. Users can split the amounts that go into each area in any proportion they choose.
Built with Security and Privacy in Mind
Understandably, consumers may feel cautious when connecting their personal data and financial accounts to new forms of technology, but Plum places emphasis on maintaining high security standards.
"We are security freaks ourselves, so security tops our list of priorities, along with building a product that our users will love," according to the company website. "When it comes to money, there's no room for compromise. We've built Plum from the ground up with your security and privacy in mind."
Plum never stores or even has access to users' bank login information, and it uses symmetric cryptography (ASE) to store sensitive data. The company also uses 256-bit TLS encryption to communicate between its servers and users' internet browsers.
The funds in Plum's virtual savings accounts are protected as well.
"Because your account is virtual, it has no account number and sort code," according to the company. "This means that even if both Plum and MANGOPAY go bust, your money is safe and will be returned to you."
Debien said this is actually better than what U.K. laws enforce regarding the recovery of savings account funds. He said the law guarantees that customers can recover up to £50,000 for savings accounts, but with Plum, there is no limit.
Plum also ensures money invested in its funds is kept safe as well.
"When you invest in funds like tech or growth, you open an investment account with Gaudi Regulated Services LTD, an FCA-regulated firm," according to the website. "They buy the investments for you and keep them safe until you sell them again. Your money is protected by the FSCS (Financial Services Compensation Scheme) guarantee."
Plum Insights Will Deliver Even Deeper Financial Analysis and Help Users Lower Bills
In addition to saving and investments, the third main component of Plum is its insights feature. Debien said development is complete on the insights platform, and the company is gearing up to make it available to its users in the near future.
Plum's insights will give users a better idea of where their money is going each month and identify ways in which users can save. The chatbot will notify users if it finds a better deal on things like utility bills, and can even switch services on the users' behalf.
"See where your money goes and never pay more than you need on your bills," according to the website. "We will crunch the numbers and switch you in seconds."
Debien said Plum is looking to expand its services into other countries in the European Union in the near future, and eventually to a global audience.