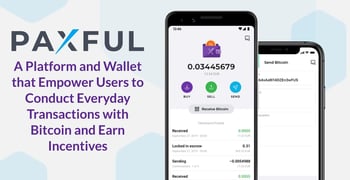 Experts share their tips and advice on BadCredit.org, with the goal of helping subprime consumers. Our articles follow strict
editorial guidelines
.
In a Nutshell: Cryptocurrencies like Bitcoin offer a valuable alternative for the segments of the global population unable to access traditional financial services. And Paxful makes it easy for anyone to buy, sell, send, and even earn additional revenue from Bitcoin. The platform's reputation system allows users to provide feedback, rate one another, and weigh their options to choose the most trustworthy partners. Paxful's service is particularly valuable in struggling economies, where crypto often represents a safer and more efficient store of value than a national currency.
A significant portion of the global population doesn't have access to basic financial products like bank accounts — much less loans or lines of credit. In 2017, the World Bank reported that 31% of the world's adult population was unbanked and lacked access to products and services that many people take for granted.
But the World Bank acknowledged that blockchain technology and cryptocurrency could provide a powerful solution to that problem. Cryptocurrencies are not operated by a central authority, and acquiring them is not contingent on a credit score. Anyone who wants to purchase and use the assets is free to do so. However, the complexity of blockchain technology has presented a barrier to entry for many of those who stand to benefit the most.
That's why Paxful built a way for anyone to easily buy, sell, and send Bitcoin — the original cryptocurrency. The platform was founded in 2015 by Ray Youssef and Artur Schaback when crypto was in its infancy.

"They found themselves at a Bitcoin meetup," said Jan Strandberg, Vice President of Marketing at Paxful. "In 2015, in New York, Bitcoin wasn't that popular. They were looking for solutions for how to buy Bitcoin. They met each other, and they had this great idea to develop a marketplace where you can buy Bitcoin with whatever payment method you want. Back then, you could only buy it with bank transfers or credit cards."
Paxful started as a chat system to facilitate Bitcoin transactions, but it steadily grew into a full-fledged marketplace and fintech platform. In addition to enabling users to buy, sell, and send Bitcoin, it offers additional incentives in the form of passive profits generated through its affiliate program and Paxful Kiosk.
And, like Bitcoin itself, these perks are available to everyone, regardless of their credit rating or financial status.
"For the first time in history, you may have access to this financial system no matter where you are," Strandberg said.
Facilitating Wider Bitcoin Circulation by Rewarding Users
Paxful accepts more than 300 payment methods from users seeking to buy Bitcoin. Those include bank transfers, credit cards, gift cards, payment and remittance services, among many others.
Through Paxful's chat functionality, users connect with each other, arrange to buy or sell Bitcoin, and conduct their transactions without ever leaving the platform. Bitcoin funds are held in escrow until the payment is verified. Then, the bitcoin is released to the buyer.
Paxful offers a wallet in the form of a mobile app available for iOS and Android. Users can track their balance, open trades, and view conversion rates in real time with the wallet. The Paxful website states that this offering is "the easiest to use, most mistake-proof wallet on the market." And, perhaps best of all, it's free to download.
Users can rely on Paxful's 24/7 customer support to lend a hand should they ever encounter a problem. Strandberg said that the platform's user support is second to none in the crypto purchasing and payments space.
"If you look at our competitors, at the moment, they generally only have support five days a week, maximum," he said. "We have invested heavily on support. For us, customers are everything."
In addition to easy Bitcoin buying and selling, users have access to additional monetary benefits. First, Paxful offers an affiliate program. When new users sign up through an existing user's affiliate link, the latter earns a commission on the new user's transactions — about 50% of Paxful's escrow fee.
Similar to that affiliate program, Paxful Kiosk offers another means for generating revenue. Users can create a link that, when used by others to purchase Bitcoin, earns them 2% of the amount purchased through their kiosk. Together, Paxful's affiliate and kiosk programs allow users not only to enjoy the benefits of crypto but also to profit from helping expand the technology's reach and use.
Helping Struggling Economies that Increasingly Rely on Alternative Currencies
One of cryptocurrency's most predominant use cases lies in unstable markets. That's because they may have a strong need for alternative, digital currencies that can alleviate the financial stress resulting from volatile national currency values.
One such market exists in Venezuela. As CNN reported in 2017, more than a decade of government overspending in the early 2000s, a drop in the price of crude oil, and the massive inflation contributed to the financial collapse of a once-wealthy nation.
A similar situation exists in Argentina, a nation with a long history of inflation. The South American country's economic crisis, recession. and high inflation is exacerbated by U.S. Federal Reserve interest rate hikes, which caused the peso's value to decline and the total cost of Argentina's debt to increase. That all comes after the worst drought over portions of Argentina and Uruguay in 2018 that damaged soybean and corn harvests (the foundation of Argentina's economy) to the tune of $3.4 billion.
As a result, cryptocurrencies may offer a more secure store of value than either the Venezuelan Bolivar or the Argentine peso.
"There's a lot of demand at the moment," Strandberg said. "If you can find these markets that have troubles with their financial system — that's a perfect market. Digital assets are the perfect assets for people in those markets."
The remittance market is another significant area for Paxful, as is ecommerce. That's because cryptos are much faster, easier, and cheaper to send across borders than fiat currency.
"If you think about sending, for example, South African money to Germany, the average time is five days, and it costs a lot," Strandberg said. "But, if you convert South African Rand to BTC, you can send that money to Germany in 10 to 15 minutes. And the average cost for sending fiat remittances is between 7% and 10%, which is quite high. If you're poor and want to send money, it would cost you a lot to send that money, so you can save quite a lot of money with Bitcoin remittance."
A Robust Reputation System Allows Users to Buy and Sell Bitcoin with Confidence
Every time users buy or sell Bitcoin on Paxful, they receive feedback, which adds to their reputation. That is similar to the system used in other virtual marketplaces like eBay and Amazon. Paxful users all start with a reputation ranking of zero. Sellers who offer quality transactions and fast service earn positive feedback, which raises their ranking. Buyers who pay for their orders promptly will also gain positive feedback.
The only difference between those popular online retail venues and Paxful is that, instead of buying and selling books or clothes or odd trinkets, users buy and sell Bitcoin. Positive ratings and satisfaction contribute to a high score that increases the confidence of other users, making it more likely a member will garner future business.
The rankings are, in sum, a measure of trustworthiness within the community, based on actual experiences between users.
"Customers who started two or three years ago may now have 10,000 or 15,000 feedbacks. They get a lot of customers just because they serve their clients well, so they have awesome customer support by themselves," Strandberg said. "When you go to the Buy Bitcoin page, for example, you may trust a person who has more positive feedback than someone who has a negative score. It's a valuable asset when you start using the platform regularly. Eventually, you will get a lot of business just because of your reputation."
Paxful: Representing a Potential Hedge Against Recession
According to Strandberg, Paxful has new payment products set for launch in 2019 and 2020. Also, the platform is pursuing partnerships with crypto exchanges that purvey Bitcoin, and it is also working to improve its mobile app.
"We noticed that a lot of our users, especially in the third-world countries, don't have access to a computer, and their phone may not be that good," Strandberg said. "We want to put more effort into our app, and eventually, we want users to trade through the app."
That could be good news for everyone, not just Paxful users in developing countries. In late August 2019, a yield curve inversion topped the financial news feeds in the U.S., causing many to begin bracing for a recession sometime in the near future. According to Forbes, models indicate a 30 to 40% chance of a U.S. recession within a year, a risk that is higher than normal.
Forbes also points out additional indicators of a potential recession. Among these is the deterioration of economic growth in China, Argentina, the U.K., and Germany. While these nations may seem far away, the interconnection of the global marketplace means these events will have repercussions for everyone, including U.S. consumers.
Even relatively stable and successful economies are susceptible to downturns, and financial alternatives are just as important to people in these markets as they are to those in struggling economies.
Paxful presents one such alternative through which users can transact with, trade, and profit from Bitcoin, offering a critical financial recourse in uncertain times.